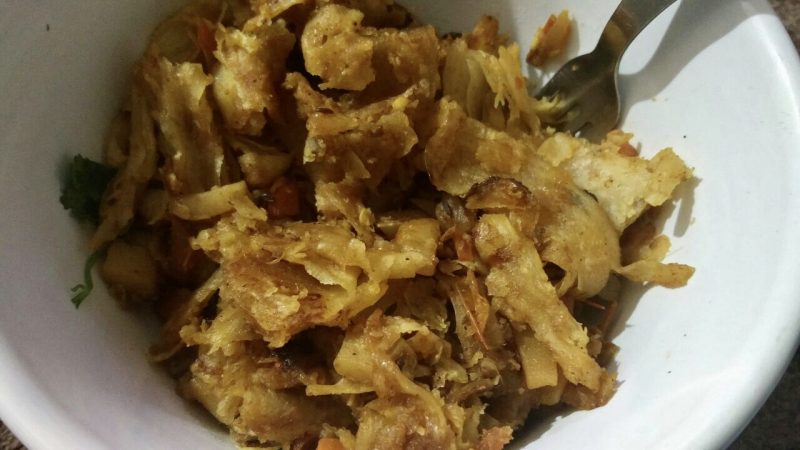 Submitted by Rajashree Ganesh
About the cook:
Homemaker who loves to cook and experiment different recipes.
About the dish:
This recipe I tried once when there were some leftover croissant which almost reached its expiry. I wanted to use all the croissant as one dish. I make such kind of spiced masala with a flatbread. So I substituted croissant in place of flatbread and it came out tasty.
National Origin:
Indian
Serves:
4
Estimated Time:
Under 30 Minutes
Ingredients:
Croissant- 4
1 large chopped onion
2 large tomatoes chopped
1 egg ( optional)
Tomato ketchup - 1 tbsp
Green chilli or red chili sauce or pepper powder according to your spice level
Chopped garlic - 2 tbsp
Oil - 3 tbsp
Chopped cilantro- few
Chopped scallions- few ( optional )
Lemon juice- 1 tbsp
Salt to taste
Preparation:
If using egg, scramble the egg with a tsp of oil and keep aside. In a pan, heat 3 tbsp of oil. When oil is hot, add chopped garlic and sauté until slightly brown. Then add chopped onions and sauté until cooked well. Add chopped tomatoes, chili sauce/pepper powder, salt and sauté until completely cooked. Then add the croissant, torn into pieces, and scrambled egg. Mix everything together until the spices coat well. Switch off the flame. Add cilantro, scallions and lemon juice. Mix well and serve hot.