Spiced Carrots, Chickpeas, and Herbs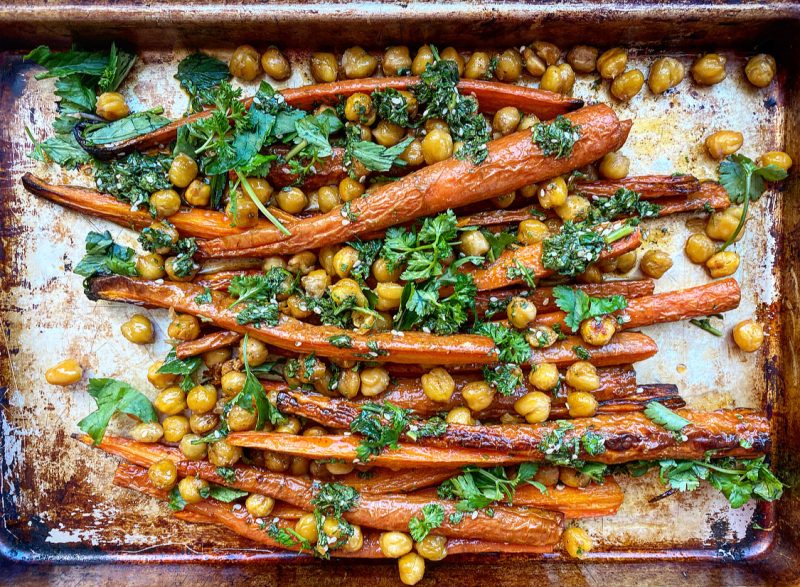 Submitted by Adina Silberman
About the cook:
Adina Silberman knows how to make people smile. She is trained as a dentist and is passionate about home cooking, and has a simple food philosophy: she cooks backwards, taking inspiration from the elements that compose a dish rather than the final product. With this mindset, Adina is able to think outside the box, cook with what is in season, substitute easily, and very rarely waste leftovers. Adina lives in Chicago with her husband and two daughters.
About the dish:
These golden brown carrots and chickpeas, paired with the punchy and tangy dressing, is something you'll want to serve at every meal! Eat as an appetizer, side dish, or even main course.
National Origin:
N/A
Serves:
4
Estimated Time:
30 to 60 Minutes
Ingredients:
Ingredients
6-8 large carrots, washed and sliced into quarters lengthwise
1 15.5 oz can of chickpeas, drained and dried
2 tbsp extra virgin olive oil
1 ½ tsp kosher salt
Dressing
¼ cup extra virgin olive oil
1 tsp kosher salt
2 tbsp lemon juice
¼ tsp garlic powder
¼ tsp paprika
¼ tsp cumin
¼ tsp sumac
1 tsp sesame seeds
2 tbsp finely chopped fresh parsley
2 tbsp finely chopped fresh cilantro
2 tbsp finely chopped fresh mint (optional)
½ cup loosely chopped parsley and/or cilantro and/or mint
Preparation:
Carrots and Chickpeas: Preheat oven to 425F. Place carrots and chickpeas onto a baking sheet and toss with the olive oil and salt. Bake for about 30-35 minutes, flipping midway through, until the carrots are golden brown and chickpeas are dry and crispy.
Dressing: Prepare the dressing in a medium bowl by combining all the dressing ingredients, including the finely chopped fresh herbs. Mix well. The dressing will be quite thick.
Serving: Plate the warm carrots and chickpeas on a large dish and drizzle dressing all over. Gently toss with loosely chopped fresh herbs.
*If you would like to prepare this dish in advance dress the carrots and chickpeas then store in a sealed container in the fridge. Toss with loosely chopped herbs right before serving.