Spaghetti Squash and Riced Cauliflower Meat Sauce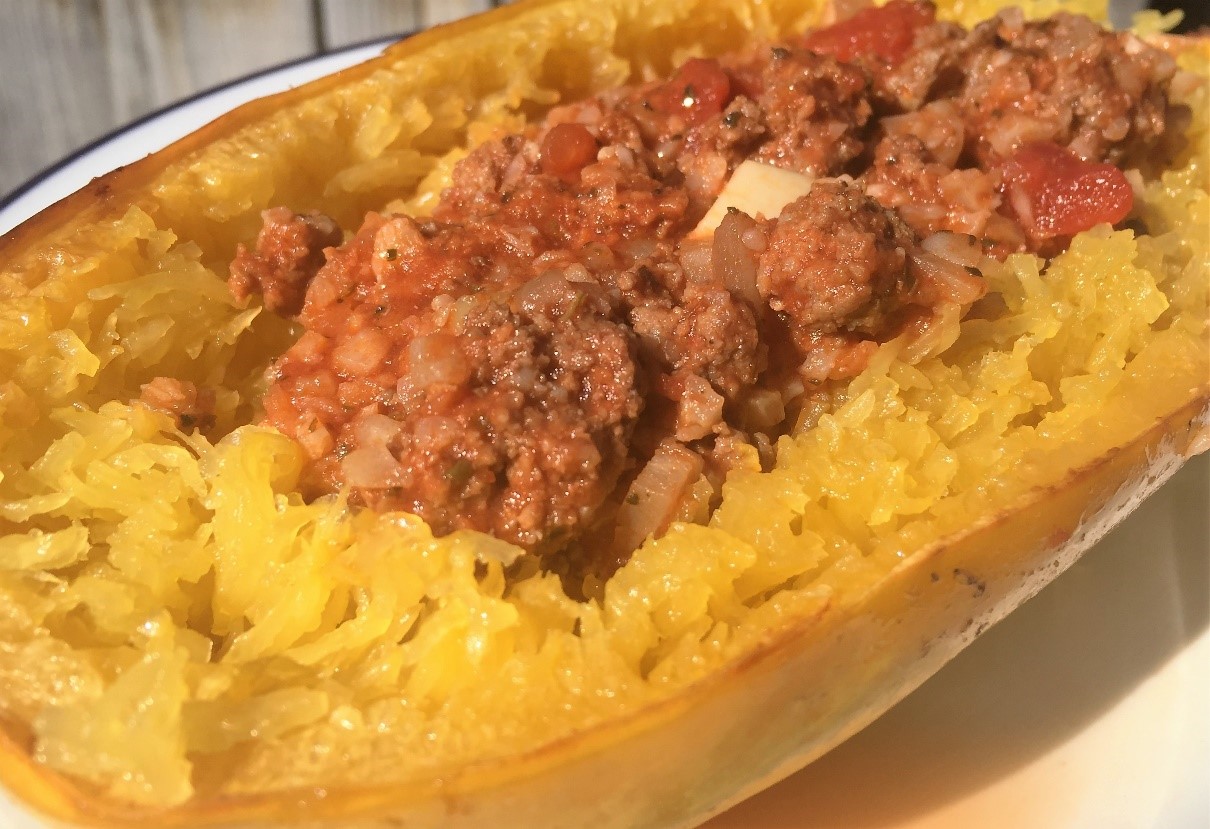 Submitted by Jeanne Larson
About the cook:
I am a wife, mom of two boys, and recipe creator who has a passion for health and wellness. I create recipes, have written three cookbooks and have a desire to help individuals and families incorporate healthy recipes into their meal plans. I also am a part-time middle school teacher of a Farm to Table cooking class, PE and Health. I believe in teaching kids young that healthy food can help your mind and body. My goal is to create and share as many healthy and easy to prepare recipes as possible!
About the dish:
This healthy meal is not only delicious, but full of nutrients that your whole family will enjoy. All ingredients are natural and prepared together to create a healthy, yet flavor-filled meal!
National Origin:
American
Serves:
4
Estimated Time:
30 to 60 Minutes
Ingredients:
Ingredients:
1.5lbs of organic ground red meat
2 cups riced cauliflower (Trader Joe's sells riced cauliflower or you can use a Ninja and blend well)
29oz can organic diced tomatoes
15oz can organic tomato sauce
¾ cup chopped onion
5 garlic cloves
1 ½ tsp oregano
2 tsp basil
¼ tsp chili pepper flakes
½ tsp sea salt
½ cup apple cider vinegar
2tbs honey
2-4tbs olive oil
1 medium spaghetti squash
Preparation:
Cooking Instructions:
Preheat oven to 375 degrees. Slice spaghetti squash in half length-wise. Spoon out seeds. Drizzle olive oil in both sides of squash and make sure edges are covered. Sprinkle salt and pepper on both sides. Lay cut side down, onto baking dish. Cook for 35-45 minutes until tender. Use fork to pierce skin to check squash.
Sauce: Chop all veggies and set aside. Use either pre-riced cauliflower bag or use your Ninja or food processor to dice. In frying pan, put olive oil 1-2tbs olive oil and set heat to medium heat. Begin by cooking diced garlic and chopped onion for 2-3 minutes. Then, add cauliflower, ground meat and seasoning. Cook for 8-12 minutes, stirring every few minutes. Add apple cider vinegar and honey, tomato sauce and diced tomatoes. Cook on LOW heat and let simmer for another 3-5 minutes, mixing everything evenly.
Serve sauce in spaghetti squash boat, or skip the boat and serve over gluten free pasta noodles. This sauce can be doubled and frozen for dinner another night. Enjoy!