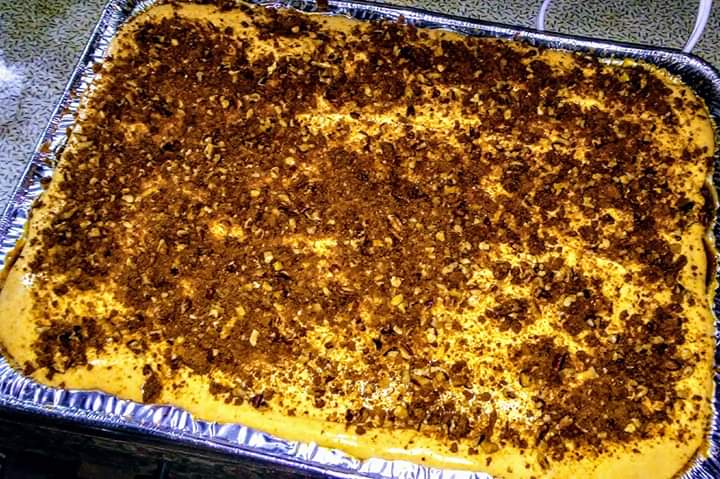 Submitted by Kristin Allen
About the cook:
I am a sous chef who loves to cook and bake. I have been doing it for 20 years
About the dish:
A delicious pumpkin spice cheesecake
National Origin:
Dessert
Serves:
8
Estimated Time:
Over 2 Hours
Ingredients:
Crust:
1 bag of ginger snaps
1cup of butter
1 stick of butter
Filling:
4 packages of cream cheese
4 eggs
1.5 cups of sugar
1 cup heavy cream
1/2 can pumpkin puree
2 tablespoons pumpkin pie spice
10 to 15 gingersnaps
1 tablespoon vanilla
Topping:
2 cups Heavy cream
1/2 can Pumpkin pure
2 tablespoon pumpkin spice
1tsp vanilla
8 cups powder sugar
Garnish:
1 bottle Carmel
1 small bag of pecans (toasted)
Preparation:
1. Grind the gingersnaps in a food processor, add flour and mix up slowly add melted butter and stir up until it makes a nice crust. Form the crust in a cake pan and bake for 5 minutes
2. Mix all of the filling ingredance together until it's well mixed and pour into to pan
3. Bake at 325 for about an hour. When done baking chill before adding topping.
4. For the topping mix the heavy cream until it starts to thicken add the pumpkin puree, vanilla and pumpkin spice continue to mix. Slowly add in the powder sugar until it's to a good consistancy. Top the cake and drizzle with carmel and crushed pecans. Dont forget to toast the pecans.