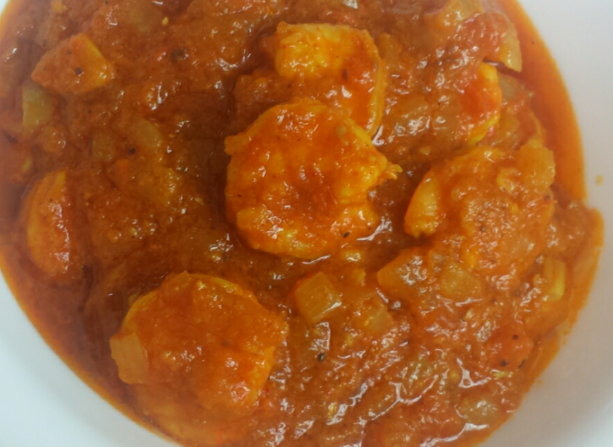 Submitted by Anjali Prabhu Dessai
About the cook:
I am an IT Professional who finds immense joy in cooking with fresh ingredients. Cooking is actually one of my stress busters! I believe that you are what you eat and try to provide freshly cooked nutritious meals to my family. Cooking comes naturally to me, perhaps its the genes from my mom. I can whip up a pretty decent meal with whatever ingredients I have.
About the dish:
A lip smackingly delicious dish made with Shrimp cooked in a tangy tomato-onion-red chilli powder mixture. This recipe was handed down to me by my mother.
National Origin:
Indian ( Goa )
Serves:
4
Estimated Time:
Under 30 Minutes
Ingredients:
Shrimp, peeled & de-veined, fresh or frozen & thawed - 20-25 , medium size
Ginger - 1/2 inch
Garlic Cloves - 6
Onion - 1 big, chopped
Plum Tomato - 2, de-seeded & pureed raw
Red Chilli powder - 2 tspns or to taste
Sugar - 1 to 2 tspns or to taste
Tomato Ketchup - 2 tablespoons
Salt - to taste
Oil - 3-4 tablespoons
Make powder:
Cinnamon stick - 1/2 inch
Cloves - 4
Peppercorn - 7
Cumin seeds - 1/2 tspn
Turmeric powder - 1/2 tspn
Preparation:
1) Make powder of the raw spices listed under 'Make powder'.
2) Blend ginger & garlic to form a paste. Marinate Shrimp with salt and ginger-garlic paste.
3) In a large flat pan, heat oil over medium high flame. When hot, fry Shrimp in a single layer. Do not overcrowd the pan or else it will steam the Shrimp. Fry each side for about 5 minutes. Transfer shrimp to a plate.
4) In the same pan, over medium flame, fry onion until it turns light golden. Add the raw spice powder and fry for a minute. Add tomato puree, red chill powder & Shrimp and mix well. Cook covered for about 15 minutes, mixing well once in between.
5) Add ketchup and sugar and adjust seasoning. Cook for about 2 minutes. Cover with lid and switch off the flame.
Note: You may adjust the level of spice to suit your taste buds.