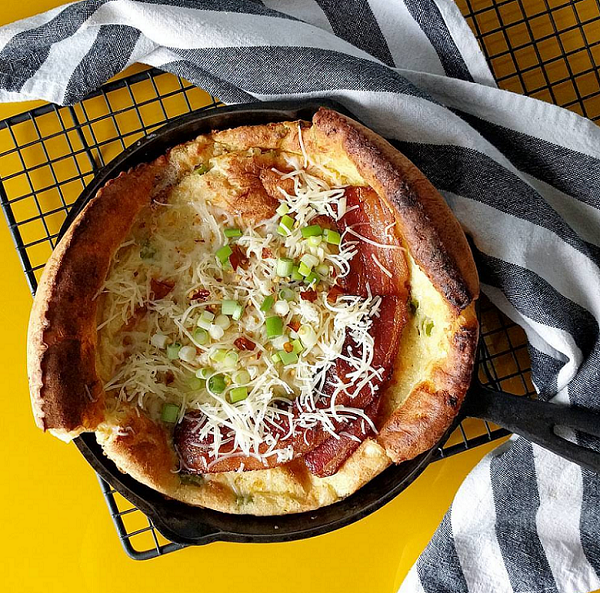 Submitted by Elme Jordaan
About the cook:
Hello there! I'm an avid amateur baker and cook from Canada. I love roaming the aisles in international grocery stores and picking up items to test and explore new ideas with!
About the dish:
The Dutch Baby truly was the recipe of 2018! Here comes the Savory Dutch (Breakfast) Baby - much like its sweeter little sister - this recipe is endlessly customizable and effortless to create for your loved ones or just yourself! We don't always have to share!
National Origin:
Dutch American
Serves:
4
Estimated Time:
1 to 2 Hours
Ingredients:
For the Baby (Base)
3 large eggs
3/4 cup milk
2 tbsp butter melted
3/4 cup all purpose flour
1/4 tsp salt
1/4 tsp black pepper
Toppings
1/3 cup Aged Cheddar grated ( or your favourite melty cheese)
2-4 slices of thick cut bacon
2 thinly sliced scallions
Optional
4 fried eggs - to your liking
Preparation:
In a blender, add all your base ingredients and blend for 2 minutes. Let this sit for for 30 min. You can use the batter immediately, but the 30 minutes allows for the moisture to absorb some of the flour and make for a fluffier, more tender Baby. You can also make this ahead and store in the fridge overnight, just pop it out 30 minutes prior to your cook time.
While your Baby batter rests. Preheat the oven to 425 degrees with a 9 or 10 inch cast iron skillet inside. Here you can get all your toppings together, bacon, eggs, cheese and sliced scallions.
When you're ready, take the cast iron out of the oven carefully. Add 2 more tbsp of butter to the pan, it will melt quickly. Add the batter immediately and place the pan back in the oven. The hotter you keep the pan the more the Baby will puff up. Bake in the oven for 25 -35 min. the best indicator of its doneness will be a golden brown crust on the edges and it will be nicely puffed up.
You can serve your baby in the cast iron, but if you're cautious of anyone burning themselves quickly slide it onto a serving plate. Sprinkle with the cheese, top with the bacon slices and sliced scallions – insert other toppings here.
Dig in! This is an excellent dish for hosting a Brunch or for a fancy solo breakfast if you downsize the recipe.