Sausage, Mushrooms and Peppers, Oh My!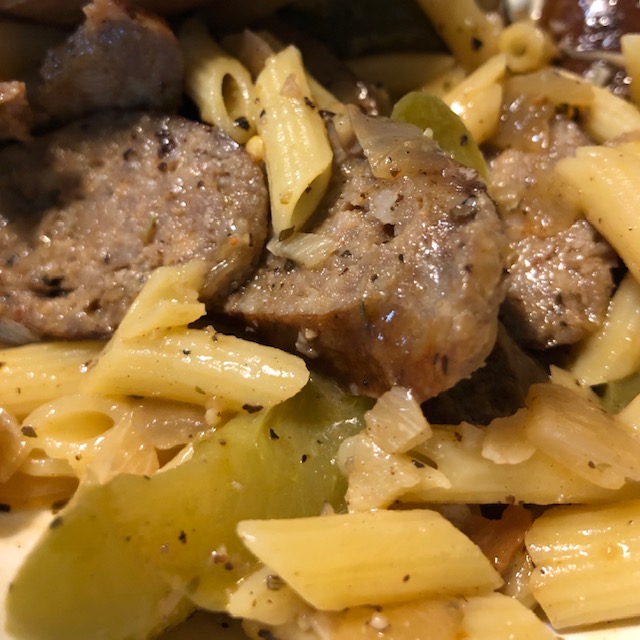 Submitted by Sara O'Connor
About the cook:
I'm a home cook that loves trying new recipes and mixing up old ones. I love going out to eat and trying a meal or dish and then recreating the flavors at home for my husband and I to enjoy.
About the dish:
A fabulous quick and easy week night recipe that will please everyone in the family. Using familiar ingredients that are budget friendly this recipe will let you end the day with a comforting bowl of pasta that has a kick of flavor which will warm you like a hug.
National Origin:
Italian
Serves:
4
Estimated Time:
30 to 60 Minutes
Ingredients:
1/2 box of Penne (any preferred pasta will work)
4 hot italian sausage links
2 Tbl olive oil
1 medium white onion, sliced
2 bell peppers, sliced (whatever colors are easy-on-the-eyes)
8 oz button mushrooms, sliced
5 cloves garlic, thinly sliced
12 oz of dry white wine
1/4 cup chicken broth
4 tbl of Butter
1 tsp dried basil
1 tsp dried oregano
1 tsp pepper
1/4 cup grated parmesan cheese
Preparation:
Heat large skillet over medium-high heat, add olive oil. Poke each sausage with a few small holes then add to hot pan. Rotate sausage frequently and cook evenly on all sides about 10 minutes. Remove sausage from pan and set aside on plate.
Reduce heat to medium on skillet and add onion. Cook onion until translucent or brown around edges. Add the mushrooms, garlic, and 1 tbs of butter. Coat mushrooms in melted butter then add bell peppers. Add dried basil, dried oregano and pepper then stir well.
Cook pasta to directions on box (Don't throw away all that pasta water!)
Deglaze pan with white wine and chicken broth. Boil until half the amount liquid remains, about 15 minutes. During this time slice the sausage into coins.
Add sausage pieces back to sauce with 3 tbs of butter, let butter melt and stir sausage into the sauce. Once butter is melted remove from heat.
Add cooked pasta to sauce with a couple of tablespoons of the pasta water to help bring it all together. Finish with parmesan cheese, taste and let the smiles come naturally!!