Baked Midwest Sesame Chicken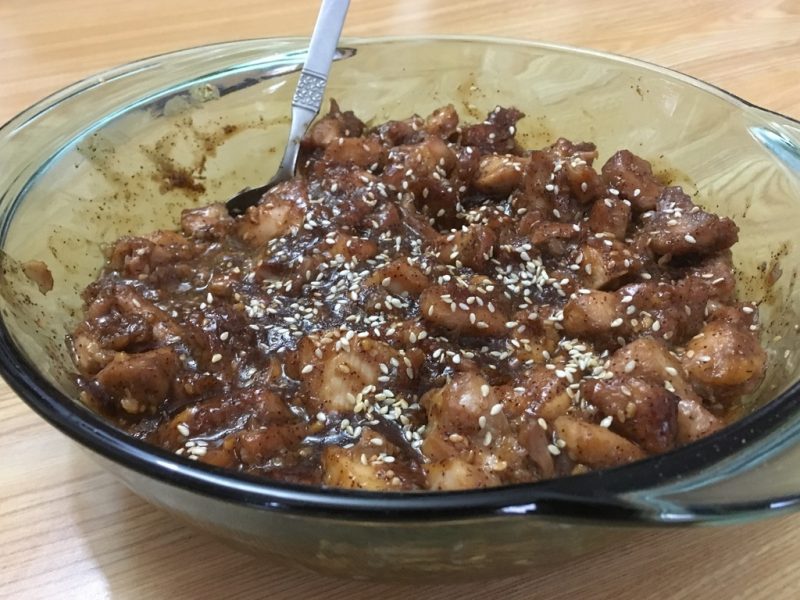 Submitted by JT August
About the cook:
I am a machinist by trade whose hobbies include cooking. I have worked part time in years past at fast food and table service restaurants, as well as in the housewares department of what was then Famous-Barr. I love to eat restaurant style food, but cannot afford to eat out as much as I would like, so I have taken my passion for cooking to a level that has had people ask me if I am a chef (my response is to call myself an hobbyist chef). Currently, I cook gluten-free because my son has Celiacs Disease, and I have gotten pleasure out of presenting great food to people who had previously believed that gluten-free means flavor free. My personal kitchen collection includes a vet array of spices, herbs and sauces, 3 dozen pots and pans and a plethora of "cooking toys" that require additional shelving in the basement to accommodate.
About the dish:
A favorite of Chinese and Asian restaurants in the St. Louis area (and I am sure elsewhere), This gluten-free version is baked instead of fired to fat and its associated calories. The marinade is based on a recipe from a now long defunct privately owned restaurant, so the batter has more pronounced sesame flavor, but both the batter and the sauce have ingredients that ring more of the Midwest region of the United states, such as steak sauce, KC style BBQ sauce and liquid hickory smoke. Happy Dogs Hot Sauce is a privately owned vendor whose owner lives just around the corner from me here in St. Louis. I typically serve this with another original recipe, Ozark Fried Rice.
National Origin:
USA
Serves:
4
Estimated Time:
1 to 2 Hours
Ingredients:
1½ lbs boneless chicken
Marinade
4 tsp low sodium, gluten free soy sauce
1 Tbsp steak sauce (A-1 or similar)
2 tsp toasted sesame oil
2 Tbsps gluten free flour
2 Tbsps cornstarch
2 Tbsps water
¼ tsp baking powder
¼ tsp baking soda
1 tsp vegetable oil
Sauce
1 cup chicken broth (unsalted or reduced sodium)
2 Tbsp balsamic malt vinegar
2 Tbsp plus 1 tsp ground arrowroot
⅔ cup brown sugar
⅓ cup bbq sauce (KC style)
1 tsp liquid hickory smoke
1 Tbsp sesame oil
1 Tbsp chili powder
2 garlic clove (minced)
4-6 drops Happy Dogs Hot Sauce or hot sauce of choice
Up to ½ cup water reserved to thin consistency if desired
Serving
2 Tbsps toasted sesame seeds
Preparation:
1. Cut the chicken into 1-inch cubes. Mix the marinade ingredients (the first 9 ingredients
listed) and marinate the chicken for 1 hour or longer.
2. Preheat oven to 425ºF.
3. In a small saucepan, combine all of the sauce ingredients except the water. Bring pan to a gentle boil, whisking continuously. Turn the heat down to the lowest possible simmer and keep warm while you bake the chicken.
4. Line rimmed baking sheet with a single layer of aluminum foil. Spray foil surface with non-stick vegetable oil spray. Spread marinaded chicken evenly on baking sheet in a single layer. Allow a little space between pieces.
5. Bake for 8-12 minutes. Remove from oven, turn pieces over with a spatula or tongs. Return to over and finish baking an addition 5-9 minutes, or until internal temperature is 160ºF.
7. While baking, occasionally whisk simmering sauce. If sauce is too thick, add 1-2 table spoons of water at a time to achieve desired consistency.
6. Place the chicken on a large platter and pour the sauce over. Sprinkle with sesame
seeds. Serve the Sesame Chicken with white or fried rice.