Roasted Curry and Parmesan Acorn Squash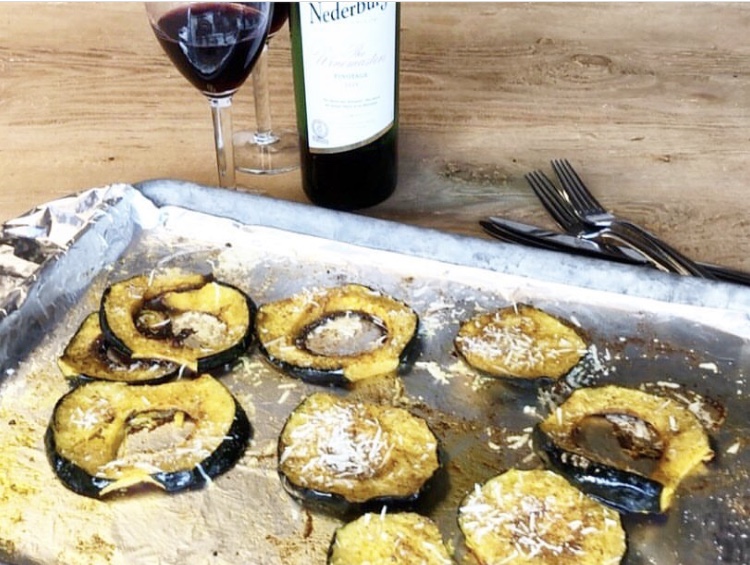 Submitted by Chrissie McGiveran
About the cook:
My name is Chrissie McGiveran. I am a self-taught home cook from the Bay Area. I am married to my wonderful husband, and together we have two young children (Ryan, 3.5 & Julianne (almost 2). I enjoy both cooking and baking and spend much of my free time perfecting recipes and creating new ones. I also enjoy hosting parties, visiting our local farmers market, and gardening! I hope you enjoy my recipe!
About the dish:
Simple roasted squash recipe elevated for your tastebuds with curry powder and Parmesan.
National Origin:
Indian (curry spice)
Serves:
2
Estimated Time:
Under 30 Minutes
Ingredients:
1 Acorn squash, sliced thin horizontally
Curry Powder
Salt & pepper
Parmesan
Preparation:
1. Preheat oven to 425
2. Slice the acorn squash horizontally into thin strips. Leave the skin on.
3. Place squash pieces on a foil lined pan and season to taste with curry powder, salt & pepper.
4. Roast in the oven about 20 minutes or so. Remove from the oven and sprinkle with parmesan.
5. Serve warm. We enjoyed a fabulous South African Pinotage with it and it paired beautifully.