Orecchiette Pasta with Alfredo, Italian Sausage and fresh Basil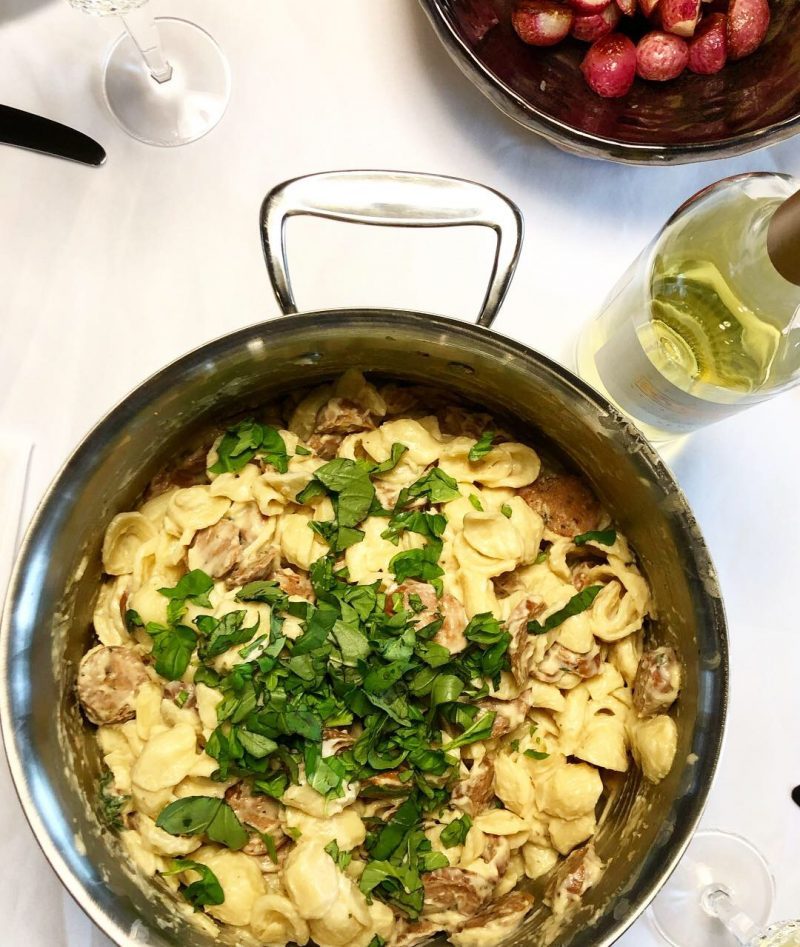 Submitted by Chrissie McGiveran
About the cook:
My name is Chrissie McGiveran. I am a self-taught home cook from the Bay Area. I am married to my wonderful husband, and together we have two young children (Ryan, 3.5 & Julianne (almost 2). I enjoy both cooking and baking and spend much of my free time perfecting recipes and creating new ones. I also enjoy hosting parties, visiting our local farmers market, and gardening! I hope you enjoy my recipe!
About the dish:
I created this recipe to serve at a dinner party we recently hosted with friends. It is comforting and beautifully fresh.
National Origin:
Italian
Serves:
8
Estimated Time:
30 to 60 Minutes
Ingredients:
2 Boxes Orecchiette Pasta (2 lbs)
3 sticks Unsalted Butter
3 C Heavy Cream
Salt & Pepper
Parmesan Cheese
1 pkg Aidells Italian Sausage Links, sliced thin
1 pkg or bunch fresh basil, julienned
Preparation:
1. In a large pot, bring salted water to a boil. Add pasta and cook as directed on the box. Stir often.
2. Meanwhile, slice the sausages thin (bite sized).
3. Heat 2 tbsp olive oil in a skillet. When ready, cook the sausages for a few minutes and season with salt and pepper. Remove to a plate and set aside.
3. In the same skillet, heat the butter on medium-low heat. Add in the heavy cream once butter is almost melted. Season with salt and pepper. Add parmesan to taste (I used 1 cup). Add in the sausages.
4. Drain pasta (reserving a little pasta water), and return pasta to the pot. Add in the alfredo-sausage mixture to the pasta. Turn the heat to simmer until ready to serve, cover, and check to see if you need to add in pasta water as necessary.
5. Top the pasta with fresh julienned basil and place pasta on the table for everyone to serve themselves and enjoy!
It is a beautiful main dish!