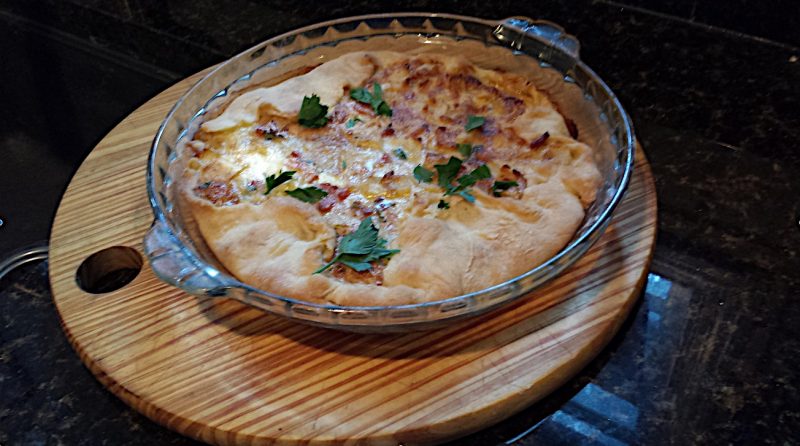 Submitted by Betty Marciano
About the cook:
I am 58 years and I do not remember one time that I did not cook. Started as kid cooking with my mom, but what gave me the impulse to cook was traveling. I like to prepare ethnic food, with my own touch. My hobby is read cooking books. Tv cooking shows were our (my husband too) favorite time in weekend afternoons for years. I do not cook as therapy or when I stressed I cook because I like it and also because preparing food what people around you likes it is pleasure, double pleasure, for me and my family and friends eat something flavorsome. I remember what my friends like o not for next time that they come home. The mayor precious moment is that your guest enjoys your hand made meal.
About the dish:
The first time that I made this recipe, it was just a recycling of leftovers. But it became one of the favorites at home for summer dinner or Saturday lunch. Maybe because potatoes are a hit in my home. Also this my favorite dough, never goes wrong.
National Origin:
French
Serves:
6
Estimated Time:
1 to 2 Hours
Ingredients:
Dough
1/4 cup Vegetable oil
1/4 cup Milk
1/4 cup sparkling water
1 teaspoon baking powder
1 tsp Salt
½ tsp Pepper
1 ½ cup Flour unbleached all purpose (need ½ cup more for rolling out)
Filling:
1 cup onion chopped
1 cup chopped bacon
1/2 cup oil
2 cups of boiled potatoes small cubes
2 eggs
1 cup mozzarella cheese grated
1 cup parmesan cheese grated
½ cup back olives chopped
1 teaspoon black pepper
2 ½ teaspoon crushed red pepper
Fresh Parsley chopped optional to garnish
Preparation:
Dough:
In a medium bowl combine sparkling water, milk, oil, salt, black pepper and baking powder. Stir the flour in gradually making a soft dough. Turn dough out onto a lightly floured surface; knead until smooth. Roll out the dough into a circle. Place the dough in a baking pan, flute edge, if desired. It is not necessary to grease the pan and you can use a glass serving baking pan.
Preheat oven to 375 F.
Filling:
Peel the potatoes and cut in small cubes. Place the potatoes in a cooking pot, large enough so the potatoes are not crowded. Add plenty of water to cover the potatoes by about 1 inch. Bring to a boil, then lower heat to medium-low or low and cover. Let cook in gently boiling water until nice and tender (about 10 minutes ), then drain.
In large saucepan fry the onions with 1/2 cup of oil and bacon on medium high, until lightly golden. Add the drained potatoes, continue stirring and cooking for 3-5 minutes, until the potatoes get a little golden too.
Take off the heat, slowly add each egg previously beaten while mixing, and then the cheese. Mix well, season with red pepper and pepper.
Spread evenly in the prepared pan along with the olives bake for 20 to 30 minutes or until the crust is firm and golden.
Serve warm, sprinkle with parsley.