Pesto Fish Taco topped with Artichoke Slaw with a side of Mushroom Tempura Fries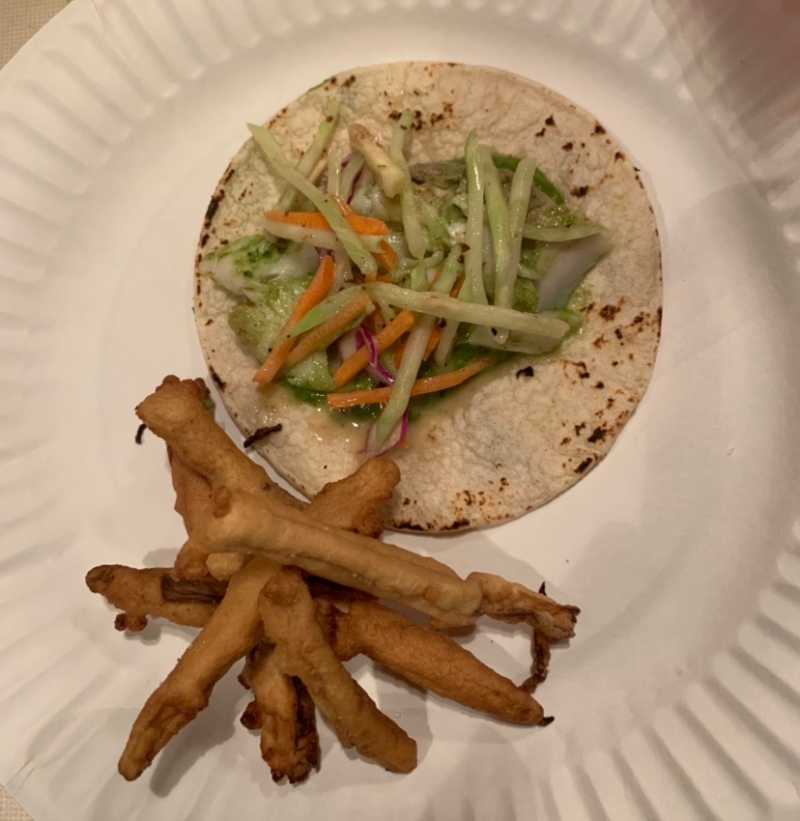 Submitted by Jacquelyne Quinterro
About the cook:
I am 24 years old and originally from Houston, TX. I am currently living in Kernville, CA with my boyfriend and am a bartender at the Kern River Brewing Company, but I am an aspiring chef!
About the dish:
A fusion dish with a freshness perfect for the summer.
National Origin:
Mexican
Serves:
4
Estimated Time:
30 to 60 Minutes
Ingredients:
• Corn Tortillas
• 2 Filets of Tilapia cut into pieces of even thickness
• 1 tbsp EVOO (Extra Virgin Olive Oil)
• 2 Large Portabella Mushroom washed and julienned
• Tempura
o ¾ cup Cornstarch
o ¼ cup Flour
o 1 tsp Baking Powder
o 1 tsp Salt + salt to season after fried
o 1 tsp Black Pepper
o ½ cup Water
o 1 Egg slightly beaten
o 1 1/2 tbsp white miso
• Slaw
o ½ cup carrot julienned
o ½ cup jicama julienned
o 1 fresh artichoke heart julienned
o 1 tbsp of apple cider vinegar
o ½ tbsp. mayo
o 1 tbsp sugar
o ½ tbsp. salt
o ½ tbsp. black pepper
• Pesto
• 1 1/2 cup basil leaves, washed
• ½ cup cilantro, washed
• 3 cloves garlic (1 raw and 2 roasted for 5 min in oven with EVOO, salt and pepper)
• 1/3 cup pine nuts
• 2/3 cup EVOO
• ½ tbsp. salt
• ½ tbsp. sugar
• ½ tbsp. pepper
• 1 juice of a lime
• 1 juice of a lemon
• 1 cup canned and dried artichoke heart
Preparation:
1. Combine all ingredients of pesto in a blender or food processor. Blend until smooth.
2. Coat the fish with ½ of the pesto and sit to the side to marinate.
3. Fill a pot with 2 inches of oil, heat, and maintain a temputure of 350 F
4. Combine all in dry ingredients for tempura batter and sift. Add the water and the beaten egg. Mix until smooth.
5. Coat the julienned portabella mushrooms with the tempura batter.
6. Fry until golden brown, take out, and set them on a cooling rack. (Only a few at a time, or they may stick together.)
7. Sprinkle a small bit of salt while mushrooms are still hot. Put aside.
8. Combine all ingredients in coleslaw and set aside.
9. Heat a pan on medium heat with EVOO, and proceed to pan sear fish until it is slightly opaque. It will need to cook about 4 minutes each side.
10. Let fish rest for a few minutes and cut it into bite size pieces.
11. Put corn tortillas on a grill or over a flame to soften them up.
12. Assemble taco with some pesto at the bottom, the fish, and top it with slaw.
13. Mushrooms can be dipped in extra pesto or put in taco for crunch factor.