Perogy Breakfast Casserole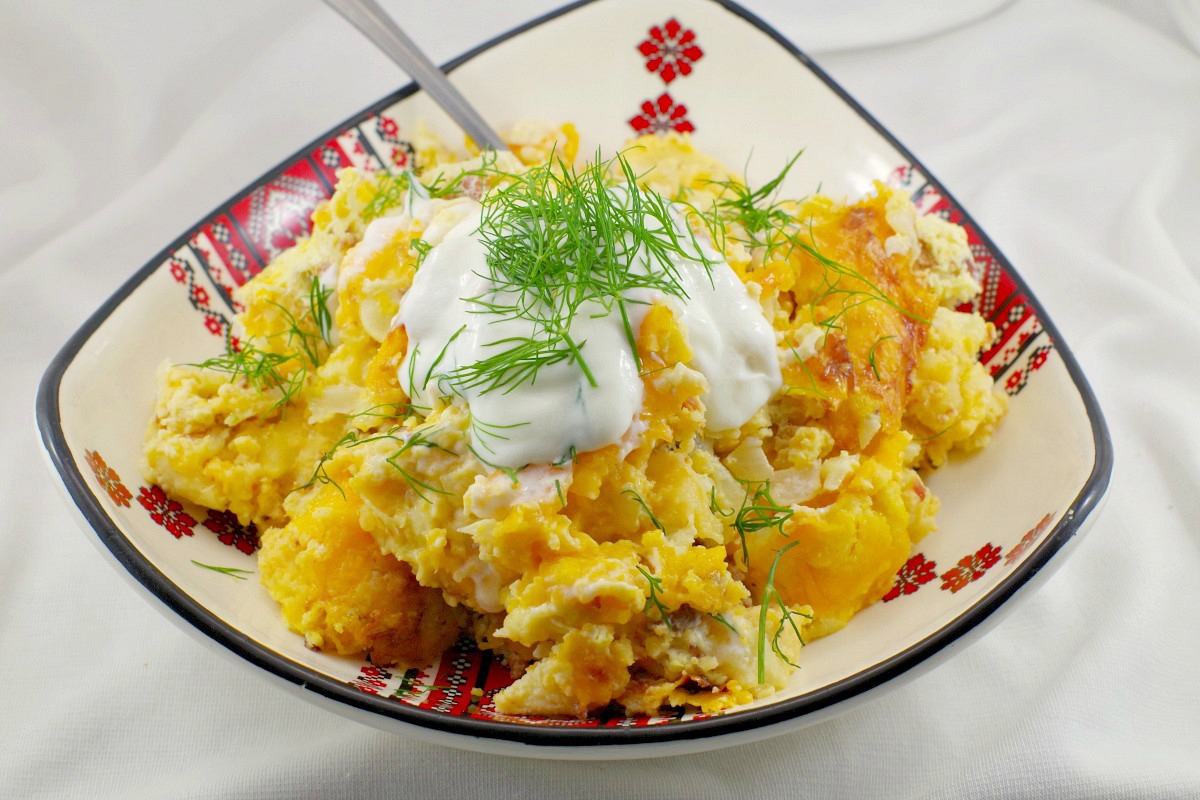 Submitted by Terri Gilson
About the cook:
I am a recipe developer, a baker, hobby cake decorator, a Canadian food blogger and busy working mom that is trying to eat healthy and fit everything into not enough hours in a day. I believe in healthy balance and creating recipes for real life. My recipes are realistic for busy people and/or those people out there that don't necessarily want to spend hours in the kitchen. I create easy, quick, make-ahead, healthy, family friendly, weight watchers friendly and kid friendly meals. And I love to bake!
About the dish:
This Pierogi Breakfast Casserole is the ultimate lazy perogy casserole made with frozen perogies. Make-ahead and chock-full of yummy perogy and breakfast things like cheese, eggs, dill, sauerkraut, bacon bits and onions, it's the perfect breakfast potluck dish because everyone loves perogies!
National Origin:
Ukrainian
Serves:
10
Estimated Time:
1 to 2 Hours
Ingredients:
24 frozen cheese and potato perogies, defrosted
1/3 cup butter
1 large onion, chopped
½ cup real bacon bits
½ cup sauerkraut
½ cup light sour cream
1 ½ cups old/sharp cheddar cheese * I used light/low-fat
1 tsp hot prepared mustard
6 eggs
1 tbsp fresh dill, chopped
Garnish:
fresh dill
light sour cream
Preparation:
Preheat oven to 350 degrees F. Spray a casserole dish with non- stick cooking spray.
Chop the onions and cook in butter in microwave for 2 minutes.
Cut each perogy in half and place in the bottom of casserole dish.
Pour the cooked onion in butter over the perogies, then add the bacon bits.
Squeeze the liquid out of the sauerkraut by placing it in a sieve and pushing the liquid out. Then chop into small pieces. Spread the sauerkraut over the perogies in the casserole dish.
In a medium mixing bowl, whisk together sour cream, hot mustard, eggs, dill and 1 cup of cheddar cheese (reserve ½ cup cheddar cheese). Mix thoroughly.
Pour over perogies, then gently stir in. Sprinkle remaining 1/2 cup of cheddar cheese on top of casserole.
Cook in preheated oven for 45-55 minutes or until egg is fluffy and no longer runny.
Return to oven, turn up to broil (500 degrees F) for 1-2 minutes longer until cheese bubbles and browns slightly. Watch it carefully, as light/low fat cheese can burn very quickly.
Remove from oven and serve warm. Or make-ahead and refrigerate overnight and reheat in the morning.