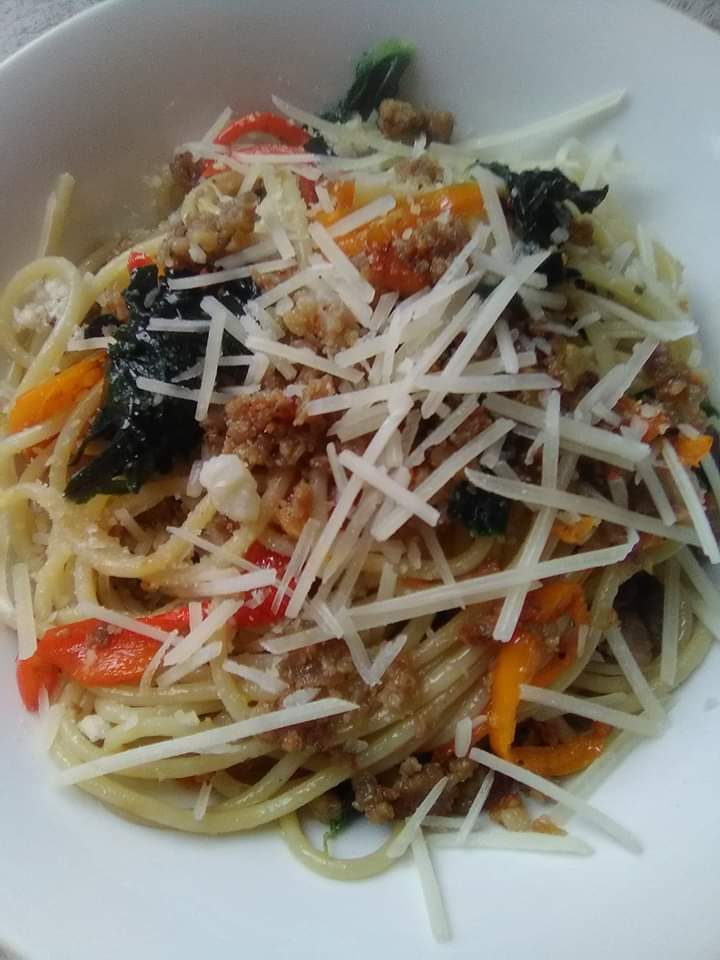 Submitted by Yvonne Gray
About the cook:
I grew up on a farm and learned home cooking at a young age. Through the years I have learned tips and gained ideas and have made many dishes my own unique creation.
About the dish:
This is a delicious and versatile pasta dish that is a family favorite for all seasons. You can substitute the sausage with shrimp or chicken if you would like, or change the peppers...The options are endless!
National Origin:
Italian
Serves:
4
Estimated Time:
Under 30 Minutes
Ingredients:
16 oz thin spaghetti noodles
1 lb ground Italian sausage
Grated and shredded parmesan cheese to taste
Salt and pepper to taste
1/2 a cup of Olive oil
6-8 mini sweet peppers rinsed and sliced in circles, throw out seeds
A head of red or green kale rinsed and ripped off the stalks
6 cloves of garlic peeled and chopped
Preparation:
Cook noodles according to package instructions. While your water is getting ready to boil, cook the sausage, peppers, and garlic over medium high heat in about 2 tbsp. Of Olive oil. Use a wooden spatula to continuously break up the sausage so it cooks to a crumble. Drain and set on a warm burner. When the noodles have about two minutes of cooking time left, add the kale to the water. This will slightly cook the kale so that it is tender enough to eat. After draining the pasta and kale, mix it with the Olive oil and meat mixture. You may add more if you would like. Use salt and pepper to taste and the parmesan is best added on top of individual servings. This is a delicious and versatile dish that you can make uniquely your own, enjoy!