LOADED QUICHE WITH CHEDDAR JALAPENO TATER TOT TOPPING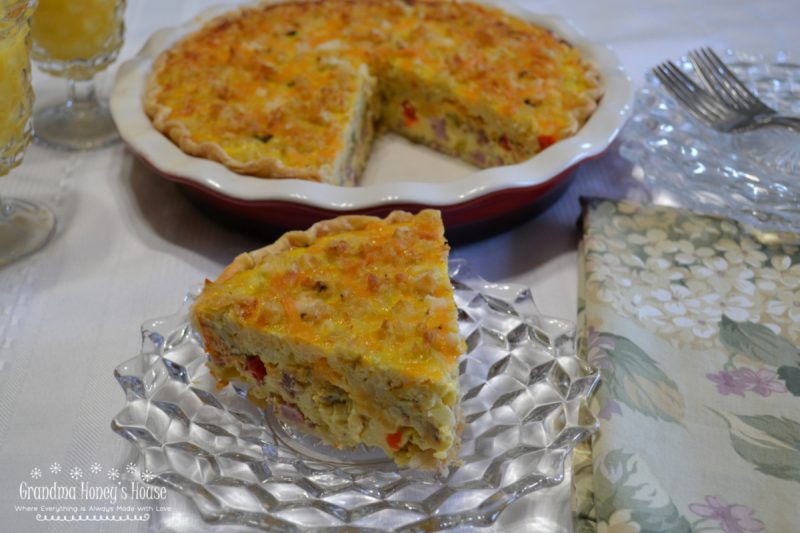 Submitted by Pamela Shank
About the cook:
I am a retired RN, wife, mother , and grandmother. I am a recipe creator, have enjoyed entering contests since 2006, and been honored to have won many. My biggest win was to be a finalist 3 times in the Pillsbury Bake-off contest. I love being in the kitchen with my grandchildren teaching them kitchen skills, creating new recipes, and passing down old family favorites. I created a blog about 4 years ago to share my journey of grand-parenting.
About the dish:
A loaded quiche with sausage, ham, peppers, spinach, cheese, eggs and half and half. Top it off with a mixture of crumbled tater tots, cheddar cheese, and diced jalapenos for a special brunch dish.
National Origin:
American
Serves:
8
Estimated Time:
1 to 2 Hours
Ingredients:
1 (9-inch) refrigerated Pie Crust
1 cup ham cubes, chopped small
1 cup ground sausage, crumbled and browned (mild or hot)
1/3 cup red bell peppers, diced
1/3 cup green bell peppers, diced
1 Tablespoon fresh baby spinach, chopped
2 cups shredded cheddar cheese, divided
9 large eggs (May use ex large in larger, deep dish pie plate)
1/2 Tablespoon Dijon mustard
1/2 teaspoon kosher salt
1/4 teaspoon coarse black pepper
1 cup half-and-half
30 Tater Tots
1 Tablespoon jalapenos, diced (optional
Preparation:
1.Preheat oven to 350 degrees F. Set an ungreased 9 or 10 inch deep dish pie plate on a parchment lined baking sheet. Set pie crust out of refrigerator about 10 minutes.
2.Press pie crust into bottom of pie plate and up the sides. Flute the edges using fingers.
Arrange the ham chunks, sausage, red and green peppers, and spinach in the bottom of the pan. Sprinkle 1 cup of the cheese over the ingredients.
3.In a large mixing bowl, whisk together, or beat on low speed with mixer, the eggs, dijon mustard, salt, pepper, and half and half. Pour evenly over the other ingredients.
4.Place the frozen tater tots in a medium size microwave safe dish, and heat them for 1 minute to 1 minute and 30 seconds, until you are able to crumble them. Add the remaining 1 cup of cheese and the jalapenos. Combine ingredients, using a fork or your hands. Arrange this topping evenly over the quiche. I don't cover the crust with it.
5.Bake for about 50 minutes, or until mixture just becomes set. Over baking will make it become a little dry. Mixture will set more as it cools. (I also use a pie shield on the crust)
6. Remove from the oven and allow to set about 10 minutes before cutting into wedges.