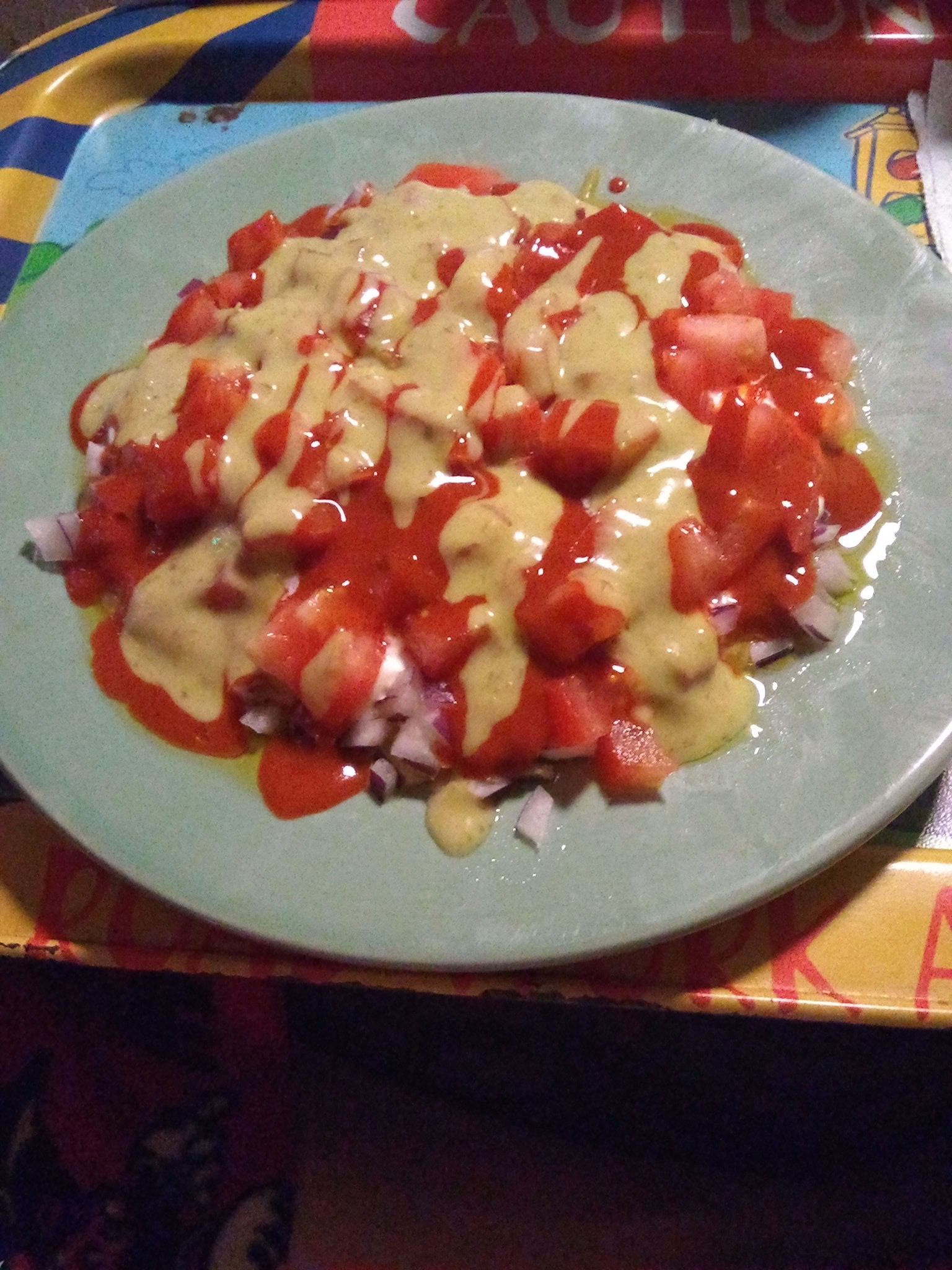 Submitted by Pamela Lewis
About the cook:
I'm 56 years old and spent 36 years of my life working in a well known bank as a customer service rep, assisting bank employees in the High Wealth department. I enjoyed my time at the bank but developed several health issues that caused me to retire early and go on disability. I enjoy preparing my own recipes that are out of the box, simple to prepare and taste delicious.
About the dish:
This is one of my "out of the box" recipes that I put together and eat regularly. My family adjusts the basic recipe to suit each one's taste. Also note, you have to like spicy.
National Origin:
United States
Serves:
1
Estimated Time:
Under 30 Minutes
Ingredients:
2 hash brown patties (frozen)
2 slices of cheese
1 cup of Mexican cheese (from a bag)
1/2 cup diced fresh tomatoes
1/2 cup diced fresh red onion
1 whole avocado
Lemon juice
Spicy guacamole sauce-any brand you prefer
Sour cream
Valentina sauce (hot)
Preparation:
Dice 1/2 cup red/purple onion and set aside
Dice 1/2 cup of fresh tomatoes and set aside
Dice 1 whole avocado, sprinkle with lemon juice, generously and set aside
Place 2 hash brown patties on microwaveable plate and microwave for 2 minutes. Take out of microwave and cover the hash browns with the 2 slices of cheese. Microwave again for 30 seconds.
Take out of microwave and cut and mix together the hash browns and sliced cheese.
Sprinkle generously on top, Mexican bagged cheese (about 1 cup, can be adjusted to taste, if too cheesy) on top of hash brown and sliced cheese mixture, and microwave for another 30 seconds. Take out of microwave and sprinkle diced tomatoes all over top of hash brown mixture. Sprinkle diced onions on top of that. Take sour cream and spread over top, covering tomatoes and onions. Take avocadoes and place around edge of mixture. Take guacamole sauce and sprinkle generously across mixture. Take Valentina and sprinkle on avocadoes, then across hash brown mixture. Enjoy! Note:. Adjust heat (Valentina sauce) according to taste. Picture attached does not show avocadoes on edge of mixture. We added that later and forgot to take a picture.