One Pot – Lentils and Greens Curry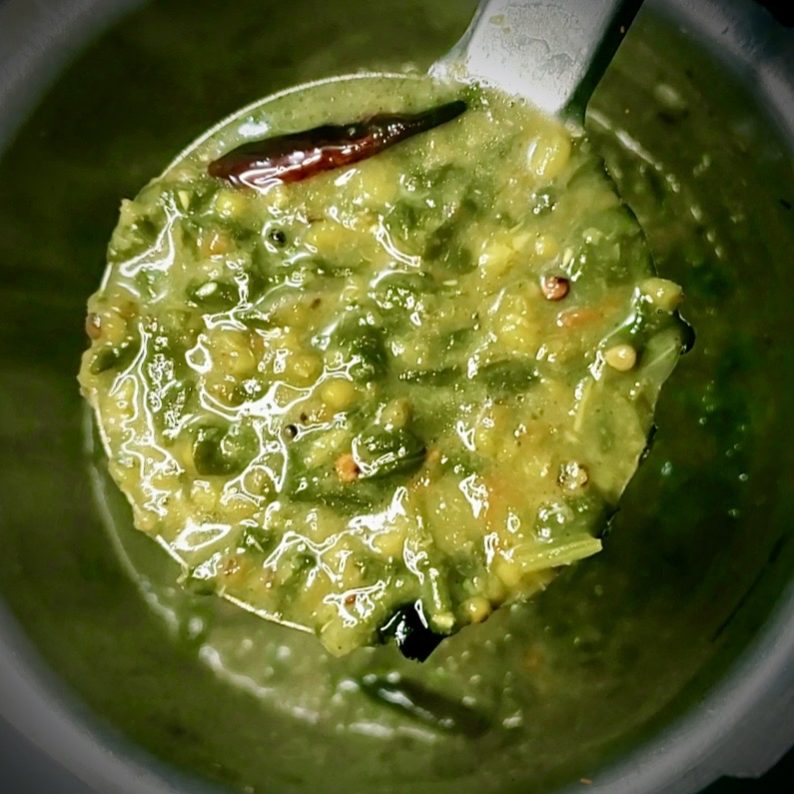 Submitted by Priya Kumaresh
About the cook:
I am an engineer and a home chef who is passionate in tracing roots of food recipes in ancient Tamizh history. Tamizh is the oldest civilization where people started living with nature which is the best way of life. The concept of உணவே மருந்து - Food as medicine has been in our traditional cultures. I started to learn cooking in my 4th grade to help my mom during home meal preparation for a family of 6. I am here to share authentic food recipes with anyone who is willing to learn and enjoy!
About the dish:
Easy Mild Spinach Curry is a Vegan Favorite
National Origin:
India - Tamil Nadu
Serves:
4
Estimated Time:
30 to 60 Minutes
Ingredients:
For curry:
Uncooked green gram (Whole green lentils) - 1/2 cup
Pigeon Pea (Split yellow lentils) - 1/4 cup
Turmeric Powder - 1 pinch
Onions - 1/4 whole - cut into pieces
Tomatoes - 1/2 whole - cut into pieces
Baby Spinach - 1/2 lb or 8 oz loosely packed (Washed and Chopped)
Garlic cloves - 5 (peeled)
Salt - 1 tbsp and as needed
For Tempering:
Cooking oil - 1 tbsp (Coconut oil or sesame oil is recommended)
Mustard seeds - 1/2 tbsp
Split black gram - 1 tbsp
Cumin seeds - 1 tbsp
Asafoetida powder - 1 pinch
Curry leaves - 5 or 7 leaves (washed)
Red chilies - 4 (You can use chili flakes instead)
Preparation:
For Curry:
1. Heat an instant pot or pressure cooker in a medium flame. Do not close the lid until instructed to do.
2. Add the lentils (Green gram+Pigeon Pea) and add enough water till the lentils are fully covered.
3. Add a pinch of turmeric powder, and bring to boil for 5- 7 mins approximately.
4. Add chopped baby spinach on top of boiling lentils.
5. Add garlic cloves on top of spinach and sprinkle water.
6. Now, close the lid and cook for 8-10 mins in a medium flame.
For Tempering :
1. Heat oil in a small pan in a lower flame, add in mustard seeds.
2. Once the mustard seeds starts to splutter, add split black gram, cumin seeds, asafoetida powder and saute until the ingredients turn to golden in color.
3. Now add curry leaves and red chilies or red chili flakes.
4. Switch off the flame and set aside.
Final touch and finishing :
1. Open the instant pot or pressure cooker lid when it is safe to do so (Tip: Allow the pressure cooker to cool down after you switch off the flame).
2. Now, add salt and smash the cooked spinach and lentils using wooden ladle to mix well.
3. Pour the tempered ingredients on top of the cooked spinach and lentils.
4. Mix gently and adjust salt as needed.
Enjoy the Spinach Curry with all kinds of Chapathi or Roti or a bowl of hot rice. This delightful Spinach Curry tastes best with mild flavored coconut rice.
Thank you!