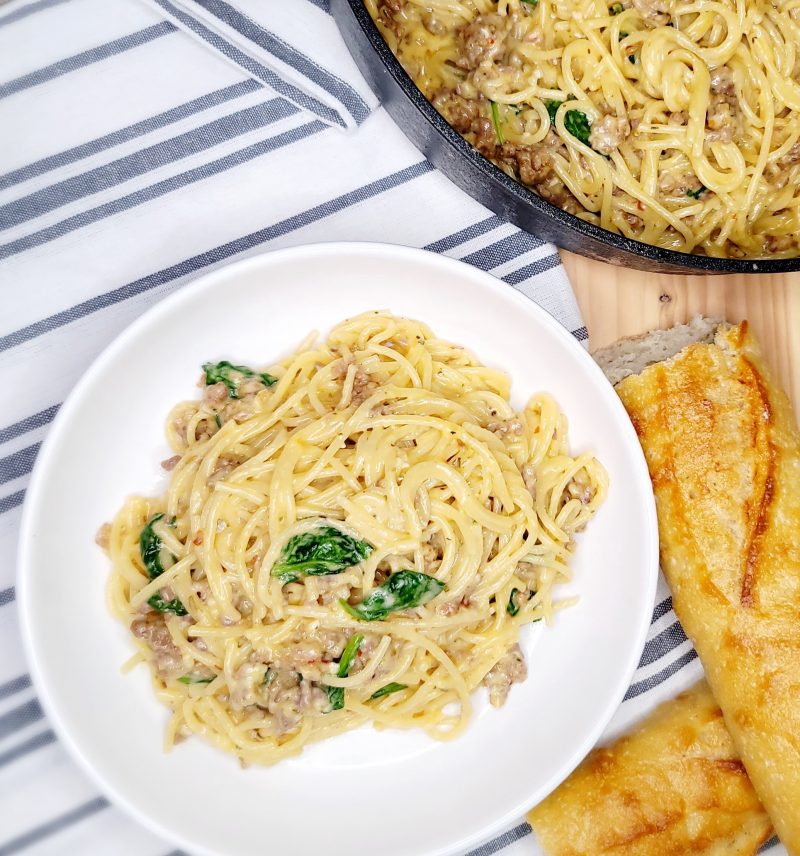 Submitted by Estelle Forrest
About the cook:
I am a lot of things – wife, mother, daughter, sister, niece, friend, business owner, volunteer, and a home chef. I have lived in the Pacific Northwest for most of my adult life and plan to stay forever – while traveling a lot. I am currently running a General Contracting business with my husband out of our home. Between us, we have 6 kids in our blended family, 4 of which live with us full-time. We are a highly active family during the week – sports, bands, dance classes – as well as on the weekend – camping, hiking, car shows, and concerts.
About the dish:
One-Pot meals are always a go to for me – especially as we get back into the swing of balancing school and work and life. I wanted to have something with a little more kick to it so I decided to make this One-Pot Garlic Pasta with some hot Italian sausage in addition to the mild.
National Origin:
American
Serves:
6
Estimated Time:
Under 30 Minutes
Ingredients:
1 lb Mild Italian Sausage
1 lb Hot Italian Sausage
1½ lb Spaghetti broken in half
1 qt Chicken Broth
3 Garlic Cloves minced
1 cup Heavy Cream
1 cup Parmesan Cheese shredded
1 tsp Italian Seasoning
1 tsp Red Pepper Flakes
1 cup Fresh Spinach
Preparation:
1. Prepare all of the ingredients.
2. In a large saute pan over medium-high heat, add sausage. Crumble and cook for 5 minutes. Add chicken broth, garlic, red pepper flakes, and Italian seasoning.
3. Bring to a bubble and add pasta, stir until pasta begins to be flexible. Reduce heat to medium and cover with lid. Cook for 10 minutes. Stir in heavy cream and parmesan cheese and cook another 5 minutes. Fold in spinach and serve it up!