New Century Oyster Rockefeller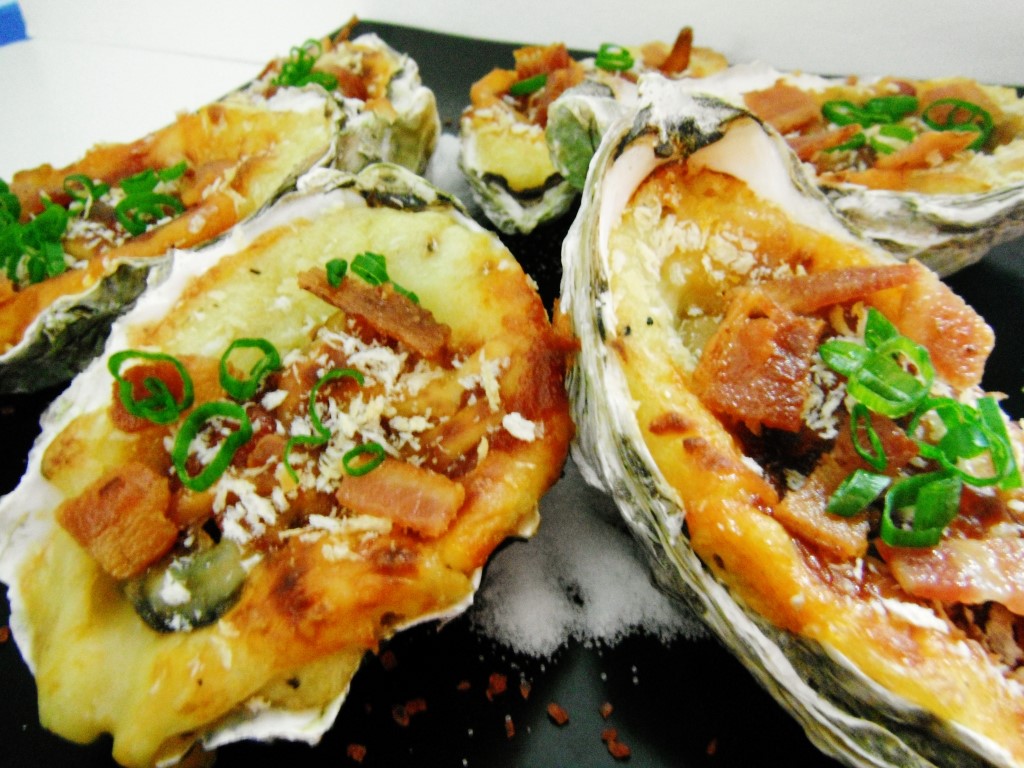 Submitted by Yoshiharu Sogi
About the cook:
I have 35 years of experience in the food and hospitality industry. I received culinary training at culinary school in Japan and France. After I graduated school, I trained at restaurant in Lyon, France rated one star of Michelin Guide and fine dining restaurant in Tokyo. In 2001 I was certified wine diploma from Japan Sommeliers Association and Society of Wine Educators of America. After that, currently I live in California from 2002. I worked in Japanese restaurant, American Italian restaurant, Resort hotel, Seafood restaurant, Country club restaurant and Wine and Food Pairing restaurant.
About the dish:
My family favorite a oyster recipe.
National Origin:
American
Serves:
4
Estimated Time:
30 to 60 Minutes
Ingredients:
12 Oysters on shell, small or medium size
2 tablespoons Cabernet reduction
2 tablespoons Cocktail sauce
6 ounces Yukon potato
1/3 cup Heavy cream
1 tablespoon Shallot, chopped
1/8 teaspoon Salt
1/16 teaspoon Black pepper, freshly grinded
1/8 teaspoon Garlic powder
2 teaspoon Unsalted butter
½ cup Mozzarella cheese, shredded
4 tablespoons Panko bread crumb
4 tablespoons Green onion, chopped
4 tablespoons Bacon bits
Preparation:
1. Preheat broiler or oven 450˚F.
2. Shack oysters and save on half shell.
3. Cook potato through (10-15 minutes) in microwave, mash in bowl.
4. Add heavy cream, salt, pepper, garlic powder, shallot, panko and butter then mix well.
5. Remove oyster from shell once, bed mash potato on shell then replace oyster on potato.
6. Mix cabernet reduction and cocktail sauce in mixing bowl, baste sauce on oyster then place cheese on it then bake in 15 minutes.
7. Take out from oven, sprinkle panko then bake again 2-3 minutes until nice brown.
8. Take out from oven, sprinkle green onion and bacon bits then place on plate and serve.