Miso glazed beef ribs, cashew butter, Jalapeño and Apple jelly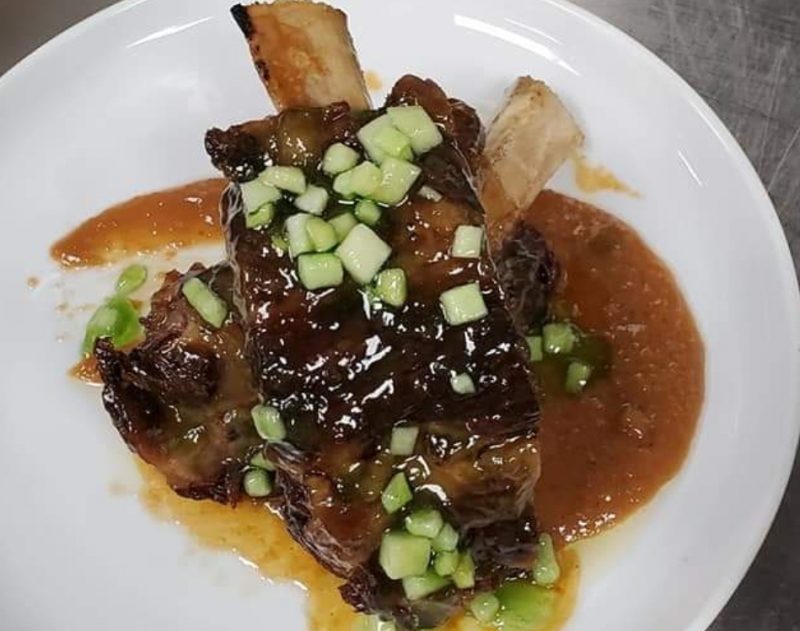 Submitted by Jose Horrach
About the cook:
I'm a 31 year old Sous Chef in Manhattan. I've been a chef for 11 years. Currently working with Chef Joseph Paulino of Top Chef Miami in a kosher Steakhouse called Wall Street Grill.
About the dish:
A delicious dish that has the the perfect balance of savory, sweet, heat, and tart.
National Origin:
American
Serves:
4
Estimated Time:
Over 2 Hours
Ingredients:
1 rack of beef ribs
Salt
Pepper
For Miso caramel:
850g heavy cream
456g butter
800g corn syrup
750g granulated sugar
300 g red Miso paste.
For cashew butter:
One 10 can roasted cashews
For jalapeño and apple jelly
1500g cider vin
1500g granulated sugar
450G jalapeño
Then separately
500g granulated sugar
150g pectin
10g salt
Green food coloring
2 Granny Smith apples, diced
Preparation:
Preheat oven to 300 degrees.
Season the beef ribs with salt and pepper.
Place ribs on a sheet tray, add a generous amount of water to the tray.
Cover in foil and cook for 3 hours.
While the ribs are cooking, put the heavy cream, corn syrup sugar and butter in a large pot and boil it at a high heat, whisking occasionally, until you see it begin to LIGHTLY CARAMEL. Then take the pot off the fire, and whisk on thd red Miso until fully incorporated. Set aside.
Take the can of cashews and blend them in a high powered blender at max speed until its as smooth as possible. Then mix in equal parts of the Miso caramel to cashew puree, making sure to set done aside for the ribs.
For the jalapeño jelly, blend together the vinegar, 1500 g sugar and Jalapeños.
Then in a pot, cook at high heat just until the sugar is dissolved. After the sugar is dissolved, strain the liquid through a fine mesh strainer, catching all the jalapeño solids and then return the pot.
Whisk in the sugar and pectin until fully dissolved and incorporated, then set aside in a container to cool, adding diced apples to the jelly when cool.
At this point the ribs should almost be ready, when you have 10 minutes left on the timer, removed the foil, brush the ribs with the caramel and cook the rest of the way.
Plate by smearing the butter on the dish, then the ribs on top, then the jelly on top of the ribs!