Mini Chipotle Cheddar Chicken Pot Pies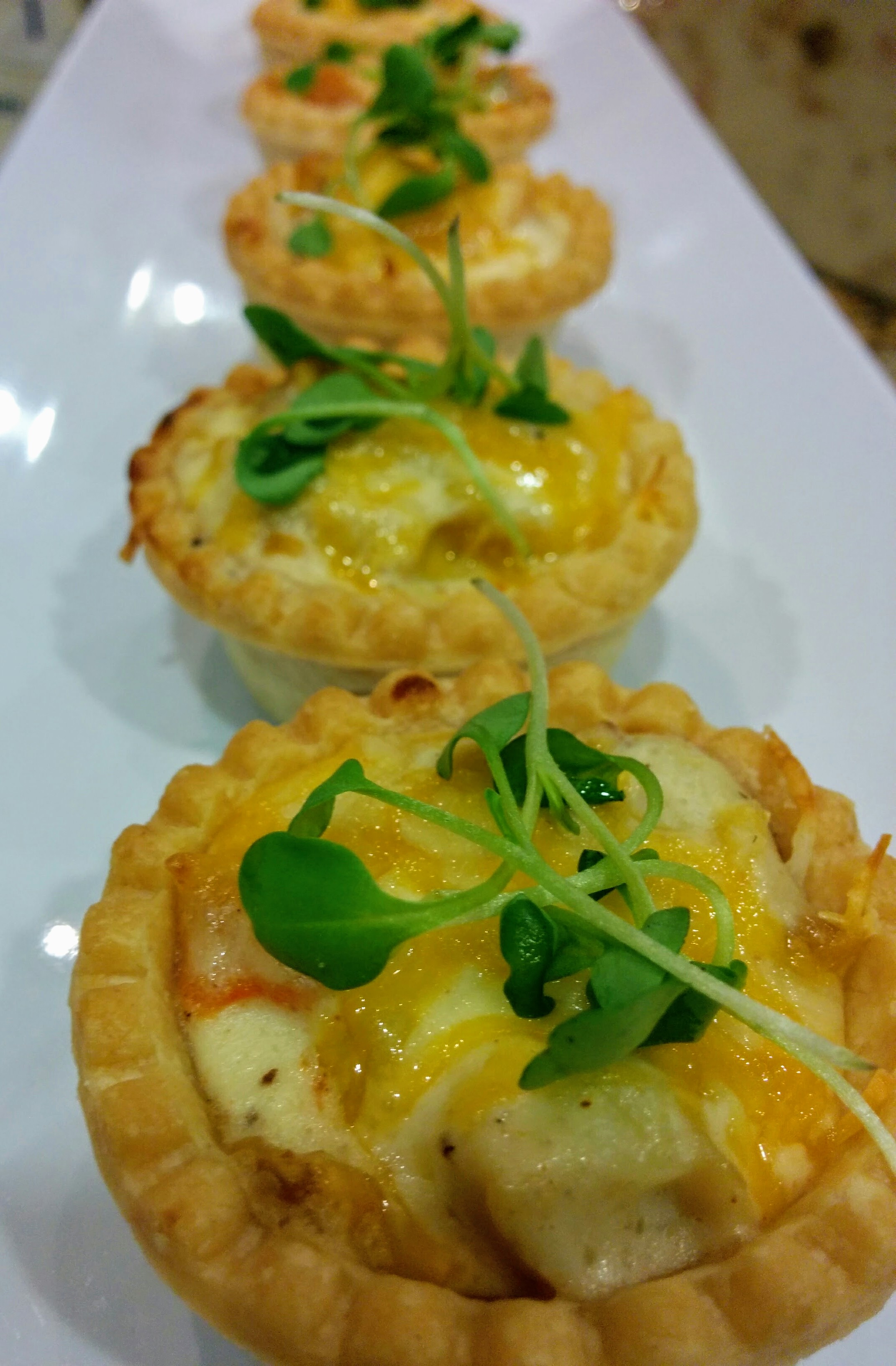 Submitted by Jodi Taffel
About the cook:
Completely self taught, Jodi is a multiple award winning contest cook. She won the 2015 Gilroy Garlic Festival and blew away the judges on Guy's Grocery Games with her Baconny take on Shakshuka, a traditional Israeli hangover breakfast. She followed that up with a Bacon "Steak" and molecular faux-viar to clinch 1st place at the California Strawberry Festival, & ended that year combining bacon and Nutter Butter Cookies to win The Nabisco/NASCAR Hungry For Speed Recipe Contest. Other contesting highlights include winning the The Last Ever Grilled Cheese Invitational by besting all the 1st place winners from the 12 year life of the competition, beating 7,327 other entries in the Westminster Cheddar Recipe Competition, and taking out 12 professional chefs in a full day of mystery basket competitions to win the 2017 California BaconFest.
About the dish:
Like the good girl I was brought up to be, I never show up to someone's house empty handed. Chicken Pot Pie is just one of those comfort foods that everyone loves, so I started making mini versions to bring to cocktail parties. I've experimented with different spice packages, and when I started adding just a hint of heat, these yummy little bites REALLY started jumping off the platter! Now they're one of my most requested appetizers.
National Origin:
American
Serves:
18
Estimated Time:
30 to 60 Minutes
Ingredients:
3 slices bacon
½ cup sliced cremini mushrooms
1 teaspoon all purpose flour
1 tablespoon chipotle in adobo
1 teaspoon minced garlic
1 teaspoon ginger paste
1 cup chicken stock
2 boneless, skinless chicken breasts
3 teaspoons kosher salt
1 1/2 teaspoons cracked black pepper
8 ounces cheddar cheese, shredded
½ cup baby carrots
½ cup frozen peas
1 package (18 count) savory 2 inch mini tart shells
1/2 cup fresh micro arugula
Preparation:
1. Pre-heat oven to 350 degrees.
2. In a saucepan set over medium heat, cook the bacon until crisp (about 5 minutes). Remove the bacon and when cool enough to touch, chop roughly.
3. Add the mushrooms and cook until soft and golden (about 3 minutes).
4. Add the flour and cook with the rendered bacon fat and mushrooms until amber in color and the consistency of wet sand (about 3 minutes).
5. Stir in the chipotle, garlic & ginger, and cook 1-2 minutes, or until fragrant.
6. Add the chicken stock and bring to a boil, then reduce to a simmer.
7. Sprinkle chicken with 3/4 of the salt and pepper, then cut into 1/2 inch cubes and add to the saucepan. Cover and keep simmering until chicken is cooked through (about 10 minutes).
8. Add 3/4 of the shredded cheddar cheese, one handful at a time, stirring between each handful, until completely melted.
9. Add the carrots, peas, cooked bacon and remaining salt & pepper to the sauce and continue to let simmer, uncovered, until thickened enough to coat the back of a spoon (about 5 minutes).
10. Equally distribute sauce in each tart shell and top with remaining shredded cheddar cheese.
11. Bake 15 minutes, or until cheese is melted is beautifully browned.
12. Top with micro arugula and serve.