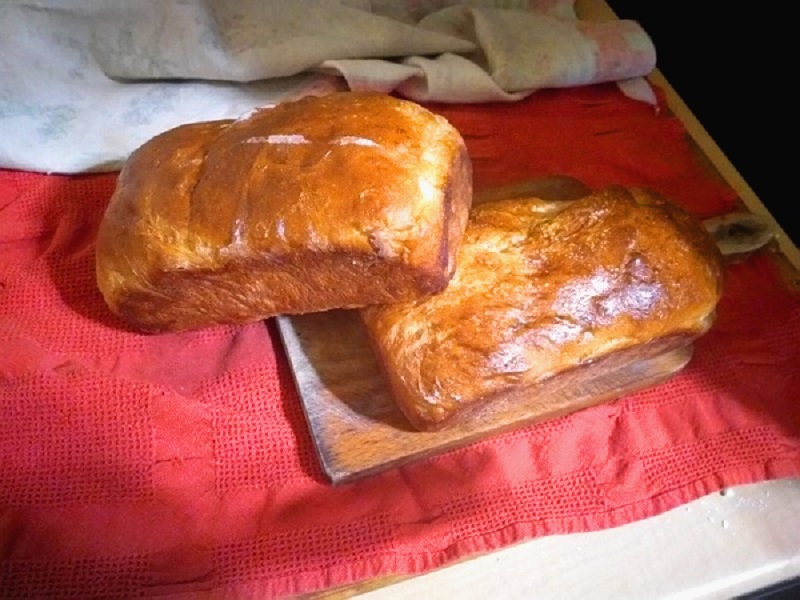 Submitted by Lynda Lambert
About the cook:
Though a teacher and writer by trade, when in the kitchen, I bake! Cakes, cookies and candies are fun, but my favorite food to bake is bread. I started about 30 years ago with a simple white bread recipe. That led eventually to experimentation, often out of necessity. The bread I'm sharing here is was born when I had leftover eggnog that I didn't feel like drinking but didn't want to let go to waste.
About the dish:
Excellent for sandwiches or snack, Eggnog Bread has a fine crumb, a spongy texture and subtle spicy undertones.
National Origin:
American
Serves:
12
Estimated Time:
Over 2 Hours
Ingredients:
1 cup water, heated to slightly warmer than body temperature.
1 tbsp. Dry yeast (equals one packet)
3 tbsp. Sugar
1 cup cold commercially produced eggnog
1 teas. Cinnamon
1 teas. (Scant) Allspice
4-5+ cups all purpose flour
1 tsp. Salt (sea salt or regular salt, your choice)
2 tbsp. Olive oil
1 beaten egg + 1 tsp. Water (egg wash)
Preparation:
Pour water into large mixing bowl.
Sprinkle with yeast. (It will sit on the top of the water, but do not stir.)
Sprinkle yeast with sugar. (This will make the yeast sink to the bottom.)
Let the mixture rest until you see bubbles and blooms breaking the surface.
Add eggnog.
Stir.
Sprinkle on cinnamon and allspice.
Stir. (Don't be concerned if all of the spice doesn't combine; you just want it wet.)
Begin stirring in flour, one cup at a time.
Before stirring in the 3rd cup of flour, sprinkle with salt. Then stir.
Batter should be thickening by this time (about the consistency of cake batter) If you have dough hooks now is the time to get them moving.
Add rest of flour and beat until dough walks its way up the beaters.
Kneed by hand, using extra flour by small handfuls, as necessary, or you can turn it out onto a board to kneed (your preference. I kneed in the mixing bowl; makes less mess.)
Form into a ball when dough springs back when pinched.
Shake any loose flour from your bowl and return the ball of dough to the bowl. Cover with a tea towel and let rise one hour in a warm place.
Heat oven to 375.
After an hour, uncover the dough and make a small indentation in the top of the ball. Pour into it your olive oil. Kneed the olive oil into the dough; form it into a ball once more. Cover and let rest 30 minutes.
After 30 minutes, separate the dough in half. Form into loaves and place in 8″ loaf pans for one hour or until the loaf rises to the just above the edge of the pan.
Brush with egg wash.
Bake for 30-40 minutes until crust is brown and loaf sounds hollow when tapped.
Turn out on a tea towel. Place loaves on their sides and cover completely with tea towel to cool
Bread can be sliced after at least 30 minutes.