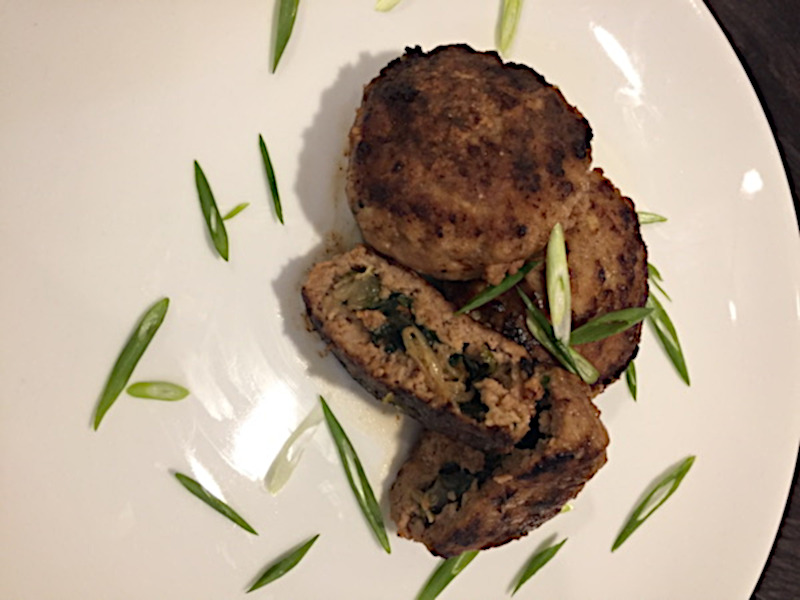 Submitted by Debbie Halim
About the cook:
Being the first person in the family to start getting involved in the food industry. Loving to bake and baking has been one of my passions but not cooking. Trying to learn cooking as well and spending lots of time with trial and error.
About the dish:
A trial and error recipe that was inspired by Bomboloni (Italian Doughnut) and making it into a savory meaty version.
National Origin:
Fusion
Serves:
4
Estimated Time:
1 to 2 Hours
Ingredients:
8 oz - Ground Beef with 7% of fat
8 oz - Ground Pork
2 slices - Bacon, chopped
1 Egg
3 slices - White Bread
4 ea - Spring Onions, thinly sliced
1 Cup - Flour
5 Cloves - Garlic, minced
1/2 - Onion, sliced
1 Bunch - Spinach
1 1/4 Tbsp - Hoisin Sauce
1/2 tsp of each - Paprika, Coriander, Cumin
3 Tbsp - Soy Sauce
Salt and Pepper, to taste
Extra Virgin Olive Oil
Preparation:
1. Put water with salt and let it simmer. Once simmer blanch the spinach for 90 seconds. Then strain and squeeze lightly.
2. Sliced thinly onion and 2 cloves of garlic. Heat up a pan with olive oil and cook the onion and garlic. Add in some salt and let the onion caramelized.
3. Add in Spinach and mix it well. Cook in medium high for 3-4 mins, stir continuously. Then add pepper and soy sauce. Cook until the spinach dry. Transfer to a large plate to cool it down.
4. In a bowl, deep soak the bread with water for 2 mins and squeeze all of the water out.
5. In a bowl mix ground pork, beef, bacon, garlic, 2 spring onions, hoisin sauce, spices (paprika, coriander, cumin), salt, and pepper. Add in the bread and egg. Mix it well by hand.
6. Divided the meat and spinach into 8 portions. Roll the meat into a ball and add in the spinach in the middle and cover it and roll it back to a ball (spinach has to be unseen). Pat it down a bit (patty looks alike but not too much because might lose the juice).
7. Coated with flour lightly. Heat up a pan with olive oil and cook the meat. Move it every 30 seconds, and flip it once ready, make sure not to burn it.
8. Serve and garnish with spring onions.