Maple Apple Crepes with Cranberry Pecan Granola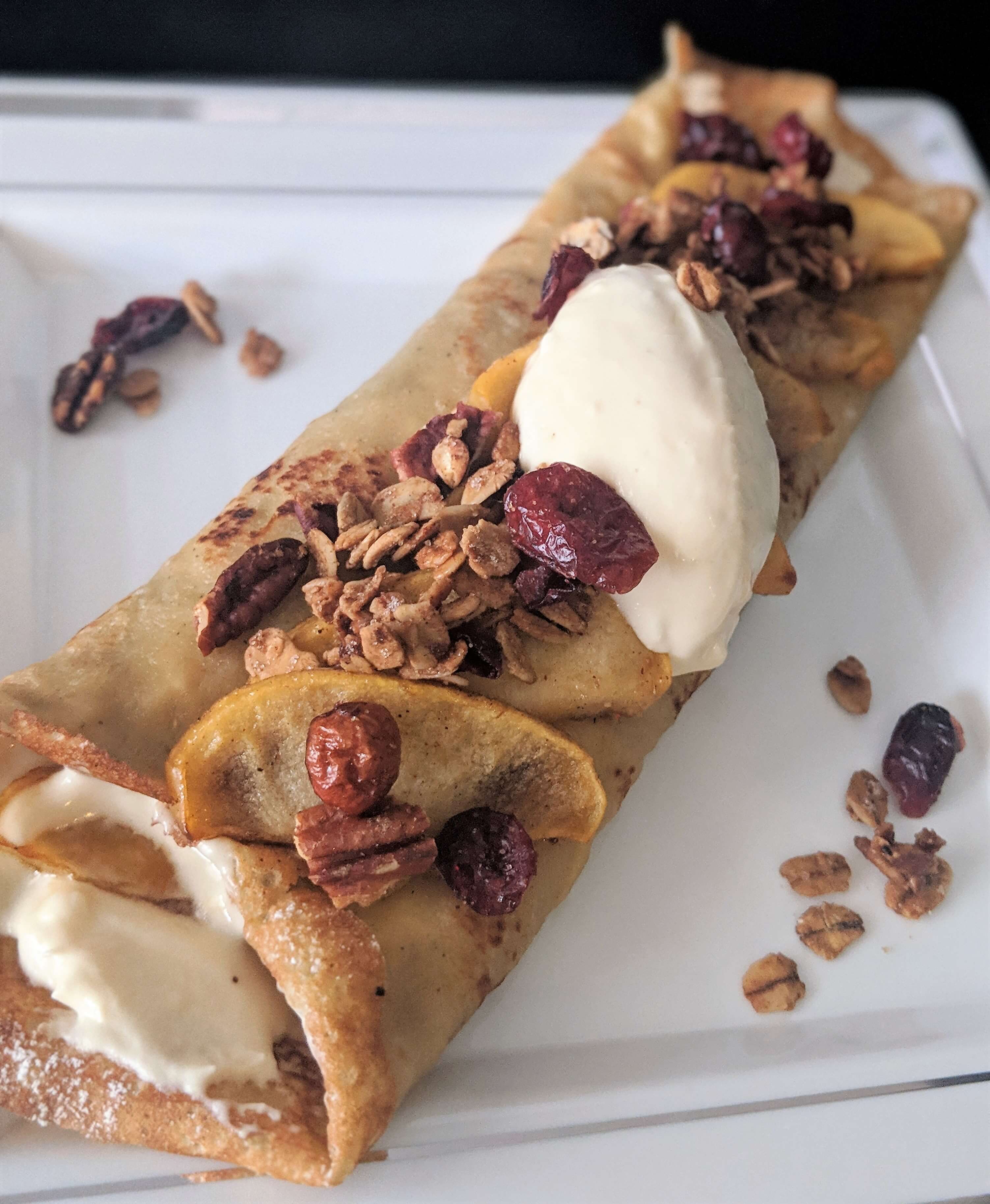 Submitted by Heather Bohannan
About the cook:
Heather is my name and baking is my game. I love to bake and am an aspiring food blogger. I started as a hair stylist and one day decided to switch it up! I clearly have a creative side to me.
About the dish:
Breakfast? Dessert? You decide! Or why not both? This recipe is the best excuse to eat dessert for breakfast. A warm brown butter crepe with sweet maple cream and roasted apples? Not to mention a bit of crunch with a delicious cranberry pecan and maple granola. YUM!
National Origin:
French
Serves:
8
Estimated Time:
Under 30 Minutes
Ingredients:
All Purpose Flour
Almond Milk
Eggs
Browned Butter
Salt
Sugar
Vanilla
Heavy Cream
100% Maple Syrup
Cinnamon
Apples
Brown Sugar
Cranberries
Pecans
Preparation:
Crepes:
All Purpose Flour 1 cup
Almond Milk ½ Cups
Eggs 3 Large
Browned Butter (melted) 2 Tbs.
Salt ½ tsp.
Sugar 2 Tbs.
Vanilla 1 tsp.
-Combine all ingredients in a blender until smooth. Allow to chill overnight. Be sure when cooking used a well oiled non-stick spatula. Usually takes 3 minutes each side to cook.
Filling:
Whipping Cream 1 cup
Cream Cheese (soft) 8 oz.
Maple Syrup ½ Cup
Vanilla 1 tsp.
-Whip Cream to soft peaks. Set aside
-Whip cream cheese until smooth and slowly incorporate until cream cheese mixture. Fold whipped cream in, be careful not to deflate.
Granola:
Oats 4 cups
Cinnamon 2 tsp.
Brown Sugar 1/3 cup
Maple Syrup ½ cup
Brown Butter 1/3 cup
Vanilla ½ tsp.
Cranberries ½ cup
Pecans ½ cup
-Chop pecans into small pieces and add in oats. Separately combine cinnamon brown sugar, maple syrup, brown butter and vanilla together. Toss oats/pecan mixture into wet and bake for 35-40 minutes on 325 degrees. This can be stored for up to a month.
Roasted Maple Cinnamon Apples:
Opal/honey crisp apples 2 large
Maple Syrup ½ cup
Lemon Juice 1 Tbs.
Cinnamon 1 tsp.
Cardamom 1 tsp.
Toss all together and bake at 425 degrees for 5 minutes. Flip and bake for an additional 5 minutes.
*To assemble: lay out crepes and add 2 Tbs. of filling. Spread out evenly on the fresh baked crepes. Add roasted apples and fold like a burrito. Top with additional apples and syrup, followed by granola.