MADRAS CHICKEN CURRY IN 30 MINUTES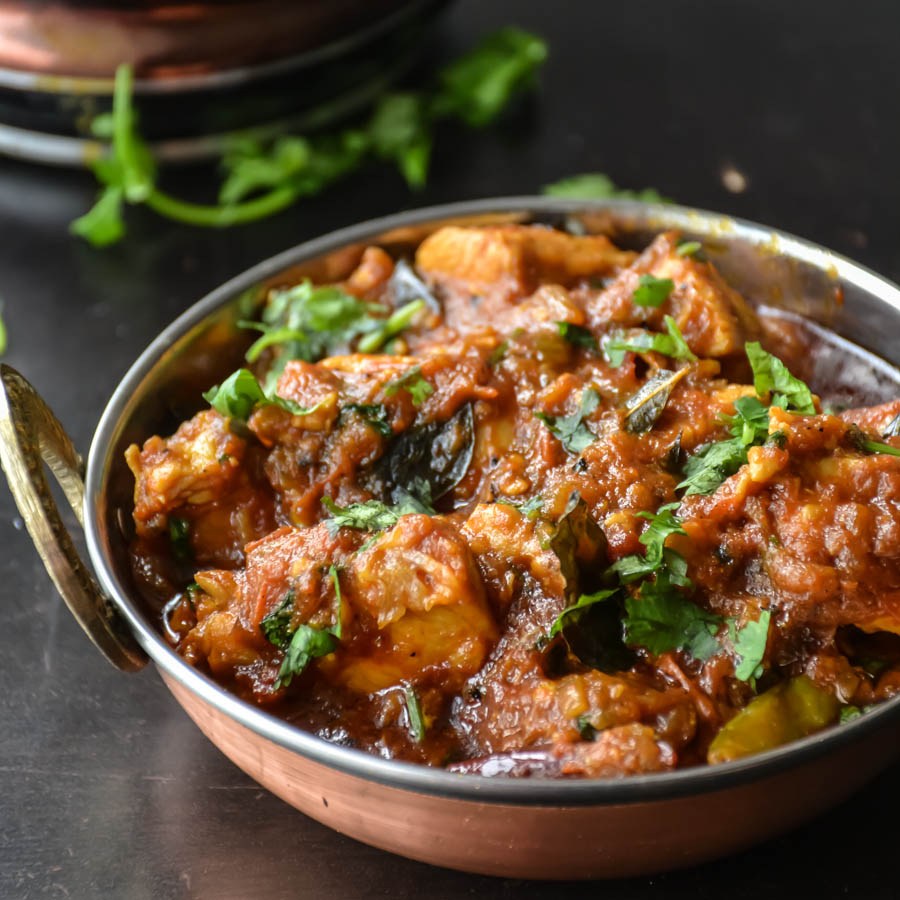 Submitted by Suganya Hariharan
About the cook:
Hey! My name is Suganya Hariharan, speaker behind RelishTheBite. My "factual job" is writing SQL queries for my Quality Control analyst position and in cooking department: I do the cooking, writing, and photography for the blog. I live in Montreal, Canada but am originally from Chennai, India.
About the dish:
This is the most indulgent, easy and delicious way of preparing chicken in Indian style. The ingredient is very simple and pretty straight-forward. This is such an easy dish, yet so delicious and flavorful. Madras is a city in Tamilnadu (state), India. Madras is now renamed to Chennai.
National Origin:
INDIAN
Serves:
3
Estimated Time:
Under 30 Minutes
Ingredients:
Chicken breast – 250 gms, no skin, cut into small bite sizes
Oil – 1.5 tbsp
Cumin seeds - 1 tsp
Red chilli whole – 2, broken
Curry leaves - 10
Garlic – 4, chopped finely
Ginger – 1 inch, chopped finely
Red Onion medium – 1, chopped finely
Tomato medium – 1, chopped finely
Green chilli – 1, slit
CHilli powder – 1 tsp
Coriander Powder – 1 tsp
Turmeric powder - ¼ tsp
Fennel powder – ½ tsp
Pepper powder – 1 tsp
Garam masala – ¼ tsp
Yogurt – 1 tbsp (optional)
Coriander – 1 tbsp, chopped finely
Salt – as needed
Preparation:
1.Take a pan and add oil in medium flame, add cumin seeds, dried red chilli, and when their color changes, add garlic, ginger, green chillies and curry leaves. When the garlic gets sauted, add onions to it.
2.After the onion is sautéed well, add the chopped tomatoes with turmeric powder. Mix well.
3.Add chilli powder, coriander powder, garam masala powder, pepper powder, fennel powder and salt. 4.Sauté well for 2 mins till it oozes out some oil.
5.Add the chicken and yogurt, keep it in medium-low flame and mix well. Close it with the lid and do not add water. Let the chicken cook from the water that chicken oozes out.
6.After 10-12 minutes, it would have been cooked, add some coriander and mix well. See if the consistency is good for you, switch off.