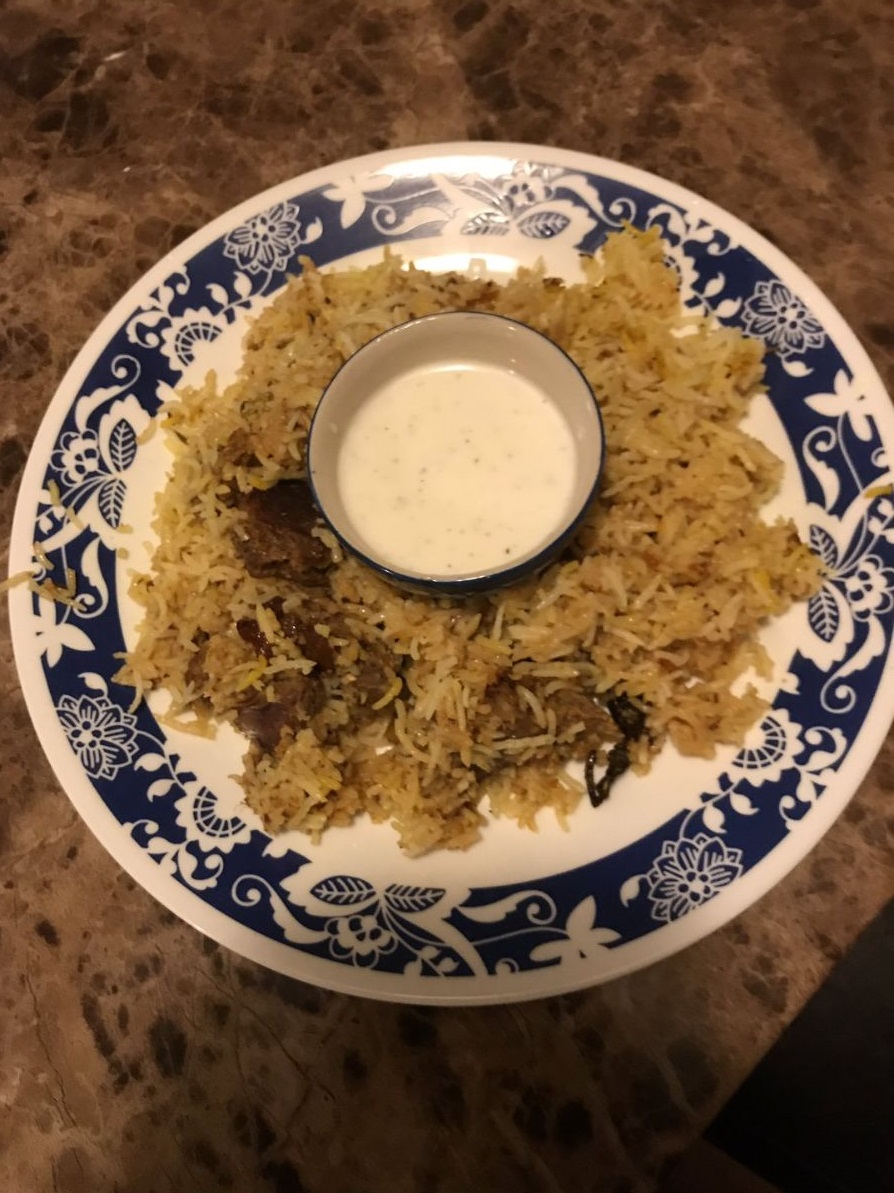 Submitted by Nagma Mushtaq
About the cook:
I've been interested in cooking since I've been a child, it's my favourite hobby. I'm a very good home cook and I am highly experienced in cooking. I've always dreamed of one day becoming a professional chef.
About the dish:
It's a Traditional recipe style Lamb Biryani was cooked by my mom For me usually famous & served on weddings
National Origin:
Indian-Hyderabad
Serves:
4
Estimated Time:
30 to 60 Minutes
Ingredients:
2cups of rice
2lbs lamb meat
750gms yogurt
3 big onion
2 green chillies
Few mint leaves
Few coriander leaves
Red chilli powder 1tsp
Turmeric powder 1/2 tsp
Cumin powder 1 tsp
Garam masala 1 tsp(4cardamom
4 clove,cinnamon stick 1 piece and black cumin, blend together makes garam masala)
1 tsp garlic paste
1 tsp ginger paste
Salt to taste
Extra cardamom
Clove
Cinnamon stick
Black cumin whole
Milk added with saffron or orange food colour
Juice of 4 lemon
And oil
Preparation:
First slice onions and fried in the oil till golden brown,
Then marinate lamb meat with all the ingredient add the fried onions too with some oil and add juice of 1 lemon ,
Take big pot add water salt and add some whole clove 5 ,cardamom 5,2 sticks cinnamon and some black cumin to water boil the water add washed rice cook until 1/4 cooked rice then strained the water and empty the pot then in the same pot first put marinated meat then put rice over the meat then sprinkle 1/2 cup milk mixed with saffron or orange food colour ,then sprinkle juice of 3 lemon then sprinkle oil from the fried onions then add some coriander, mint leaves cover the lid cook on the high flame for 5 minutes then on medium flame for 20 minutes then low flame on 10 minutes . Serve after 10 minutes with yogurt or tomato chutney.