"Japanese Style Doria" Spicy Brown Rice Risotto and Oyster Casserole with Miso Avocado Alfred Sauce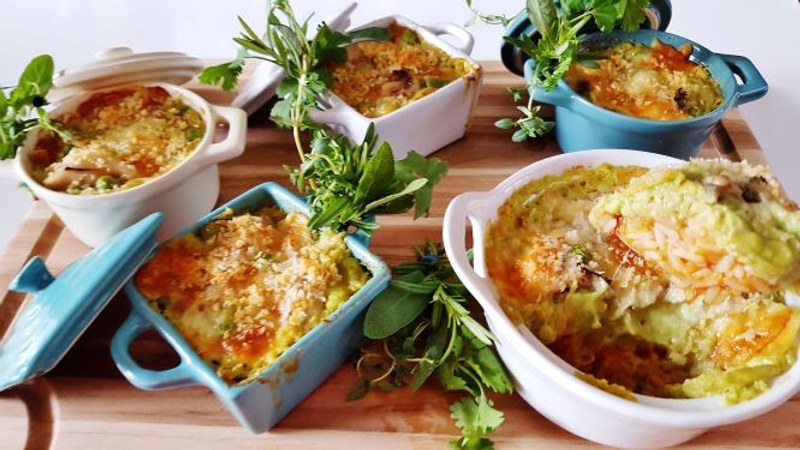 Submitted by Yoshiharu Sogi
About the cook:
I have been working in Wine Country, Sonoma CA. I have trained as chef in several place in Japan and Lyon City in France after graduate culinary school in Japan and France also have earned many of winnings at food competitions in my chef career. My another big interesting is wine, I have studied and earned diploma, certificate for wine specialist from Japan Sommelier Association and Society of Wine Educators of America. My sommelier skills work to combined with my Japanese and French culinary training to create virtual masterpieces of food paired with wine.
About the dish:
Created for oyster lovers. Traditional casserole twisted with Japanese and California flavor, easy preparation and tasty dish.
National Origin:
Japan
Serves:
4
Estimated Time:
30 to 60 Minutes
Ingredients:
For Risotto rice
8oz Brown Rice
12oz Water
2 tablespoons Onion (chopped)
2 tablespoons Celery (chopped)
2 tablespoons Shallot (finely chopped)
2 tablespoons Butter (un salted)
1 teaspoon Salt
5 tablespoons Sriracha Ketchup
6 tablespoons No Salt Added Petite Diced Tomatoes
For Creamy Miso Avocado Alfred Sauce
2 pieces Avocado, medium size
2 Tablespoons White Miso
6oz Alfred Sauce
For Topping
4oz Manchego Cheese, sliced
8oz Oysters, shucked
2 tablespoons Edamame
3 tablespoons Breadcrumbs
1 bunch Mixed Herb bouquet
Preparation:
Direction for Risotto rice
1. Melt of butter over medium heat in a sauce pan. Add the onion, shallot and celery, add salt and cook the until fragrant and beginning to soften.
2. Pour the rice over the onions and stir until every grain is coated with the butter. Continue stirring the rice until the edges have turned translucent but the center is still opaque, about 2 minutes.
3. Pour water little by little, keep stir and boil water. Repeat this sequence until rice cooked but slightly crunch in middle (Al dente).
4. Transfer to flat plate or trey to cool down completely.
Direction for Creamy Miso Avocado Alfred Sauce
1. Prepare food processor or mixer, peel and pit avocado then chop coarsely. Put in mixer, add white miso and Alfred sauce then blend until become smooth puree.
2. Transfer to small bowl, cover with plastic wrap to avoid oxidized brown.
For Assemble, bake and finish
1. Preheat oven 450°F, prepare baking cup or ramekin. Transfer risotto rice into mixing bowl, add siracha ketchup sauce and diced tomato then mix. Divide even in baking cups.
2. Top half amount of sauce on rice, place oysters, edamame, corn and half amount of cheese. Pour remaining amount of sauce on topping then place remaining half of cheese on sauce.
3. Place cups on oven trey or cookie sheet, bake 15-20 minutes until golden-brown and rice becomes hot.
4. Remove from oven once, sprinkle bread crumb on top then bake again until brown and nice crunchy.
Remove from oven, transfer on under plate, place mixed herb bouquets aside then serve within hot. Herb bouquets are for additional flavor on casserole, pinch and add as you like.