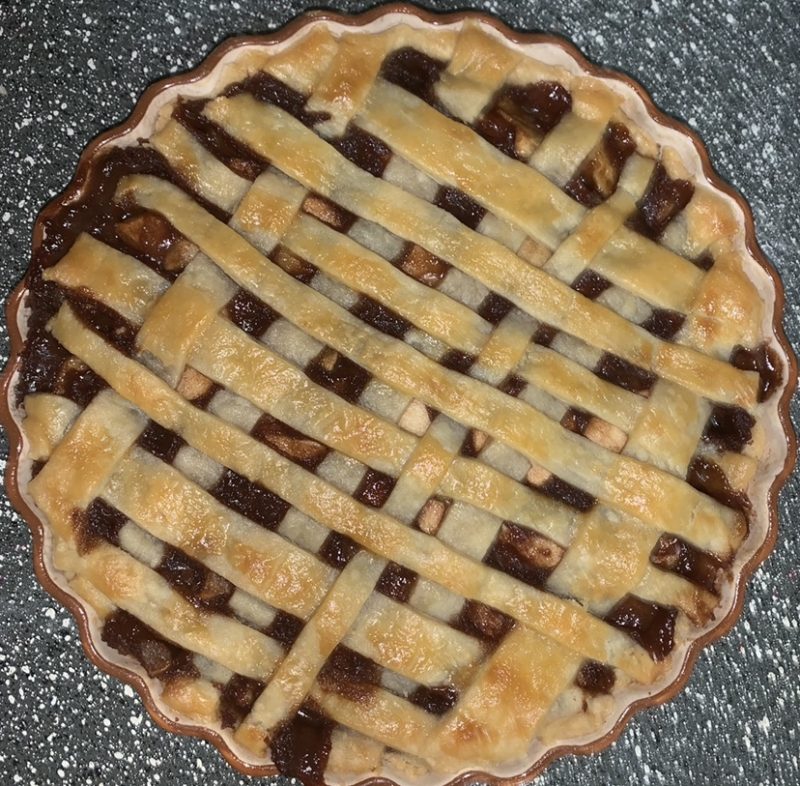 Submitted by Destiny Martinez
About the cook:
Hey y'all! I'm a stay at home mama of 2 and constantly in the kitchen putting love and happiness into my family's stomach! Savory is fun but sweets has my heart! I love putting a smile on peoples face and sharing the beautiful things in life, FOOD.
About the dish:
A perfect dish for any season, approved by children and adults!
National Origin:
American
Serves:
6
Estimated Time:
1 to 2 Hours
Ingredients:
PIE CRUST
2 cups of flour
1 cup of cold butter
1 teaspoon salt
1 teaspoon sugar
7 tablespoons of cold water
EGG WASH MIXTURE
1 egg
1 teaspoon water
FILLING
6-8 whole apples - sliced & tossed in fresh lemon juice
1 cup of Browned Butter
1/2 cup to 2/3 cups granulated sugar
1/2 cup to 2/3 cups brown sugar
1 tablespoon vanilla
1- 2 tablespoon cinnamon
2 tablespoons flour - use extra if needed
BROWNED BUTTER
1 cup of butter
Preparation:
PIE CRUST
1. Mix flour, salt & sugar
2. Add cold cubbed butter and hand mix gently trying to allow butter to stay in pea sized pieces
3. Slowly add water and continue to hand mix until dough is sticking together but also in loose pieces
4. Pile dough onto counter, sprinkled with flour, roll out and fit to pan.
5. Poke holes with fork into crust and brush (1egg &1 teaspoon water) mixture onto pie crust
6. Set aside until filling is done cooking.
BROWNED BUTTER
1. Melt butter in saucepan, allow to simmer while stirring often until you see the butter turning brown. Takes about 7-10 minutes if you have on medium heat.
FILLING
1. Put Browned butter in saucepan and heat on medium.
2. Add in sugar, brown sugar, vanilla, and cinnamon. Stir until smooth.
3. Add 1/2 teaspoon of flour into the sauce at a time to thicken.
4. Add apples and let cook for about 4/5 minutes stirring often
5. Put filling into uncooked pie crust, add the remaining pie crust on top of filling
6. Brush the egg & water mixture on the top of the crust
7. Bake on 350•f for about 32-38 minutes