Grilled Pork Tenderloin with Mexican Style Romesco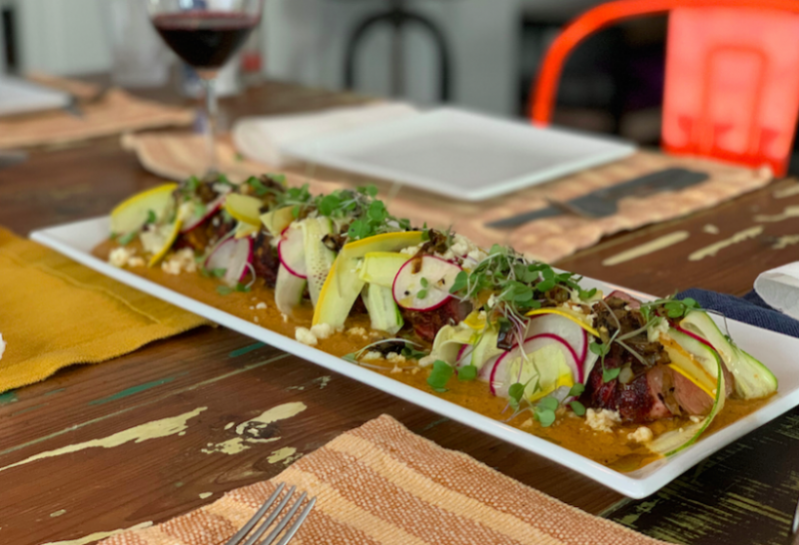 Submitted by Cameron Stell
About the cook:
I am a nanny and home chef who owns her own catering company. I am extremely creative in the kitchen and am always creating new and unique recipes. Life is too short to eat bad food.
About the dish:
This dish is smokey and spicy and tangy. The charred flavor of the meat and peppers are complimented perfectly by the raw veggies and quest fresco.
National Origin:
Mexican/Spanish Inspired
Serves:
4
Estimated Time:
30 to 60 Minutes
Ingredients:
-1/2 red bell pepper
-1 poblano pepper
-1/4 of an onion
-1/2 bulb of garlic
-1/2 cup veggie stock
-2 tablespoons red wine vinaigrette
-3/4 cup olive oil-divided in 3rds
-2 tablespoons chipotle puree
-1/2 cup almonds
-2 scallions
-2 lbs pork tenderloin
-1 tablespoon paprika
-1 tablespoon garlic powder
-2 tablespoons salt
-1 tablespoon ground black pepper
-1 tablespoon chili powder
-1 teaspoon cayenne powder
-1 teaspoon allspice
-1 teaspoon dried oregano
-1 teaspoon ground cumin
-1/2 cup zucchini ribbons(made with veggie peeler)
-1/2 cup yellow squash ribbons
-1/4 cup radish, shaved
-1/4 cup micro greens
-1/4 queso fresco, crumbled
Preparation:
Heat grill on high. Rub peppers, onion, garlic and scallion with 1/4 cup olive oil. Grill veggies until charred, about 10 minutes, flipping once. Mix all spices together and rub over dry pork tenderloin. Grill pork 5 minutes on each side until charred. Reduce heat to medium low and continue cooking 4 minutes per side. While pork cooks blend peppers, onion, garlic, 1/4 cup olive oil, vinegar, chipotle, veggie stock and almonds. Add salt and pepper to taste. In a small bowl add chopped scallions and 1/4 cup olive oil. Serve pork family style. On a large plate place romesco, top with sliced pork, zucchini, squash, radish and greens. Add crumbled cheese and drizzle with scallion oil. Enjoy!