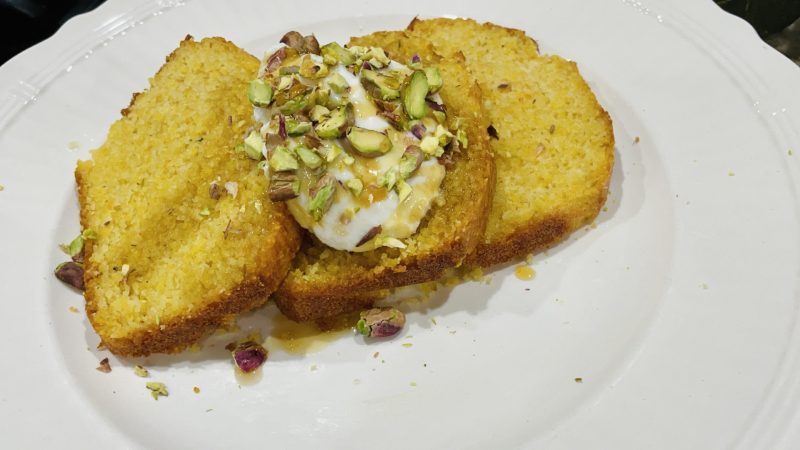 Submitted by Nazreen Siska
About the cook:
I'm a aspiring cook and who loves to create new recipes. I'm also a mum to a beautiful baby boy who is 8 months of age. My goal is to get him excited about food - real food just like I do. I've always liked to create my own recipes, but I also like to collect cook books.
About the dish:
This is one of my favourite guilt free treats. It's also a high protein recipe and can be enjoyed with a variety of toppings once it's baked. It's one of the easiest cakes you will ever make. It can even be done with a hand whisk. This recipe can also be made with lemons.
National Origin:
Italian
Serves:
4
Estimated Time:
1 to 2 Hours
Ingredients:
1.5 cup cornmeal or polenta
1.5 cup almond flour
2 whole eggs
1 cup egg whites (from 6-7 eggs)
1 spoon vanilla extract
6 tablespoon maple syrup ( can also use coconut sugar)
1 cup olive oil
Zest from 1 orange
Juice from 2 large oranges
1 spoon baking powder
2 tablespoon Greek yoghurt (optional). This makes the cake extra moist
Preparation:
Whisk the eggs and egg whites together. Once it's a bit fluffy add in the remaining wet ingredients. Whisk them all together for about 10 minutes.
In a separate bowl mix the baking powder, corn meal and almond flour. Add this to the wet mixture and fold them evenly. This should be a smooth semi solid consistency.
Bake for 350 for 45 minutes to an hour.
Serve as is or toppings of your choice. I love this with a scoop of Greek yoghurt, warm honey and crushed nuts.