Easy Crab and Shrimp Stuffed Salmon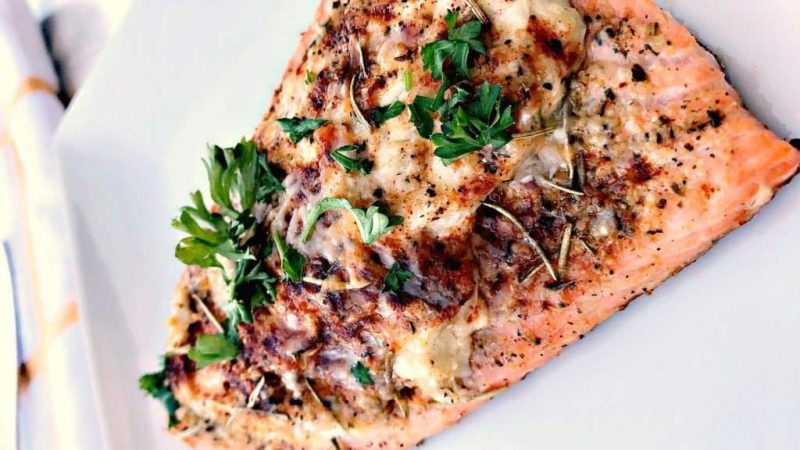 Submitted by Nathaniel Cargill
About the cook:
I love to cook, and have been since I was young. Would love to have my own place of business. That's what I'm striving for to become successful.
About the dish:
My family loves seafood. This is a quick and easy recipe that always wins.
National Origin:
American
Serves:
4
Estimated Time:
Under 30 Minutes
Ingredients:
16 oz Salmon
1/4 lb of lumped crab meat
1/4 lb devained shrimp
2 oz. Cream cheese
1 cup plain Greek yogurt
1 teaspoon paprika
1/2 teaspoon Worcestershire sauce
1/2 cup Parmigianno Reggiano cheese
3 garlic cloves
2 tablespoons parsley
1 teaspoon rosemary
1 tablespoon olive oil
1 tablespoon Cajun seasoning
Preparation:
Preheat oven to 350 degrees.
Heat the cream cheese in a bowl in a microwave for 20 seconds to soften
and combine the cream cheese, Greek yogurt, crab meat, shrimp, garlic, Worcestershire sauce, and 1/4 cup of the cheese in a bowl.
Spread olive oil onto both sides of salmon and score it.
Stuff the crab, Greek yogurt, and cheese mixture into each of the scores.
Combine the seasonings in a bowl season the salmon.
Sprinkle the remaining 1/4 cup cheese over the salmon, and then sprinkle with paprika.
Spray a baking pan with cooking spray, add the salmon to the baking pan and cover with parchment paper. Bake for 10 minutes, remove the parchment paper and bake an additional 5 minutes.
Allow to cool. Serve!