Chicken Fried Steak with Mashed Potatoes and Spinach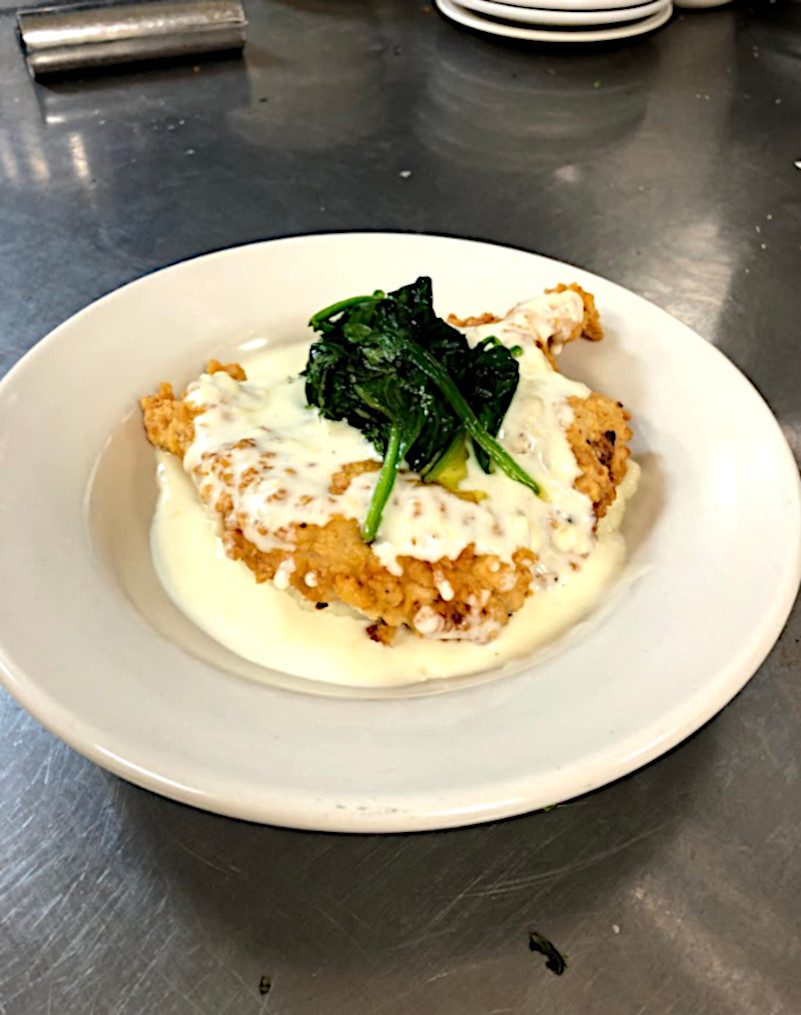 Submitted by Alex Lattur
About the cook:
I'm an aspiring chef who is in college right now and this for one of my projects for school. I love cooking and I genuinely try and come up with original recipes to make. If I can't make one I just find multiple and tweak them and put them together. This recipe is an original and I did it for a ACF practice competition.
About the dish:
This recipe is good for when you are on a budget and still want something that is fine dinning worthy.
National Origin:
French
Serves:
4
Estimated Time:
30 to 60 Minutes
Ingredients:
Bechamel/Mornay Sauce
1 ¼ cup Milk
1 T AP Flour
1 T Butter
4 T Finely shredded Smoked Gouda
1 Cup Heavy Cream
Chicken
Boneless Chicken Breast
Pound out Chicken Breast
Egg Wash
1 can of evaporated milk
2 Eggs
Mashed Potatoes
5 Russet Potatoes
½ Cup Heavy Cream
2 T Butter
2 t Salt
Spinach:
Hand full
Preparation:
Chicken:
Pound out chicken breasts (How ever many you have)
Salt both sides and out in flour.
Coat chicken breast in flower and then put the chicken into the egg wash.
Take out and season then put into the flour again.
Put the flyer on 320 or get your oil to this temperature.
After the oil is to temp drop down for about 3-5 mins.
Mashed Potatoes:
Wash and peel five russet potatoes.
Cut into small squares and boil for about 10 mins.
Drain pot into a colander and mash the potatoes in a large mixing bowl.
Add butter, heavy cream, and salt and mix.
spinach:
Heat up cooking oil in a saute pan. When the pan and oil are hot, throw in spinach and wait for it to wilt. Take off heat.
Bechamel Sauce.
Melt butter in saucepan.
Stir in flour, cook, stirring constantly until bubbles a bit, about two minutes.
Add milk, continuing to stir as sauce thickens. Bring to a boil. Add salt.
Lower heat, cook, stirring for 2-3 mins
Add Gouda, melt, stirring constantly.
Add heavy cream and bring to a simmer.
Pull off heat and pour over chicken.