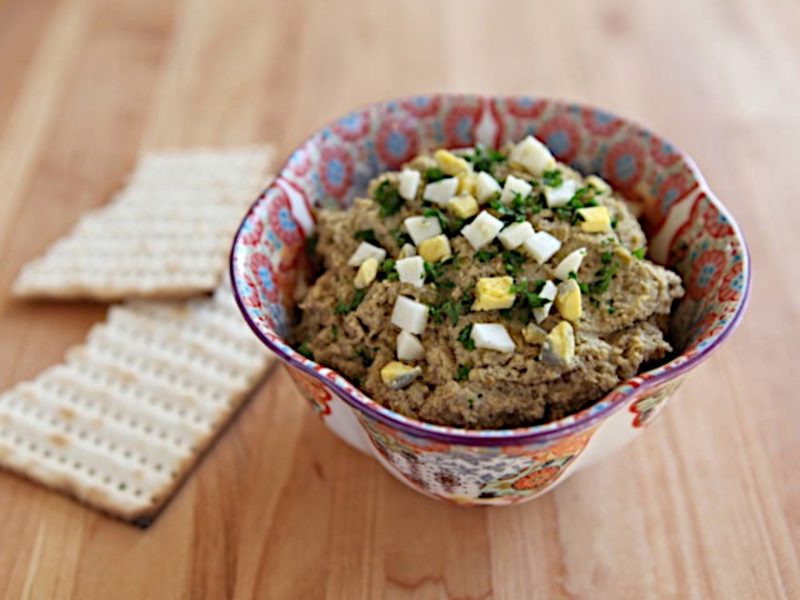 Submitted by Emily Muskin
About the cook:
I am originally from Omaha, Nebraska, but currently reside in Cleveland, Ohio, with my husband, two cats and dog! We have full house and generally, full tummies too, as both my husband and I love to cook up new creations all the time. I am Jewish and was also raised with a lot of Laotian influence. In my cooking, I like to play up flavors from both of these cuisines as well as use veggies and fruits from our ever growing garden!
About the dish:
Chopped Liver is a traditional, Jewish spread that goes on anything from Challah to matzah!
National Origin:
Jewish
Serves:
8
Estimated Time:
30 to 60 Minutes
Ingredients:
-1 lb. chicken livers
-1 dozen eggs
-1 stick of unsalted butter
-one large, yellow onion
- 1/4 cup chopped, fresh parsley
- salt and freshly ground pepper to taste
Preparation:
Hard Boil 1 dozen eggs, peel and set aside. Take thawed out chicken livers and dry the liquid out of them on paper towels. While they are drying out, finely dice the onion. Using a medium to large pan, turn the burner to medium heat and melt the stick of butter. Add onion and cook until starting to become translucent, 2-3 minutes. Then add the chicken livers and cook every thing together, stirring occasionally until livers are browned on both sides, about 5-7 minutes. Once livers and onions are done put into a large bowl along with the hard boiled eggs. Use a potato masher or a fork and mash to combine everything together. Once everything is combined evenly, run the mixture through a meat grinder and place into a serving dish. Refrigerate till you're ready to eat! Before serving sprinkle chopped parsley on top.