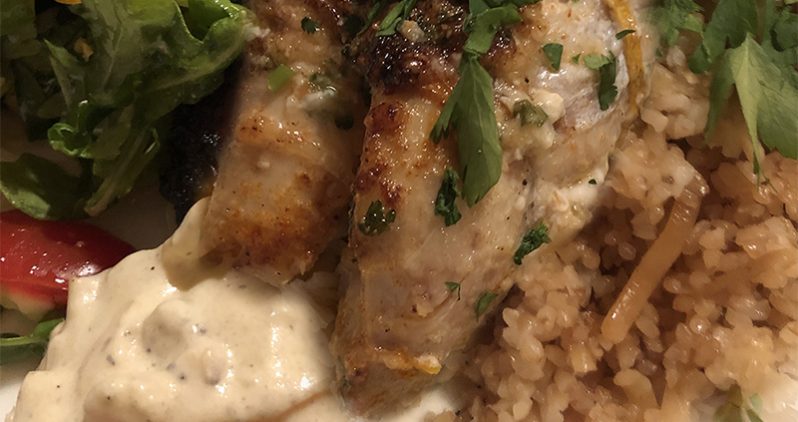 Submitted by Kara Adanalian
About the cook:
After winning the grand prize at a local pizza topping contest and 15 years later capturing the title of "America's Best Home Cook" I feel qualified as an amateur contest cook, and love the challenge. My most creative entries (and home meals) are when I search through my pantry and frig to pull off some delicious eats to share with family and friends.
About the dish:
A take-off on chicken fingers with ranch dressing, I combined flavors from my recipes passed down from my mom and grandma with a middle-eastern taste that kids and adults love!
National Origin:
Armenian
Serves:
4
Estimated Time:
30 to 60 Minutes
Ingredients:
Chicken Ararat:
4 boneless, skinless chicken breasts, pounded to 1/8" thickness
salt & freshly ground pepper
1 c. falafel mix
3 T. extra virgin olive oil
3 T. sweet butter
1 tsp. sesame oil
4 T. toasted pine nuts
Yogurt Dressing:
1 medium clove garlic, minced
1/2 c. seeded, chopped fresh tomatoes
1/4 c. chopped scallions
1/4 c. chopped flat-leaf parsley
1 tsp. fresh lemon zest
salt & freshly ground black pepper
1 c. whole milk yogurt
1 T. extra virgin olive oil
Bulghur Pilaf:
1-1/2 cups whole kernel bulghur (or cracked) wheat
4 T. butter
1 onion, chopped
1-1/2 c. chicken broth, heated
1/2 c. thin to medium egg noodles
salt & freshly ground pepper
Preparation:
• Make pilaf (can stand with lid on after removing from heat for up 30 minutes):
Melt butter in a medium saucepan, add onions and pasta, stirring until pasta and onions turn golden brown. Add bulghur, stir to coat then add hot broth, stirring well. Bring to a boil, reduce heat to low, cover and cook for 20 minutes (do not remove lid). Remove from heat and stir lightly before serving.
• Make yogurt dressing (can be refrigerated up to 2 hours).
Combine all ingredients except yogurt and olive oil, let stand 15 minutes minimum. Add remaining ingredients and combine well.
• Prepare chicken and take it to the plate!
Lightly salt and pepper both sides of chicken. Coat well with falafel mix and shake of excess. Heat pan with olive oil, butter and sesame oil. Brown chicken on both sides (do so in batches if necessary using 1/2 the oil/butter mixture to keep butter and residue in pan from burning).