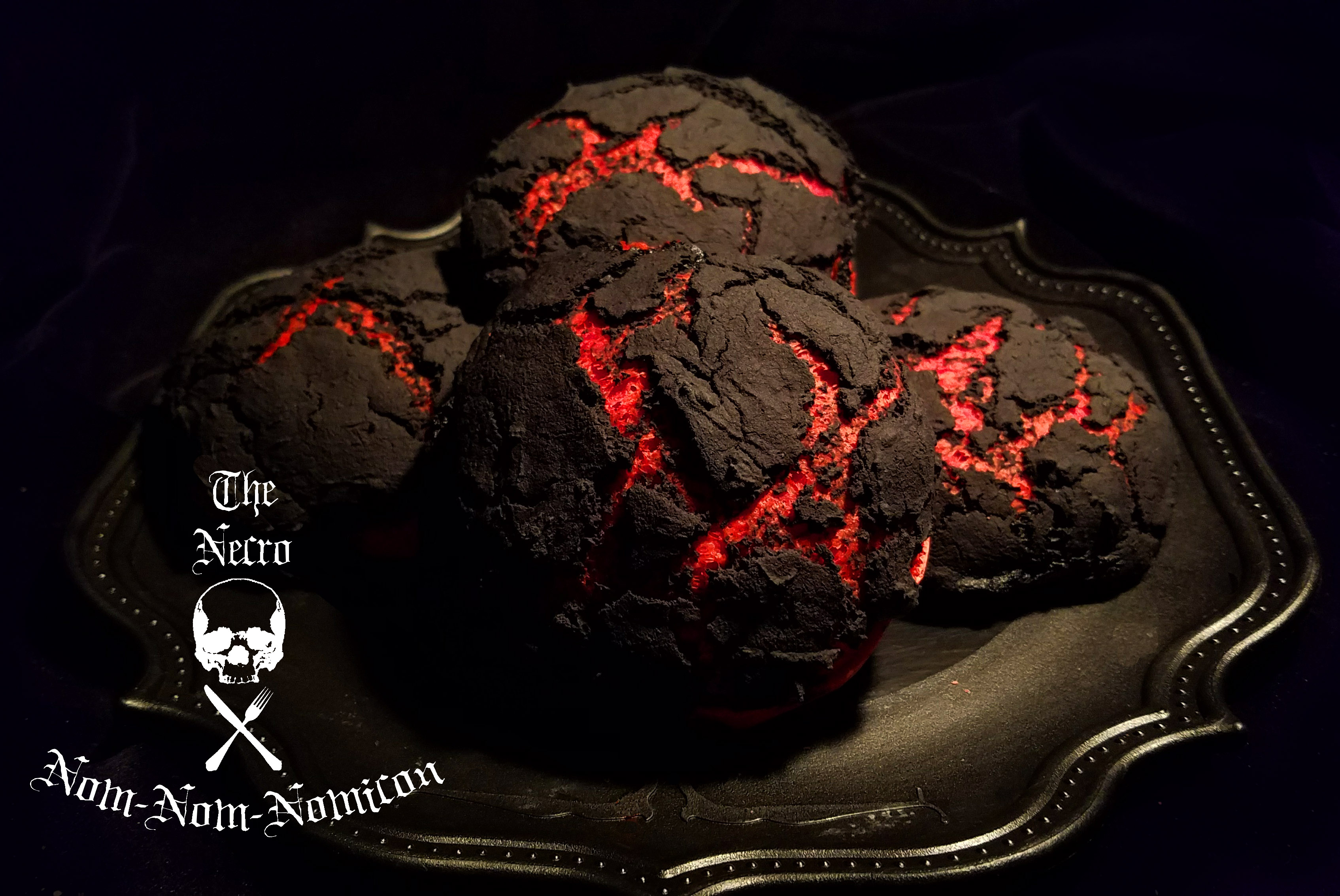 Submitted by Hellen Die
About the cook:
I am an international award-winning food and lifestyle writer with an extensive background in Hollywood screenwriting and practical special effects. Following a 15-year career in film and television as a screenwriter, prop and costume designer and DGA Assistant Director working on projects like Z Nation, Sharknado, Mr. and Mrs. Smith and Sons of Anarchy, I took the skills and techniques I learned on set and moved them into the kitchen. I am a prolific and full-time content creator, writing for both the Syfy channel with a once monthly column Fantastic Feasts and my own personal website, The Necro Nomnomnomicon, incorporating the very techniques and skills I learned on set to seamlessly blend food and special effects into mind-bending dishes ripped straight from science fiction and horror. I was nominated for and won a 2017 Saveur Blogging award and my Alien's inspired recipe "Facehugger Roasted Chicken" went viral internationally, garnering over 4 million views in 5 days and has resulted in a joint project with 21th Century Fox in celebration of the Alien Franchise this April. While I might currently be in the kitchen working, my heart has always been and always will be in Hollywood and in screenwriting.
About the dish:
This shockingly pitch black and fire red bread looks just like a glowing coal of brimstone. Made from hearty white bread topped with a crunchy layer of rice bread, these are guaranteed to be the highlight of any dinner spread.
National Origin:
Dutch
Serves:
12
Estimated Time:
Over 2 Hours
Ingredients:
"Base Dough"
• 1 Tablespoon active dry yeast
• 3 tablespoons red food coloring
• 2 Tablespoons white sugar
• 2 ¼ cups warm water
• 1 Tablespoon salt
• 5 cups bread flour
• 2 Tablespoons oil
"Crunch Topping"
• 2 Tablespoons active dry yeast
• 2 Tablespoons sugar
• 2 Tablespoons vegetable oil
• ½ teaspoon salt
• 1 ½ Cups rice flour
• 1 cup warm water
• 2 Tablespoons black bamboo charcoal powder (or black food coloring)*
Preparation:
This recipe's amazing look comes courtesy of two different types of bread dough cooking together at the same time. Because the rice dough layer lacks the same glutenous structure as the wheat dough, rather than stretching as it bakes, it creates the crunchy, crackly, split apart topping that makes our brimstone bread so cool looking!
The first thing we need to do is prep our "base" wheat dough.
In a large bowl, mix your yeast, food coloring, sugar, and water together thoroughly. Allow them to rest for 5-10 minutes. As it activates, the mixture will begin to bubble and foam. Now is the time to say any incantations you might be partial to over your mix. I prefer the always classic "Double double, toil and trouble" but feel free to use whatever works for you.
Gradually add the salt, flour, and oil to the foaming mix.
As you mix, the dough will come together into one large lump which should be elastic but not too sticky.
Turn the dough out onto a lightly floured surface, and knead briefly for about 2-3 minutes or until the dough is smooth and soft.
Pat the dough into a ball. Quickly clean out the bowl you used to mix your dough and give it a light wipe down with a little oil (this helps keep the dough from sticking to the bowl as it rests). Place your dough ball back into the bowl. Cover with a towel and allow to rest undisturbed for 10 minutes.
After 10 minutes, turn dough out and knead for another 2-3 minutes. Repeat these two steps a total of 5 times.
After your fifth time kneading the dough, divide the whole thing into 12 equally sized balls. Place the balls onto a baking sheet, cover lightly with a damp towel, and allow to rest for 4 hours.
While your dough is resting, let's make our crunch topping!
In a clean bowl, whisk the yeast, sugar, oil, salt and rice flour.
In a separate small bowl or cup, mix your black food coloring in with your water. You want your topping to be as black as you can make it, so feel free to be liberal with the food coloring. If using activated charcoal, I would try to stick to the recipe measurements I've listed here. I wouldn't add more than the two Tablespoons as that can change the flavor of the bread later on.
*SIDE NOTE: if using activated charcoal, be aware that it can present problems for anyone who is on certain medications. While the activated charcoal does turn food a fantastically dark black color, it's better to be safe than sorry. For more information on charcoal and how it interacts with medication, consult with a medical professional before using. When in doubt, use a black liquid or gel food coloring.
Gradually add the black water into the rest of your ingredients, a drizzle at a time. The topping should be thick and sticky, but still fluid enough to slowly ooze and drip off the end of your whisk.
Cover and allow to sit while your base dough continues to rise, or at least 15 minutes.
Once your base dough has fully risen, it's time to combine the two parts of our recipe!
Start by preheating your oven to 450F/230C.
Take a big old wad of your black topping and smear it all over the top and sides of your red dough balls. Don't worry about it being too thick, you're better off erring on the side of too much than not enough. If the topping is too thin, it won't crackle the way you want it to.
You could do this with a knife or a spoon but trust me when I say it's so much easier to just use your (clean, washed and dried) hands.
Let stand, uncovered, for another 15 minutes. This allows the topping to really adhere to your dough balls and gives your oven time to reach temperature.
Slide your black crunch topped red dough balls into your oven, making sure that the pan is on the center rack of your oven and bake for 15 minutes.
As it cooks, your topping will crisp up and shrink back, creating the deep cracks and fissures that make brimstone bread so distinctive.
Once they're done cooking, allow them to cool until they are comfortable to handle. Once you can touch them without burning yourself, crack one open, slab on a fat slice of butter, and enjoy your brimstone bread!
For a truly fun twist, slice the cooled rolls in half widthwise and use as hamburger buns or sandwich bread.
Mmm, delicious!