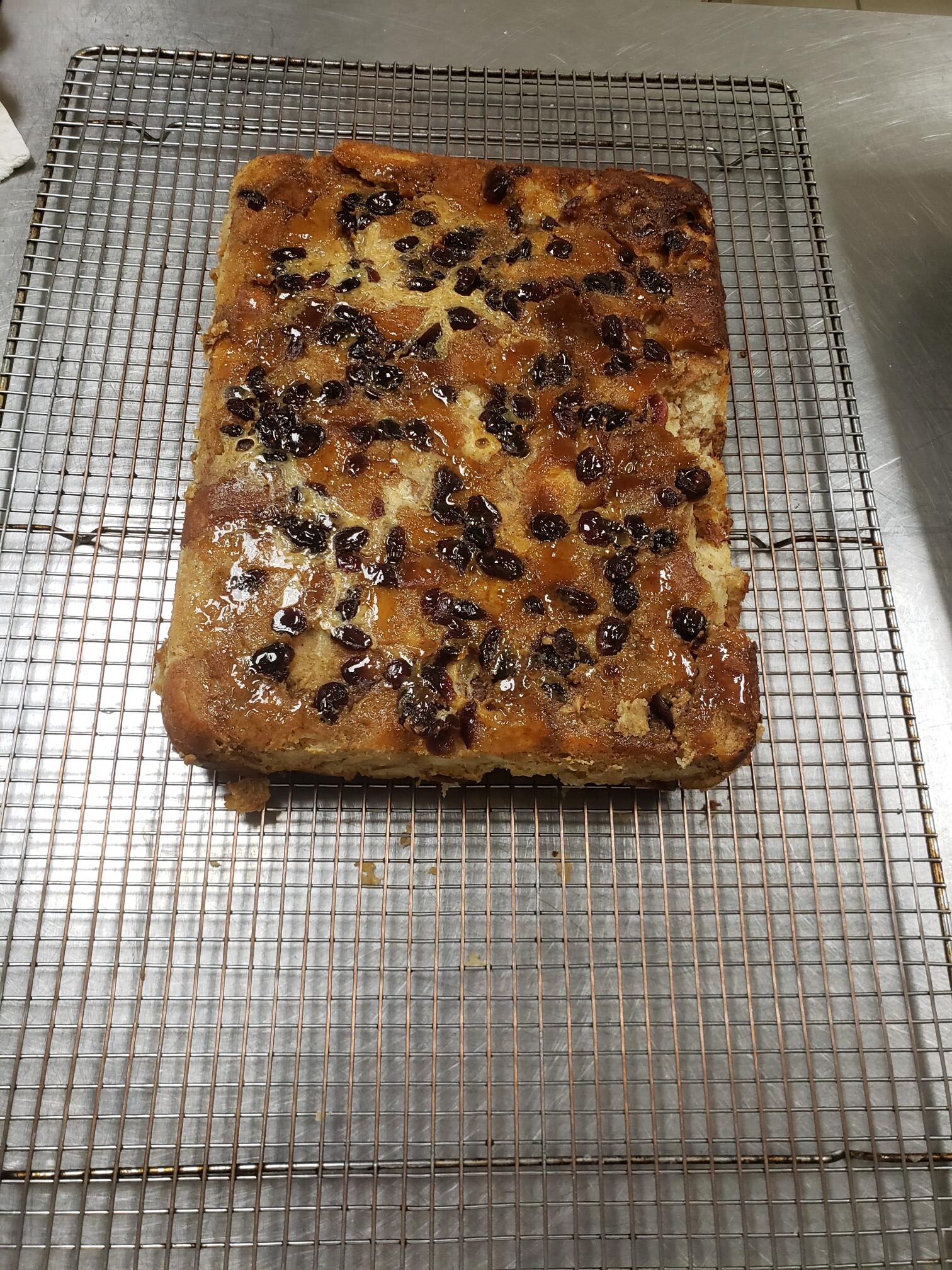 Submitted by Kristian Castro
About the cook:
I am very passionate about the culinary arts, although I am still a novice, I will continue to grow and learn as much as possible to accomplish my goal of becoming a respectable chef.
About the dish:
This bread pudding recipe is easy to make and traditional. It is perfect for family occasions or as a simple snack.
National Origin:
American
Serves:
12
Estimated Time:
30 to 60 Minutes
Ingredients:
10 Slices Texas Toast, cubed
4 oz Butter, melted
2 oz butter, melted
6 oz Brown Sugar, packed
½ cup Raisins or Dried Cranberries
4 cups Milk
1 cup Sugar
6 ea. Eggs
1 Tbsp Vanilla Extract
½ Tbsp Ground Cinnamon
Toasted bread from above
Preparation:
Directions (Toasted Bread):
1. Place cubed bread on a half sheet pan and pour melted butter over it and toss.
2. Toast the bread in a 350F oven for about 10 minutes or until bread is toasted.
Directions:
1. Preheat oven to 350 degrees Fahrenheit.
2. Spread the 2 oz of melted butter in the bottom of a baking pan, then sprinkle the brown sugar and raisins in the bottom of the pan.
3. In a large bowl mix together the milk, sugar, eggs, vanilla, and cinnamon. Stir to combine.
4. Toss cubed bread into milk mixture to moisten (about 3 minutes). Use a slotted spoon to place bread mixture into pan.
5. Pour enough milk mixture over bread until it comes to the top, gently pressing down as you go.
6. Bake for about 20-30 minutes.
BAKING TIPS:
• Once out of the oven, invert pan over plate and allow to cool.
• Due to the topping of this bread pudding, it will stick to pan if allowed to cool in the pan.