Beer & Smoked Gouda Seafood Bisque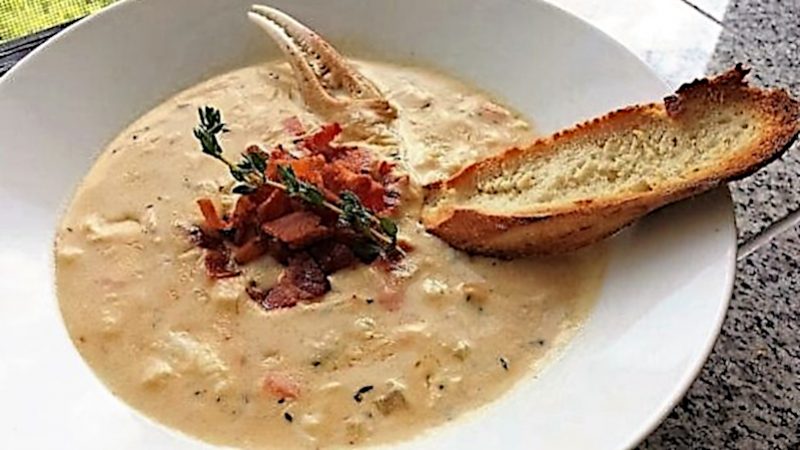 Submitted by Josee Lanzi
About the cook:
I was born in Quebec, Canada the biggest French part of Canada. My parents had a restaurant when I grew up and grandma was a great teacher too! I am a self taught home cook truly passionate about food.I am obsessed with cooking competitions. I have been doing this on the side for 6 years now and I have won numerous competitions from The Real Women of Philadelphia competition finalists with Kraft foods and Mrs. Paula Deen in Savannah, GA to winning the Country Crocks cooking star recipe contest and filming in New York with Carla Hall, assisting Robert Irvine in his first live dinner impossible to winning grand prize for Tostitos one chip wonder to New England soup challenge I competed in Atlanta, GA also Macy's grilling guru cook-off in North Carolina, World Food Championships in Las Vegas 2 years in a row and placed top ten, with my recent win at World Food Championships in Orlando Florida placing 2nd in the world in the seafood category, I tell ya if there is a cooking or recipe contest/competition I am signing up the test kitchen is always open on my spear time I absolutely love it! I also have a second passion and that is fishing I have been fishing since the age of 4 first in the rivers in Canada but then moved to Florida when I was 10 years old and fell in love with Saltwater fishing, If you don't see me in the kitchen cooking you will see me out on my boat catching fish to create yet another fresh catch of the day dish! It just doesn't get better than that and that is what I mean about simplicity at its best! Off the hook, on the plate! Sometime Off the hook is really off the hook but sometimes it's an off the hook dish I just whipped up with a few simple on hand ingredients!! With over 100 fishing/cooking videos on You tube with a total views of 87,276 and 27,989 views on my website post just makes me smile. Got to love that!! Doing things you love and that lets' you enjoy others and make others happy what else could you ask for really? Every day is a new day you never know what it will bring! Making the best of everyday is what I'm all about! Thank you all!!
About the dish:
It's my signature dish with the perfect amount of lager beer, smoked Gouda, heavy cream, and loaded with king crab, blue crab and fish with a hint of bacon and thyme serve with a toasted baguette. Ou la la!
National Origin:
France
Serves:
6
Estimated Time:
30 to 60 Minutes
Ingredients:
1/2 pound cod or halibut
½ pound blue crab
1 pound King crab
6 ounces sliced bacon thick cut into 1/3-inch dice
1 celery rib, finely chopped
1 carrot peeled and finely chopped
1 small onion, finely chopped
1 large jalapeño, seeded finely chopped
2 large garlic cloves, minced
1 tablespoon chopped thyme
One 12-ounce bottle medium lager beer
2 1/4 cups seafood broth
4 tablespoons unsalted butter
1/4 cup all-purpose flour
1 cup heavy cream
4 ounces sharp yellow cheddar cheese, coarsely shredded
5 ounces smoked Gouda cheese, coarsely shredded
Pinch Salt and freshly ground pepper if needed
Baguette
1 garlic clove
Preparation:
Steam the king crab 8 minutes.
In a sauté pan cook cod seasoned with sea salt in a little butter 4 minutes on each side or until it starts to flake.
In a large pot, cook the bacon over moderate heat until the fat is rendered and the bacon is crisp, 6 minutes. Using a slotted spoon, transfer the bacon to a bowl.
Add the celery, onion, jalapeño, garlic and thyme to the pot and cook over moderate heat, stirring, until softened, 8 minutes.
Add half of the beer and cook until reduced by half, 5 minutes. Add 2 1/4 cups of seafood broth and bring to a simmer.
In a small skillet, melt the butter. Add the flour and cook over moderate heat, stirring, until lightly browned, about 2 minutes. Whisk this roux into the soup until incorporated and bring to a simmer. Cook until thickened.
Add the heavy cream, cheeses and the remaining beer and simmer, stirring occasionally, until thick and creamy, about 5 minutes. Add seafood season with salt and pepper. Add a few tablespoons of broth if the soup is too thick.
Serve the soup with garlic toasts.