Air Fired Mahi Mahi with Coconut Mushroom Caper Cream Sauces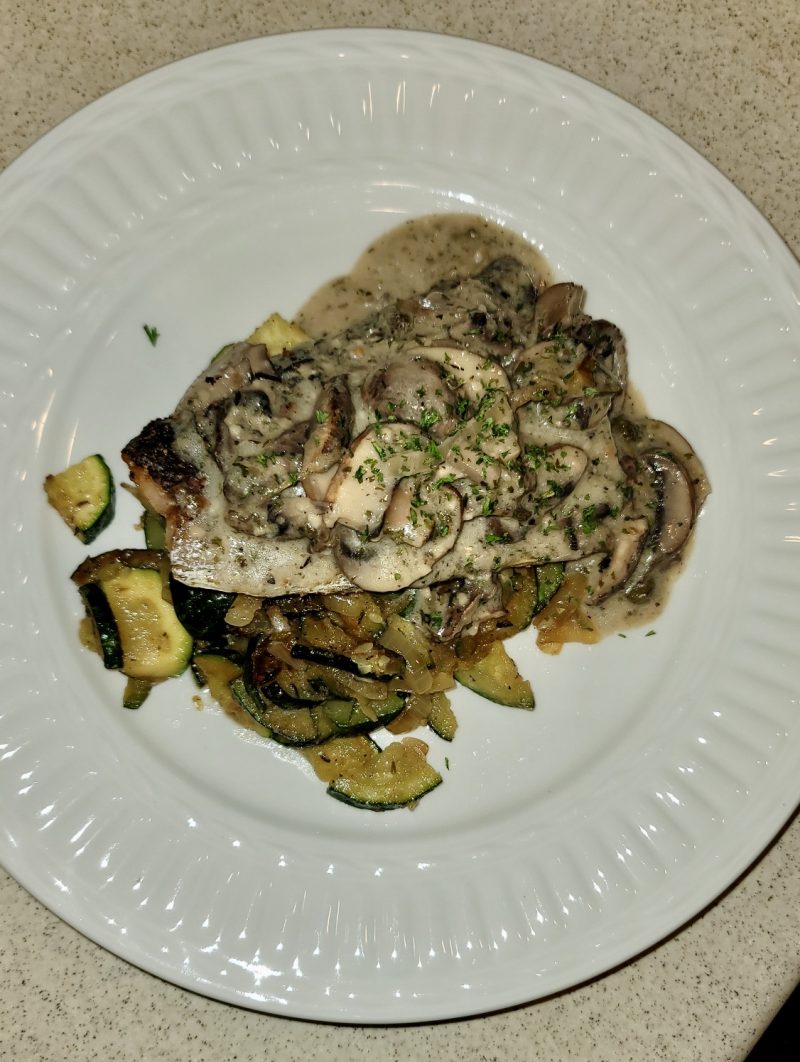 Submitted by Bria Jermaine
About the cook:
I'm currently a stay at home mom from the Bay Area, California. I have been cooking and in the kitchen my entire life. I studied and received my degree in culinary at the Art Institute of California - San Francisco. I'm at a place in my life that nutrient dense whole food cooking is my joy, I have also dabbled in plant-based cuisine. I love to cook and love to eat I hope you enjoy my recipe!
About the dish:
As a busy, tired new mom, I love using the air fryer to make my night simple. This meaty fish and sauce can be served with your favorite sides or even on top of rice.
National Origin:
West Coast American
Serves:
4
Estimated Time:
Under 30 Minutes
Ingredients:
Fish with marinated
- 4 portions. Wild Caught Mahi Mahi (fresh or frozen, skin on preferred)
- 2 tbs Lemon pepper seasoning.
- 1tsp Garlic ( granulated or powdered )
- 2Tbs Olive oil
- 1 tsp. Salt
Sauce
- 8oz Mushrooms (chopped/ sliced)
- 1 (1/2) Onion( halved then sliced )
- 1(oz) Liquor
- 2 tbsp. Ghee(clarified butter)
- 3/4 can. Full fat coconut milk
- 1 Tbsp. Cornstarch
- 1 Lemon (Halved or Quarter)
- 1 tsp. Dried parsley (fresh optional)
- 1 tsp Dried Thyme (fresh optional)
- 3 tbsp Capers (rinsed)
- Salt and pepper to taste
Preparation:
1. First thaw the fish, then marinate the fish for a least 10 mins. While it marinates prep mushrooms, onions and ingredients for the sauce. (If you do not have an air fryer you can either pan sear the fish or cook in the oven which is good to preheat now to 375F.)
2. Add fish in Air-Fry and set settings to place fish skin up. Keep an eye on it and cook at 375 for 10mins. (If using an oven add to sheet pan. I highly recommend using parchment or foil) (If cooking pan seared heat pan add some ghee, add fish to pan skinless side first. Using a fish spatula flip after 2-5 mins then finish on the skin side 5- 8 mins till cooked.)
3. To start on the sauce, heat your sauce pan and add ghee. Let heat then add your onions and mushroom, sauté until softened. Now season with herbs, salt and pepper.
4. Add capers then add cornstarch and stir constantly until toasted, then deglaze with liquor. Let cook 2 mins to cook off the alcohol then add coconut milk.
5. Let simmer for about 2 mins to thicken and adjust seasoning. Finish with fresh lemon juice (I recommend squeezing a quarter wedge at a time and to adjust to taste.
Now Serve with your favorite sides such as rice. I served mine with sautéed zucchini and onions.