Watermelon Goat Cheese "Sushi"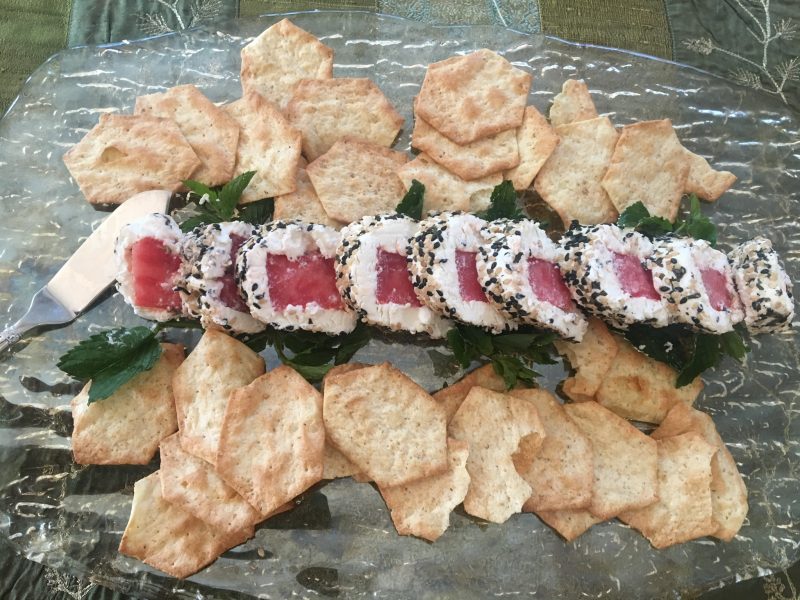 Submitted by Brier Neel
About the cook:
I am a Southern California girl transplanted to Michigan, with lots of other moves in between. I am the mom and wife of some seriously hungry guys who luckily love all of my kitchen experiments! My love of cooking began when I was very young and spent every weekend in the kitchen with my grandmother but instead of more traditional things I love to get just a bit "out there" just to keep it fun.
About the dish:
There is nothing better than fresh watermelon in the summer, or in the other seasons to make you think about summer! I came up with this dish as a fun addition to a sushi themed dinner party and it was a big hit.
National Origin:
Japanese in theme but American in ingredients
Serves:
8
Estimated Time:
Under 30 Minutes
Ingredients:
1 10.5 ounce log of goat cheese (about 6 inches in length)
1 6 inch by 1 1/2 inch thick piece of fresh seedless watermelon
1 tablespoon raw honey
2 tablespoons white sesame seed
2 tablespoons black sesame seed
1 tablespoon dried mint leaf
1 teaspoon cracked black pepper
1 teaspoon pink Himalayan salt or Fleur de Sel
1 teaspoon dried lavender
A box of your favorite crackers or slices of fresh baguette
4 large sprigs of fresh mint for garnish
Preparation:
On a large cutting board lay down a large piece of wax paper or parchment paper. Place the cheese on top and cover with another piece or wax or parchment paper. Using a rolling pin, roll the cheese flat to about 1/2 inch thick. Try to keep the cheese in as close to a rectangle shape as you can but it doesn't have to be perfect because you can mold with your hands later.
In a small bowl, mix together the sesames, mint, pepper, salt and lavender. Reserve 1/2 teaspoon of the mix separately and spread the rest onto a clean flat surface.
To assemble: Remove the top piece of paper and lay the watermelon across the center of the cheese horizontally to the long side of the rectangle. Brush the watermelon with the honey and sprinkle with the reserved seed/herb mixture. Using the bottom paper to help you, life the bottom side of the cheese up and over the watermelon to enclose it with the cheese. Using your hands mold the cheese to entirely encase the melon and roll on the cutting board until it looks like a log again. Then roll the entire log in the seed/herb mixture to coat. Wrap in plastic and chill in the fridge for at least 1/2 hour.
When ready to serve, lay sprigs of mint across a platter. Unwrap the cheese and, using a very sharp knife, gently slice crosswise into 1/2 inch thick pieces and place on the platter. The pieces will now look like a sushi roll! Serve with the crackers or baguette. But beware: they disappear fast!!!