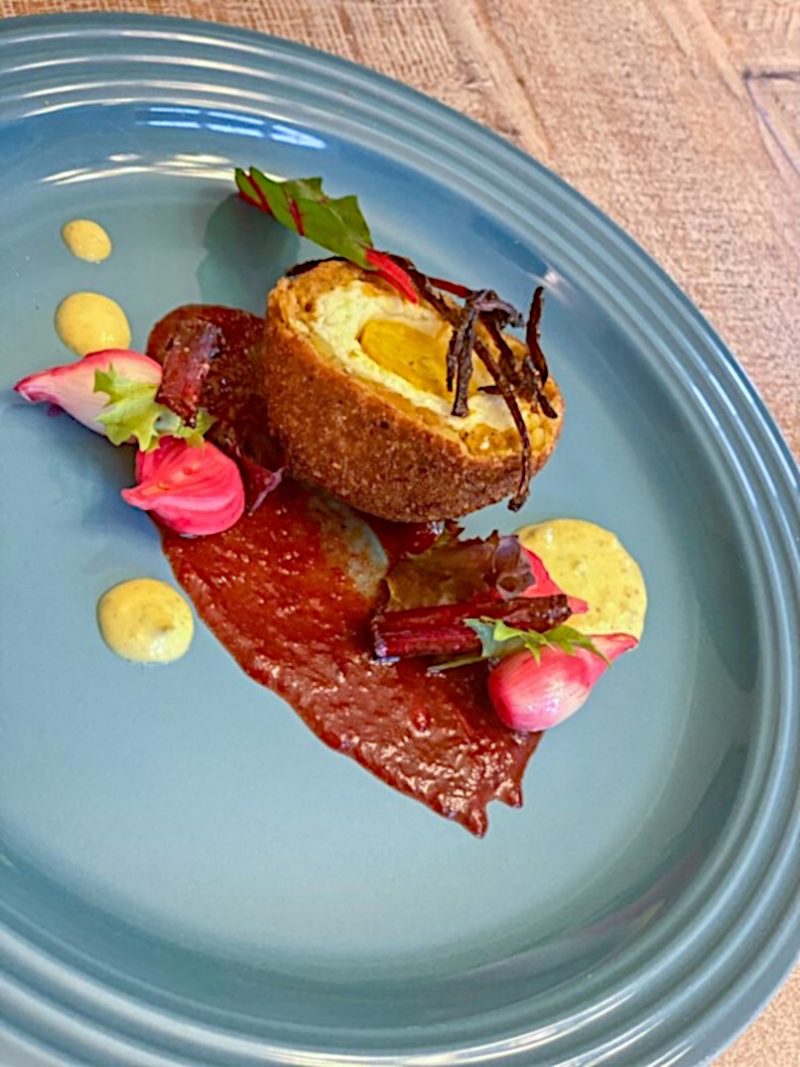 Submitted by Shalini Bist
About the cook:
About the dish:
This recipe is inspired by the vegetarian koftas (Indian meatballs) my mom used to make when I was growing up. I have tried to elevate it into meatless scotch eggs with a layer of mince soya made of split chickpeas and paneer. The rhubarb sauce adds a punch to the dish. All these indian flavors are sure to tickle your taste buds!
National Origin:
Indian
Serves:
4
Estimated Time:
1 to 2 Hours
Ingredients:
For split chickpeas (chana dal) filling
1/2 cup Split chickpeas
1 cup water
salt and white pepper
For paneer (indian cottage cheese) filling
2 cups grated Paneer
salt and white pepper
For rhubarb sauce
2 tsp olive oil
1 red onion finely chopped
1 garlic clove minced
3 large stalks of rhubarb thinly sliced
100 ml water
1 tbsp balsamic vinegar
1 tbsp Worcestershire sauce
2-3 tbsp brown sugar
Salt to taste
For mango achari (pickle) cream
3 tbsp Mango Achhar (Pickle)
100 gms Yogurt
2 -3 tbsp Fresh Cream
1/4 tsp cumin powder
1/2 tsp amchur powder(raw mango powder)
Salt (if needed)
For beetroot pickled pearl onions
1½ cups white wine vinegar
1 tablespoon sugar
2 teaspoons coriander seeds
2 teaspoons kosher salt
1 teaspoon dried mint
8 ounces pearl onions, peeled, halved
½ small beet, peeled, halved
For crispy rhubarb shavings
Rhubarb stalks-1
Salt, pepper, seasoning
oil to drizzle
For spiced minced soya (Spiced Soya keema)
1 1/2-2 Cups Soy chunks
1 Onion , chopped
1 Green Chillies , chopped (optional)
1 tsp cumin seeds
1 Bay leaf
1 Black cardamom
2 Cloves
5 Whole Black Peppercorns
1/2 inch Cinnamon Stick
1 tsp Ginger Garlic Paste
1/2 tsp Turmeric powder
1 tsp Coriander Powder
1/2 tsp Red Chilli powder (optional)
1/1 tsp Garam masala powder
1/2 tsp meat masala
1 Tbsp Lemon juice
1-2 Boiled mashed potatoes(depends on the size you using, it should just bind the keema mixture)
Salt , to taste
Oil , as required
Preparation:
For split chickpeas (chana dal) filling – Pressure cook the chana dal with some salt in the water till the dal is fully cooked. Drain and mash it well. Avoid using turmeric or just a pinch only as we don't want the color of the turmeric to bleed into the white paneer filling when preparing the eggs. Add white pepper. (avoid using black pepper, so that it doesn't show when u cut the egg)
For paneer (indian cottage cheese) filling – Grate the paneer, add salt and white pepper (avoid using black pepper, so that it doesn't show when u cut the egg) you can add some cornflour if needed to bind the paneer filling together.
For Spiced Soya keema – Boil some water and soak the Soya chunks into the hot water for 30 min. Once the granules have fully absorbed the water, take them out and squeeze them to drain extra water. Mince all the using a grinder. Heat oil, add cumin seeds into the pan. Once the seeds start to sputter, add bay leaf, black cardamom, cloves, peppercorns, cinnamon and sauté it for 2 minutes. Now add the finely chopped onions into the pan and cook it for 5-7 minutes or till the time they are golden in color. Add turmeric powder, coriander powder, red chilli powder and give it a good stir. Now add the ginger garlic paste, chopped green chili and let this mixture cook for 5 minutes or till the time oil gets separated from the spices. Add minced soya, salt and garam masala powder, lemon juice into the pan and give it a good stir. Cook it for 5 minutes and make sure that soya is not sticking to the bottom. If needed,add very little water, cover the pan and cook for few more minutes. For binding the mixture together add boiled mashed potato to it. Adjust seasoning and add very finely chopped coriander into the prepared keema and mix well.
For rhubarb sauce – Heat the olive oil in a pot and sautéed the onions and garlic for about 8 mins until softened. Stir in the remaining ingredients,bring to the boil and then simmer for 10 mins until the rhubarb is completely broken down and the sauce has thickened.Blend it well to have a smooth sauce.
For beetroot pickled pearl onions – Bring vinegar, sugar, coriander seeds, salt, and mint to a boil in a small saucepan, stirring to dissolve sugar and salt. Reduce heat to a simmer and add pearl onions and beet. Cook, stirring occasionally, until onions soften slightly, about 3 minutes. Pluck out and discard beet (the onions will continue to take on color as they sit). Cover and chill at least 2 hours before serving. The flavor will mellow as it sits. Onions can be pickled 3 weeks ahead.
For Mango achari cream – Mix the pickle, yogurt, cumin powder, amchur and salt together. Add cream. Add in more for desired consistency. Strain to get a smooth sauce.
For Rhubarb shavings – Clean rhubarb stalks and trim ends. With a vegetable peeler, gently peel the red skin of the rhubarb off in order to create shavings. Season your rhubarb shavings with a bit of oil, salt, pepper, and optional lemon pepper or lemon garlic.Place on greased baking sheet. Transfer to the oven for 15 minute. Toss the shavings half way to make sure they are getting crispy. thinner shavings will cook faster. Once crispy, remove from oven.
For Assembling – Start with making the eggs. Make a small ball of the chickpea mixture. This is the yellow part of the egg. Then cover it with paneer filling making an egg shape. This is the white of the egg. Next cover that with the soya keema mixture.This replaces the meat in the traditional scotch eggs. Dip each egg in flour, then egg then breadcrumbs, repeat it for crispier coating around the egg. Deep Fry the eggs till they have a nice golden brown color and drain them on the kitchen towel. Once cool enough to touch, slice from the centre revealing all the scotch egg layers.
Serve with rhubarb sauce, achari cream, pickled onions, crisp rhubarb shavings and some beet leaves.