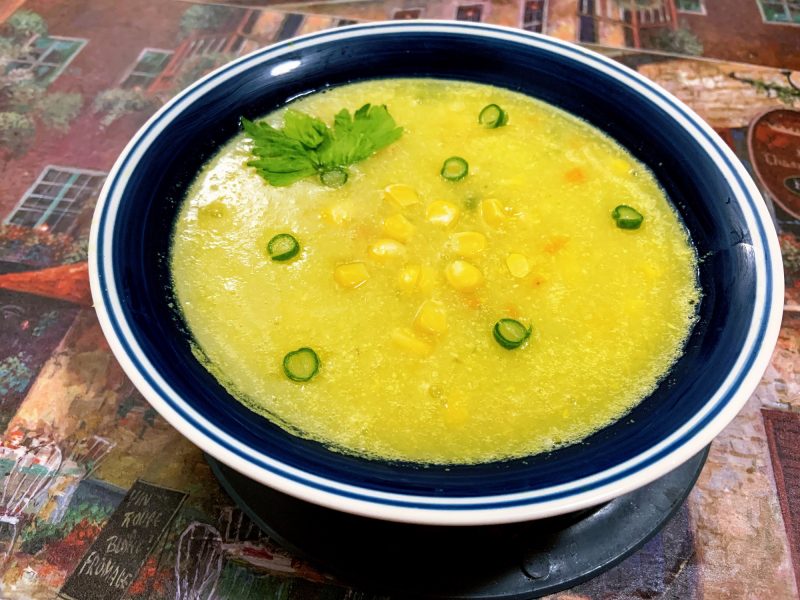 Submitted by Priyank Shah
About the cook:
Hi, I am a software developer by profession. We moved to Colorado 2 years ago for work and developed cooking as a hobby. I live here with my wife and have no kids yet. Currently busy exploring the mountains and more of Colorado.)
About the dish:
This is one of my wife's recipes and its delicious, quick and easy to make. It's nutritious and healthy, and especially good during winter when you want something warm.
National Origin:
Indian
Serves:
4
Estimated Time:
30 To 60 Minutes
Ingredients:
1 1/2 cup corn kernels (fresh or frozen)
1/2 cup roughly chopped cabbage
1/2 onion
1/2 to 1 tbsp corn starch
1/4 cup finely chopped carrots
1 celery stick
4 to 6 french beans finely chopped
1 cup water
2 tsp salt
2 cup vegetable stock
1 small piece of ginger as per taste or as needed.
1 tsp butter
1/2 tsp sugar or small jaggery piece
1/4 tsp pepper powder or as needed.
Preparation:
Wash all veggies under running water. Chop carrots and french beans finely.
1. Puree one cup corn, cabbage, onion, ginger and celery in a mixer.
2. Heat butter in a non stick cooking pan. Add carrots and beans and saute 2 minutes.
3. Add the puree, water, and 1/2 cup of corn, bring to a simmer until the veggies are cooked soft – about 15 to 20 minutes.
4. Optional for extra thickness – While the soup simmers, mix 1 tbsp corn starch in one cup water.Then stir till it thickens.
5. Add salt and sugar/ jaggery as well.
Serve warm with fresh pepper. Enjoy it. 🙂