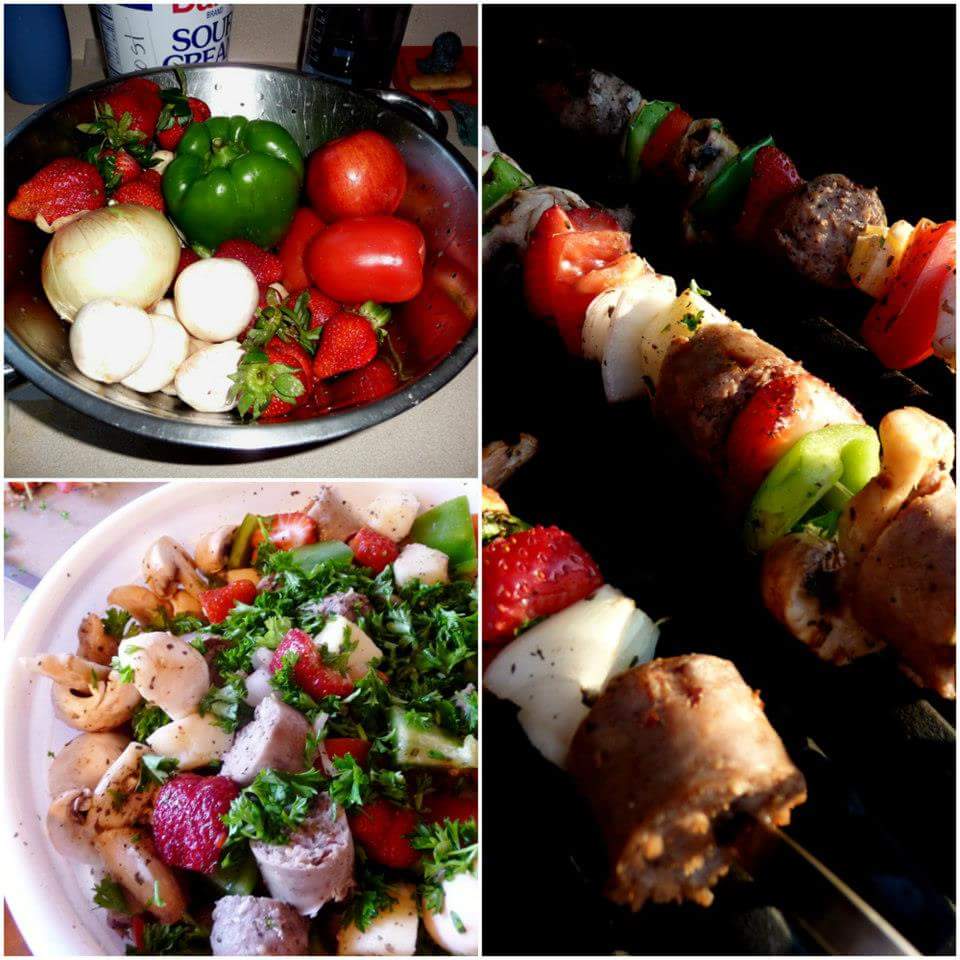 Submitted by Anna Davis
About the cook:
I am a personal chef in Springfield Missouri. Although I have not had formal culinary training, I have had some wonderful opportunities to travel across the US and abroad, shadowing at several renown restaurants. I love to cook and serve people and have been doing it since I was seven. I hope to do it for the rest of my life!
About the dish:
Growing up in the country, my family absolutely loved grilling in the summer. When I first created this recipe it was a huge hit and still one of their favorites. In fact, my sister loved it so much she named it. Hence the name "Kawows" in place of "Kabobs".
National Origin:
American
Serves:
4
Estimated Time:
30 to 60 Minutes
Ingredients:
5 bratwursts, cooked
8-10 medium mushrooms
8 strawberries
2 Jonathan apples
4 medium tomatoes
1 large onion
2 green or yellow bell peppers
2 Tablespoons freshly chopped parsley
2 Tablespoons freshly chopped basil
1/2 teaspoon salt
1/4 teaspoon pepper
Sauce:
3 tablespoons Dijon mustard
1 tablespoon honey
3 tablespoons butter
2 tablespoons lemon juice
1 tablespoon water
2 teaspoons Worcestershire sauce
1/8 teaspoon pepper
1/2 teaspoon salt
1 tablespoon minced crystallized ginger
Rice for serving, optional
Preparation:
Cut bratwursts into 1 inch pieces. Halve the mushrooms and strawberries and chop the apples and vegetables into good size chunks. Stir together in a large mixing bowl and add the seasonings. Stir in.
Stick meat, fruit, and vegetables evenly on skewers. Broil or grill for 10 minutes or until they are sizzling and dripping.
Meanwhile, for the sauce, mix all the ingredients in a small pan. Heat on the stove until butter is melted. Place all in a blender to make ginger pieces even tinier. Drizzle over the shish-kabobs before serving, and serve the rest tableside with rice if desired.