Springtime Zoodles and Noodles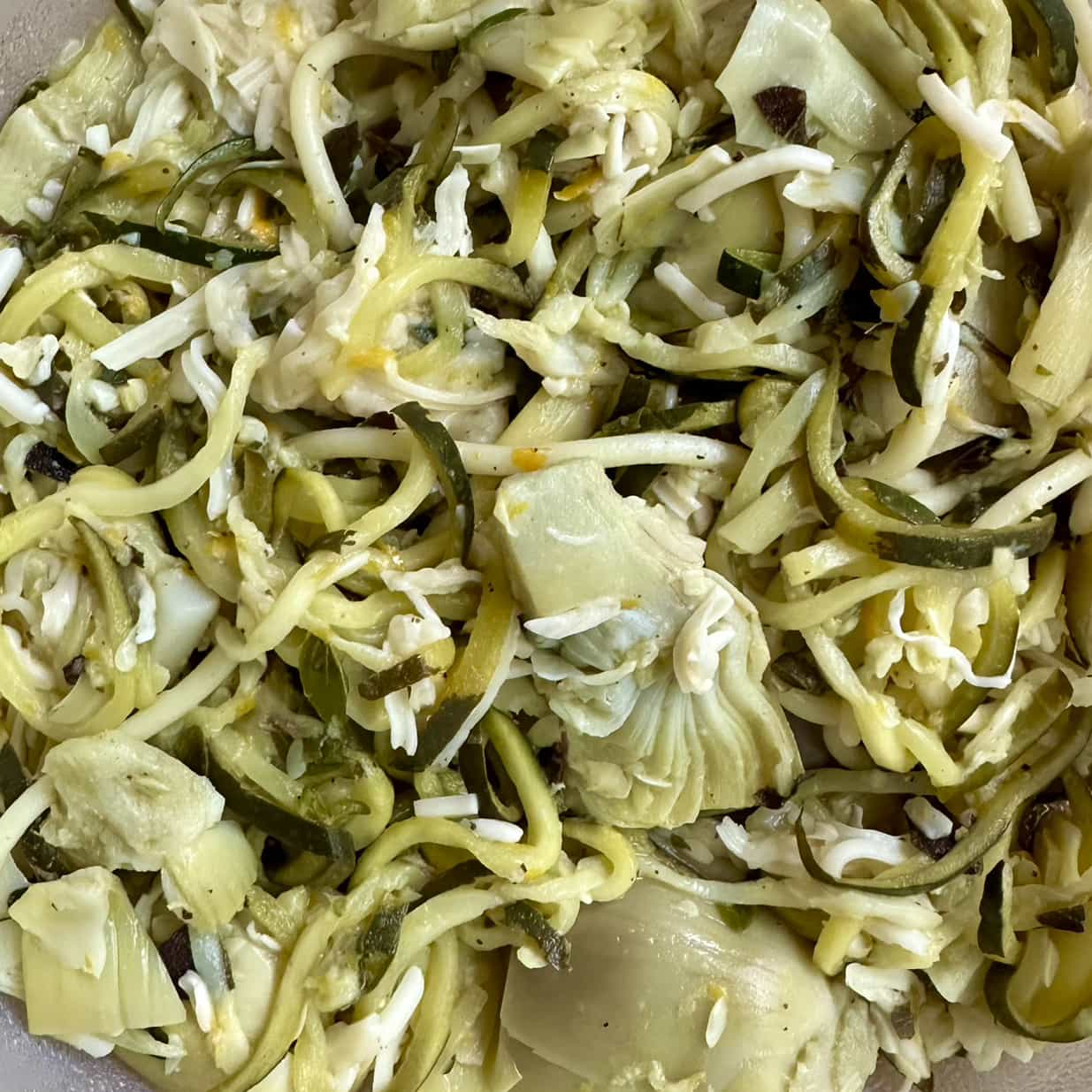 Submitted by Abbie Argersinger
About the cook:
I am a recently retired home cook, avid gardener, cake baker and dog lover. I divide my time between the kitchen, the garden and our local animal shelter.
About the dish:
In the springtime we naturally want to shift to brighter, fresher and more vegetable forward eating. This dish uses zoodles plus spaghetti for a lighter but still satisfying pasta experience. Bonus - if you grow zucchini, here is another way to use up the bounty!
National Origin:
US
Serves:
2
Estimated Time:
Under 30 Minutes
Ingredients:
2 medium zucchini
4 oz spaghetti
1 cup frozen artichoke hearts
2 tbs olive oil
2 Meyer lemons (sub regular of meyer are not available)
1/2 c fresh oregano leaves (this sounds like a lot, but trust me!) (you could also use basil or flat leaf parsley)
1/2 c grated parmesan (or more if you love parmesan as much as we do!)
Salt and pepper.
Preparation:
Zoodle your zucchini with a spiralizer, processor, or just a knife, then put it in a colander and lightly salt it. Allow it to drain for a few minutes then spread it on a clean tea towel and twist it up to remove excess moisture. This also perfectly seasons your zoodles.
Boil the spaghetti per the instructions (remember to salt the water! You want everything to be seasoned as you go), drain and set aside.
Add the olive oil to the pan (I use the spaghetti pot, but you could us a skillet if you prefer) and put over medium high heat. Toss the artichokes in and cook them for 4-5 minutes. Add in the zoodles and cook for just a couple more minutes, then toss in the spaghetti and the oregano. Zest the lemons over the pot (if you don't have a microplane you should get one!) and then also squeeze in the juice. Grind some fresh pepper in and toss it all together.
Divide the Zoodle noodles between two dishes and top liberally with parmesan. I listed 1/2 cup but if I'm honest I add more as I go. This is entirely up to you!