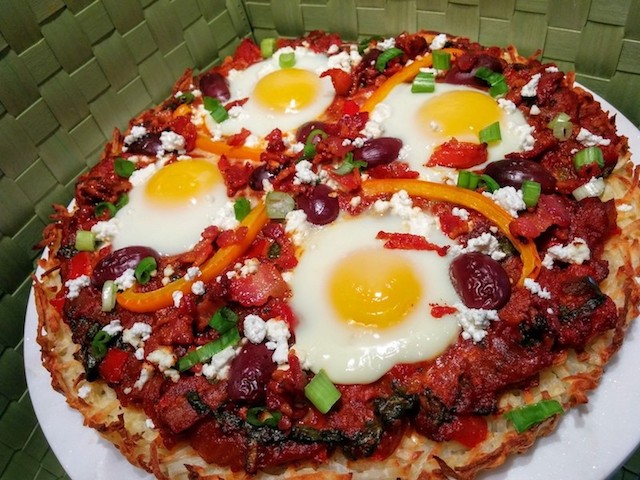 Submitted by Jodi Taffel
About the cook:
Completely self taught, Jodi is a multiple award winning contest cook. She won the 2015 Gilroy Garlic Festival and blew away the judges on Guy's Grocery Games with her Baconny take on Shakshuka, a traditional Israeli hangover breakfast. She followed that up with a Bacon "Steak" and molecular faux-viar to clinch 1st place at the California Strawberry Festival, & ended that year combining bacon and Nutter Butter Cookies to win The Nabisco/NASCAR Hungry For Speed Recipe Contest. Other contesting highlights include winning the The Last Ever Grilled Cheese Invitational by besting all the 1st place winners from the 12 year life of the competition, beating 7,327 other entries in the Westminster Cheddar Recipe Competition, and taking out 12 professional chefs in a full day of mystery basket competitions to win the 2017 California BaconFest.
About the dish:
I love Shakshuka! And I love coming up with different versions of this dish. This one is much heartier than the traditional one, so it's a great brunch that will keep the whole family full and satisfied for the entire day!
National Origin:
Israel
Serves:
4
Estimated Time:
1 to 2 Hours
Ingredients:
• 2 cups shredded russet potatoes
• ½ cup shredded zucchini
• 1 egg, beaten
• 1 teaspoon kosher salt
• 1 teaspoon cracked black pepper
• 1 pound applewood smoked bacon
• 1 large shallot, minced
• 1 medium yellow onion, chopped
• 1 medium red pepper, chopped
• 1 medium orange pepper, chopped (julienne 4-6 slices for garnish before chopping the rest)
• 1 teaspoon pickled jalapeño peppers, chopped
• 1 teaspoon minced garlic
• 1 tablespoon ginger, grated
• 1 teaspoon chipotle in adobo, chopped
• 1 teaspoon sambal
• 1 14-ounce can whole peeled tomatoes
• 2 tablespoons honey
• 1 teaspoons smoked paprika
• 1 tablespoons dried tarragon
• 1 teaspoons ground cumin
• 1 cup fresh spinach
• 1 cup fresh kale
• 8-10 kalamata olives, halved and pitted
• ½ cups crumbled feta cheese
• 4 extra-large eggs
• 1 tablespoon chopped scallions (for garnish)
Preparation:
1 Preheat oven to 450 degrees and grease a 12 inch pizza pan.
2 Pat potatoes and zucchini as dry as possible with paper towels. Then, in a large bowl, combine hash browns, zucchini, egg, salt and pepper until everything is thoroughly coated with the egg.
3 Form the hash browns into a circle on the pizza pan.
4 Bake at 450 degrees for 45 minutes or until the hash browns begin to brown.
5 While crust is in the oven, make the sauce:
6 Roughly chop the bacon and fry in a medium sized stockpot or Dutch oven.
7 Remove bacon and add shallot and onion to the bacon fat. Cook over medium heat for 10 minutes, or until translucent.
8 Add the red pepper, orange pepper and jalapeño and cook until the peppers are softened, about 5 more minutes.
9 Add the garlic, ginger, chipotle and sambal and cook 1-2 minutes, or until fragrant.
10 Add the entire contents or the can of tomatoes, crushing the tomatoes with your hand. Cook 5 minutes.
11 Add the honey, paprika, tarragon and cumin. Cook for 20 minutes, lowering the heat to a low simmer as sauce begins to bubble.
12 Turn off the heat and stir in the spinach, kale and all but 1 tablespoon of the bacon.
13 Remove the pizza crust from the oven. Lower the temperature to 400 degrees.
14 Top the hash brown crust with sauce, taking it to about 1/4 inch from the edge.
15 Use the back of a spoon or ladle to create 4 wells in the sauce, equidistant from each other, and crack 4 eggs into those wells.
16 Artfully arrange olive halves, julienned orange peppers and ½ of the feta around the pizza top.
17 Place the pizza back in the oven and bake at 400 degrees until the eggs whites are set but the yolks are still runny, approximately 12-15 minutes.
18 Garnish with reserved bacon, feta and chopped scallion and serve.