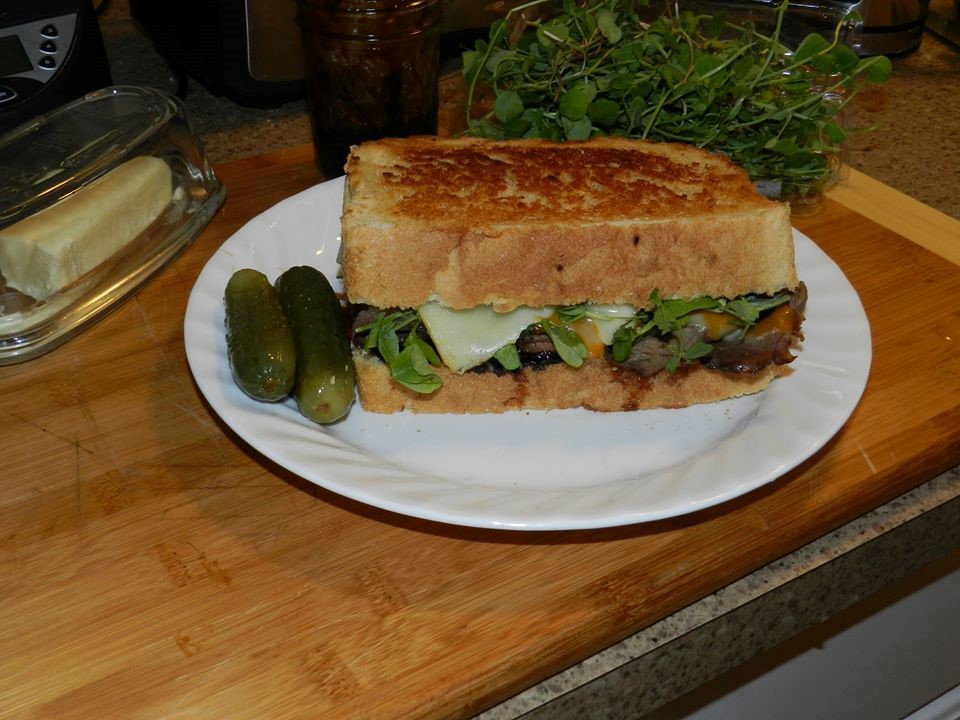 Submitted by Michelle Polino
About the cook:
A self-proclaimed foodie, Michelle is a state licensed counselor and a published author of romance novels. By day she works a a state CPS investigator and by night, she creates her literary worlds where everyone has a happy ending. She and her husband are homesteaders who enjoy raising their own food, can/preserve their produce and use it in their everyday cooking, creating new recipes for friends and family.
About the dish:
My husband and stepson have hearty appetites and this sandwich recipe fills the bill, and their stomachs
National Origin:
American
Serves:
1
Estimated Time:
30 to 60 Minutes
Ingredients:
Goldmines California Sourdough – toasted onion square bread
6 slices deli roast beef
2 slices Wisconsin Cheese Gouda
2 slices Wisconsin Cheese Pepper Jack
2 slices Wisconsin Cheese Muenster
¼ cup micro greens
3 TBS onion jam
1 TBS garlic chive butter
GARLIC-CHIVE BUTTER
½ cup butter
¼ cup Wisconsin Cheese Parmesan
1 TBS chives
1 – 2 garlic cloves, minced
ONION JAM
1 large onion thinly sliced
2 thick slices of bacon
½ cup sugar
¼ cup dark brown sugar
½ cup red wine
¼ cup fig balsamic vinegar from Great Lakes Olive Oil Company, Frankenmuth, MI
½ tsp salt
½ TBS EVOO
Preparation:
Crisp the bacon in a non-reactive pan over medium-low heat. Remove the crisp bacon. Turn up the heat to high to medium high and add the onions, salt and olive oil. Stir to coat the onions evenly with oil and bacon fat. Cook covered with a tight lid for about 20 minutes, turning every 2-10 minutes until the onions turn brown. Add the sugar, brown sugar, red wine and balsamic vinegar. Cook over medium heat until it thickens, about 15 minutes.
TO PREPARE THE SANDWICH
Slice the bread into ½"-inch slices. Butter 2 pieces of bread and set aside. Grill the roast beef on med heat – when heated through, turn to med-low and place the bread, butter sides down and top one slice with muenster and the other with gouda. Top roast beef with pepper jack and cover with a lid to melt cheese. When the cheese is melted and bread is nicely toasted, place the roast beef/pepper jack on one slice. Add the onion jam and micro greens to the roast beef. Top with the other slice and press together. Remove from heat and enjoy.