Red Pepper and Avocado stuffed Chicken with pastry gremolata and white wine reduction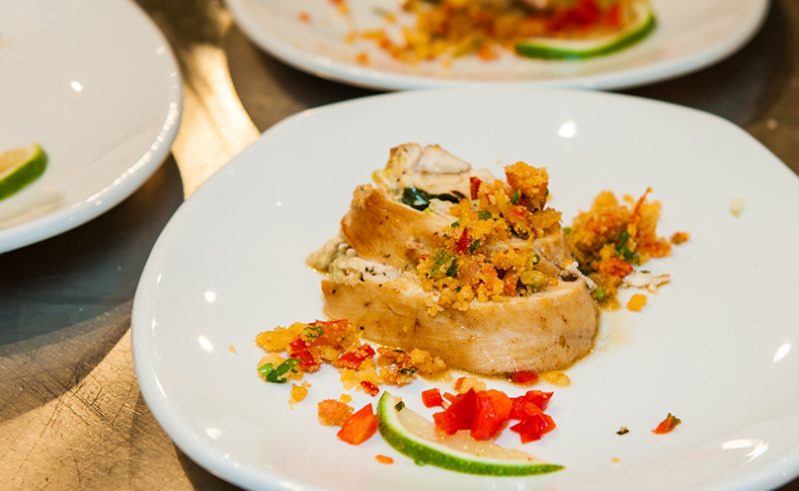 Submitted by Kara Adanalian
About the cook:
After winning the grand prize at a local pizza topping contest and 15 years later capturing the title of "America's Best Home Cook" I feel qualified as an amateur contest cook, and love the challenge. My most creative entries (and home meals) are when I search through my pantry and frig to pull off some delicious eats to share with family and friends.
About the dish:
Get ready to impress your guests and your taste buds. Seriously looks complicated but it's easy and fun to make. You can substitute ingredients to your taste, but be sure to have plenty of gravy!
National Origin:
Americana
Serves:
4
Estimated Time:
30 to 60 Minutes
Ingredients:
1 large boneless skinless chicken breast, trimmed and pounded to 1/4" thickness
1 Del Monte Fresh Produce red bell pepper
1 Del Monte Fresh Produce ripe avocado
1 pre-made refrigerated pie crust, cooked according to package directions
4 large fresh basil leaves
1-2 Tbsp. grated sharp cheddar cheese
3 cloves fresh garlic, finely chopped
1 Tbsp. fresh chives, finely chopped
zest of 1 fresh lime
2-3 Tbsp. extra virgin olive oil
1/2 cup dry white wine
1 Tbsp. butter
salt and fresh ground pepper
Preparation:
Finely chop enough red pepper to make about 3 Tbsp. In a small skillet over med-high heat sauté 2 Tbsp. chopped peppers and garlic in about a tablespoon of olive oil until slightly caramelized. Add chives and lime zest (reserve a bit for garnish), and sauté a few more minutes. Transfer to a mixing bowl and cool to room temperature.
Cut 6 thin strips from remaining bell pepper, and 4 thin slices avocado. Season both sides of chicken, leaving rough side up. Press two basil leaves onto on one end of chicken. Layer bell pepper strips and avocado on the
other end, sprinkle evenly with cheese and roll up, starting at bell pepper end. In same sauté skillet add a little more olive oil over high heat until almost smoking. Add chicken, seam-side down. Brown all sides (about 2 min each), then add wine, reduce heat to med low and cover.
While chicken is cooking crumble about 3-4 tablespoons of cooked pie crust into bowl with sautéed veggies. Mash together with a wooden spoon until well incorporated. Stir in remaining fresh chopped pepper (reserve a little for garnish). Season to taste with salt and pepper.
When chicken is done (about 10 minutes), remove to a cutting board to rest. Add wine to pan and reduce slightly, scraping up brown bits in pan. Remove from heat and whisk in butter.
Slice chicken into 1/4″ slices, take it to the plate topped with sauce, and a spoonful of gremolata. Garnish with lime wedge and chopped peppers.