Oregano and Buttermilk Roasted Chicken Thighs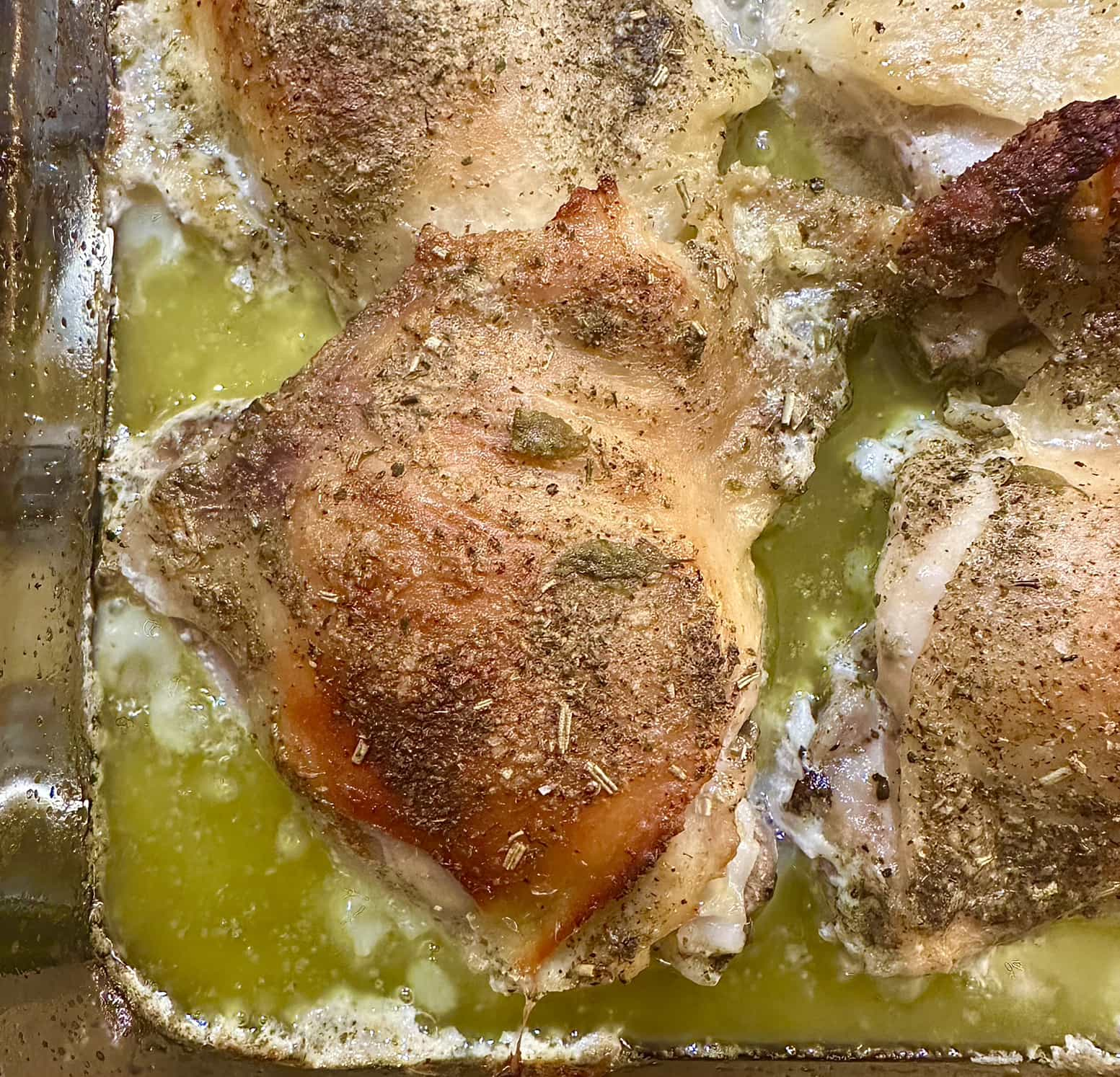 Submitted by Abbie Argersinger
About the cook:
I am a recently retired home cook, avid gardener, cake baker and dog lover. I divide my time between the kitchen, the garden and our local animal shelter.
About the dish:
Thighs roasted using this method always yield a crispy skin and juicy tender meat. Combine that with buttermilk, which is basically magic, and you have an easy delicious dinner in the bag.
National Origin:
American
Serves:
4
Estimated Time:
1 to 2 Hours
Ingredients:
4 bone in / skin on chicken thighs
10 sprigs of fresh oregano
1 tsp. garlic salt
1 tsp. poultry seasoning (NOT salted)
several turns of freshly ground pepper
1/2 c buttermilk
Preparation:
Heat your oven to 375 and spray an 8×8 Pyrex dish with no stick (this makes it easier to clean). Lay the oregano sprigs in the bottom of the dish and sprinkle them with 1/2 tsp garlic salt.
Arrange the thighs on top. They will generally have an extended flap of skin – if you pull that out and lay it flat on top it will turn into a crispy treat attached to each thigh.
Pour the buttermilk over the thighs, then sprinkle the poultry seasoning, remaining garlic salt and pepper on top.
Put the pan in the oven and roast the thighs – watch for them to begin releasing their juices. When they do, start basting them, you want to baste every 15 minutes for 45 minutes then leave them alone until the skin is deep brown and crispy (3 bastes). The beauty of this method is that all those juices basically prevent you from burning or drying them out so let them go as long as you need for perfect skin.