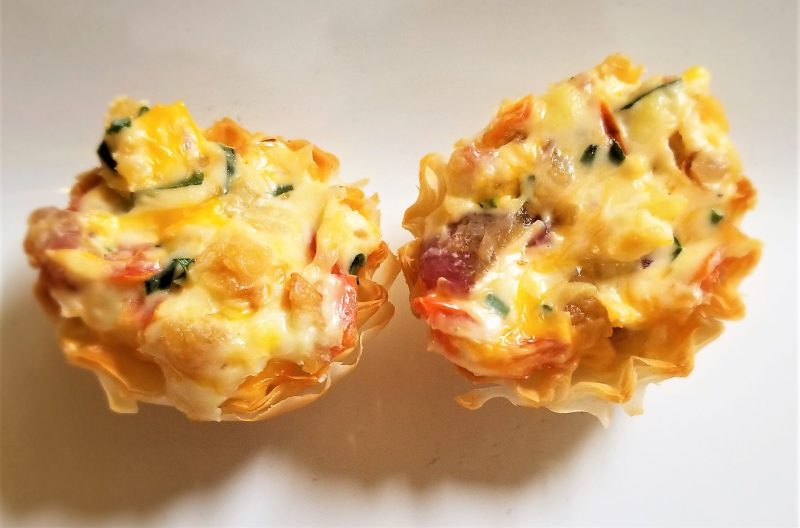 Submitted by Michael Goforth
About the cook:
Growing up in Southeast Tennessee, I became accustomed to hunting, fishing, harvesting, and foraging at a young age. With this responsibility of self-reliance, came a great sense of making the most of these spoils. I quickly began to take interest in cooking for pleasure instead of just for mere sustenance.
About the dish:
A creamy, savory, and crispy appetizer, sure to please any guest. Serve with champagne or any sparkling white wine to add a classy and unique start to any dinner party or brunch.
National Origin:
Southern
Serves:
15
Estimated Time:
Under 30 Minutes
Ingredients:
1 cup cream cheese, room temperature
1 cup sour cream
1/2 cup sharp cheddar cheese
1/2 cup roma tomatoes, small diced
1/4 cup bacon, cooked, small diced
1/8 cup green onions, sliced
1/8 cup fresh basil, sliced
1 teaspoon fresh ground pepper
1/2 teaspoon salt
1 pack of 15 ct mini phyllo cups
Preparation:
Preheat oven to 375 degrees.
Mix cream cheese and sour cream until smooth with an electric mixer.
Add cheese, tomato, bacon, green onion, basil, salt and pepper.
Fold ingredients into cream cheese mix well with a rubber spatula.
Place phyllo cups onto nonstick sheet pan.
Spoon mix into phyllo cups just above edge.
Bake in oven for 7-10 minutes until top is golden and phyllo is crisp.
Serve warm.