Lamb and Chickpea Soup with Kale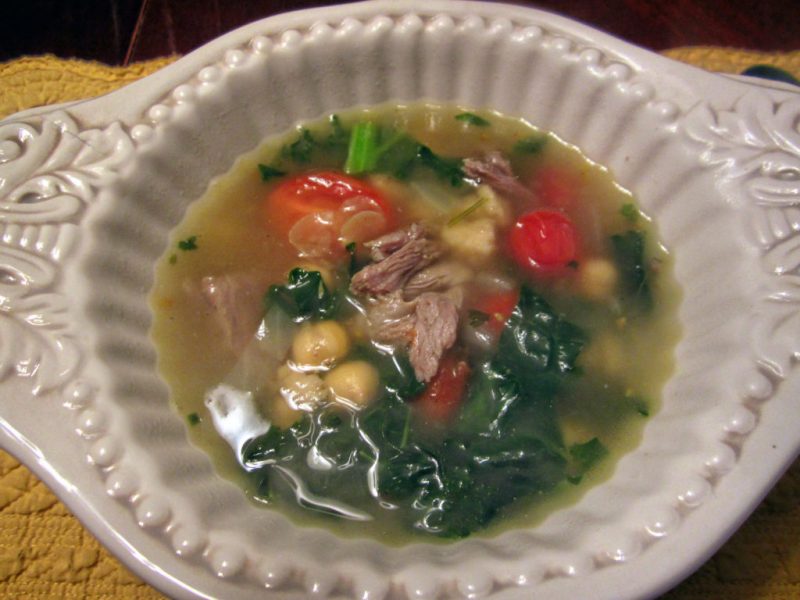 Submitted by Anita Elder
About the cook:
I started cooking when I was around 9 years old, helping my mom in the kitchen. My husband can't eat gluten, so I'm constanting adapting favorite recipes to make them gluten-free. I'm finally comfortable enough to take ingredients on hand and make something new instead of always following a recipe. We like a wide variety of cuisines from around the world.
About the dish:
I came up with this recipe after cleaning out my refrigerator and wondering what to do with the leftover heel of parmesan cheese, cherry tomatoes starting to shrivel and kale that was limp. I had read somewhere that cheese was sometimes used to flavor broths, so I thought to give it a try. This recipe has become one of our favorites for lamb shanks.
National Origin:
Italian, maybe?
Serves:
4
Estimated Time:
Over 2 Hours
Ingredients:
1 lamb shank
4 cups chicken stock
2 cups water
1/4 cup chopped parsley
1/4 cup chopped thyme
2 cloves garlic, minced
1/2 onion, diced
Parmesan cheese heel (the hard end from a block of the cheese)
Prosciutto end (or meaty bacon end) – you can ask the deli for the end piece
1 can chickpeas (garbanzo beans)
1 cup cherry tomatoes, cut in half
1 tbsp olive oil
salt/pepper to taste
2 cups kale, chopped
Preparation:
Place lamb shank (with bone), chicken stock and water in a large pot. Bundle the parsley, thyme, parmesan cheese heel, and prosciutto end in cheese cloth. Add it to the pot along with the garlic and onion. Bring it to a low boil slowly – it should take about an hour. You don't want it to boil too fast/quickly, or broth will become cloudy. Reduce to a simmer and allow to cook for 2 hours at a minimum (alternatively, you can cook this in a crock pot on low heat all day). Remove the cheese cloth bundle.
Toss cherry tomatoes with olive oil. Line a baking sheet with parchment paper. Place the tomatoes on the paper, spread them out, and broil until slightly blistered, then remove from the over and let rest.
Remove the lamb shank from the pot and cut the meat into bite-sized pieces (or, just allow it to pull apart with a fork). Add it back to the pot. Stir in chickpeas, blistered tomatoes and kale. Simmer until kale is wilted, but still bright green, about 5 minutes. Salt and pepper to taste.