Individual Apple Pie Puffs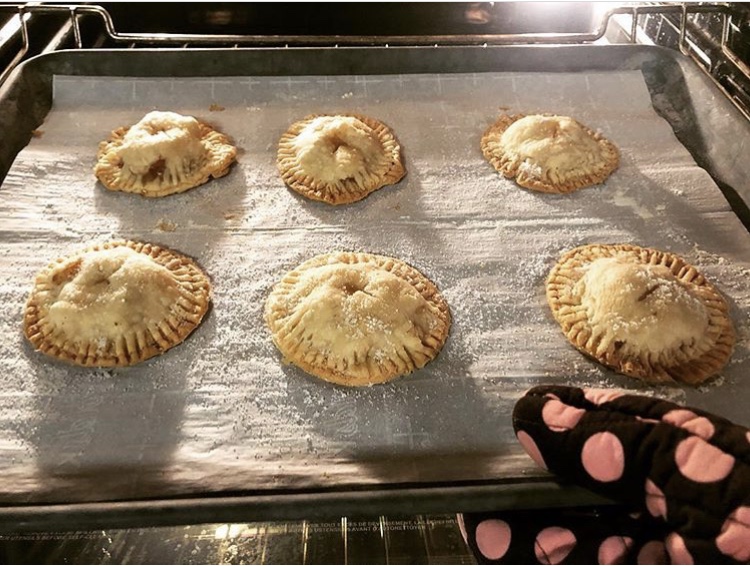 Submitted by Chrissie McGiveran
About the cook:
My name is Chrissie McGiveran. I am a self-taught home cook from the Bay Area. I am married to my wonderful husband, and together we have two young children (Ryan, 3.5 & Julianne (almost 2). I enjoy both cooking and baking and spend much of my free time perfecting recipes and creating new ones. I also enjoy hosting parties, visiting our local farmers market, and gardening! I hope you enjoy my recipe!
About the dish:
Easy Individual Apple Pies for a light, sweet treat.
National Origin:
American
Serves:
6
Estimated Time:
30 to 60 Minutes
Ingredients:
1 Pillsbury Refrigerated Pie Crust
2 Granny Smith Apples, peeled, and sliced thin, then dice
1 tsp Flour
2 tsp Sugar
1 tsp Apple Juice
Cinnamon & nutmeg
Extra sugar, to sprinkle
Preparation:
1. Roll out the pie crust, and use a mug or round cookie cutter to cut out circles for pies. Need 12 circles to make 6 pies.
2. In a small mixing bowl, combine apples, flour, sugar, juice, and spices.
3. Fill 6 dough circles with a small spoonful of mixture. Place another dough circle on the mixture, press/crimp to seal. Egg wash optional.
4. Sprinkle with sugar and bake in 325 oven for 30 minutes. Serve with or without ice cream! Enjoy!